Melania & Ivana Trump's Relationship Is Complicated — Here's What They've Said About It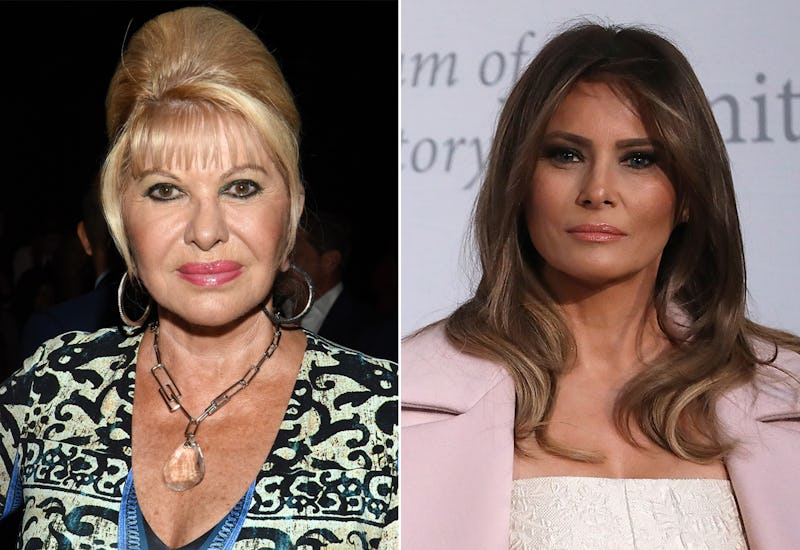 Vivien Killilea/Getty Images Entertainment/Getty Images / Win McNamee/Getty Images News/Getty Images
President Trump's first wife and his current wife seem to have a lot in common — not just being married to him, but some of the trials and tribulations that rocked Ivana Trump's marriage with the businessman-turned-politician seem to be back to haunt Melania Trump. Despite their lives being tied together in so many ways, what has not been clear is how well the two coexist. But Ivana Trump's recent interview with The New York Post's Page Six pulled back the curtain a bit further into how Ivana and Melania Trump get along.
Some of the comments from the first Mrs. Trump may come off a bit condescending toward the current first lady, but it also seems as though she is trying to relate. "I feel bad for [Melania] because I know how bad I did feel. It hurts a lot," Ivana Trump told Page Six. "I divorced Donald immediately [after I discovered the Marla Maples affair] because I told myself, 'Am I going to live with the person [who] is going to say, 'I'm going to go and play golf' [leaving me to] think, 'Is he really going to go and play golf?' I cannot do it.'"
But here's the bit of the interview that might really tick Melania Trump off. "I have pride and I have dignity and stuff like that," Ivana Trump told Page Six, "but so many women, around the world, they live with the men knowing that they are cheating and stuff like that. Everybody handles their situation their own way."
Melania Trump has not commented publicly on the allegations of her husband's infidelity, and Donald Trump has denied all of them. In January, the first lady retreated a bit when news reports about the $130,000 payment to Stormy Daniels were published. Only at the end of February did she return to her public role, at a luncheon for governors' spouses at the White House.
The closest she has come to addressing her feelings on the matter have been after the release of the Access Hollywood genital-grabbing tape. "People talk about me like, 'Oh, Melania, oh poor Melania.' Don't feel sorry for me, don't feel sorry for me. I can handle everything," the now first lady told CNN in October 2016. She said she believed her husband's defense of "locker room talk."
Melania Trump hasn't always been able to stay quiet on Ivana Trump's public comments — a sign that the two don't always get along perfectly, even with so much in common. In October 2017, Ivana quipped to ABC that she was the real first lady. She said:
I have the direct number to White House but I don't really want to call him there because Melania is there, and I don't really want to cause any kind of jealousy or something like that because I'm basically first Trump wife, OK? I'm first lady, OK?
Melania Trump responded through her communications director, sending an uncharacteristically public message her husband's ex-wife. Stephanie Grisham said in a statement on her behalf:
[Melania Trump] plans to use her title and role to help children, not sell books. There is clearly no substance to this statement from an ex, this is unfortunately only attention-seeking and self-serving noise.
So far, the first lady hasn't responded to Ivana Trump's latest interview. Bustle has reached out to her spokesperson for comment. But parts of it show more understanding than in times past. Ivana Trump told Page Six that it must be difficult to be completely surrounded by Secret Service and staff 24/7, saying:
It's a hard adjustment because she cannot go anywhere. She cannot go shopping, she cannot go out to the theater, she cannot go to restaurants because she has Secret Service and 15 cars in front and 15 in back. So she's sort of a little bit stuck in the White House — and Donald is busy from morning to night and he's a workaholic — so I'm not sure how much you really can do.
In the past, Ivana Trump has maintained that she wouldn't want to say anything negative about Melania Trump, because the two are family, something she told Fox News that she expressed in a text message. "I sent to Melania the text [saying] the last thing I would want to do is say something bad about you, you know, because you are family and I don't say anything bad or do anything back to the family member," Ivana told Fox & Friends in October 2017.
Whether the new empathetic side, partly seen in Page Six interview, can bring the first lady and Trump's first wife together, remains to be seen. Melania Trump, for the time being, is staying silent.