Melania Is Publicly Praising LeBron James — Hours After Trump Insulted The NBA Player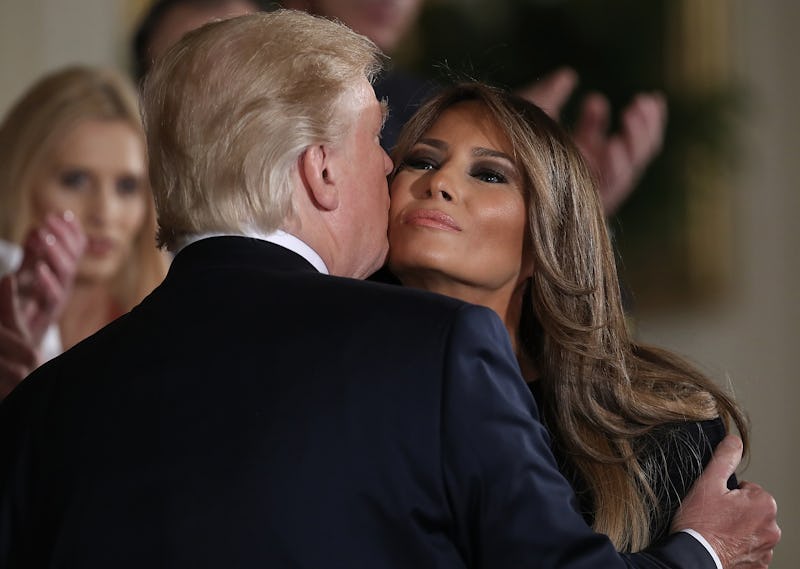 Win McNamee/Getty Images News/Getty Images
On Saturday, after President Donald Trump criticized basketball player LeBron James in a tweet the night before, first lady Melania Trump publicly defended LeBron in a break from her husband's views. Melania stood by James' work, saying through a spokesperson that he's doing "good things."
In an interview with CNN's Don Lemon, James said, "He [Mr Trump] is dividing us and what I noticed over the last few months that he's kinda used sport to divide us and that's something I can't relate to, because I know that sport was the first time I was ever around someone white," according to CNN. Trump responded before midnight on Friday, tweeting, "Lebron James was just interviewed by the dumbest man on television, Don Lemon. He made Lebron look smart, which isn't easy to do. I like Mike!"
But the first lady broke with her husband's opinion on Saturday afternoon. Spokesperson for the first lady, Stephanie Grisham, told the Associated Press:
It looks like LeBron James is working to do good things on behalf of our next generation and just as she always has, the First Lady encourages everyone to have an open dialogue about issues facing children today.
The rest of the statement reads, according to CNN reporter Kaitlan Collins:
As you know, Mrs. Trump has traveled the country and world talking to children about their well-being, healthy living, and the importance of responsible online behavior with her Be Best initiative. Her platform centers around visiting organizations, hospitals and schools, and she would be open to visiting the I Promise School in Akron.
James' interview with CNN focused on his new "I Promise" School, which he opened in his hometown of Akron, Ohio, this week to serve low-income and at-risk students, SB Nation reported. The school will have an on-site food bank, will guarantee every student a bike, and will provide access to job placement assistance for students' parents, among other support plans, according to SB Nation.
Not only did Trump's tweet on Friday insult James' intelligence, the "I like Mike!" line might be a reference to a debate about whether James or Michael Jordan is the best NBA player in history, according to CNN.
But even Jordan addressed Trump's tweet on Saturday. He said through a spokesperson, according to CNN, "I support LeBron James. He's doing an amazing job for his community."
Bernice King, daughter of Martin Luther King Jr. and Coretta Scott King also addressed the controversy without naming Trump. Alongside an image of James talking to small children in a classroom, she wrote on Twitter, "Black Excellence. Human Excellence. Our Brilliant Brother. A Champion in Life. #LeBronJames."
CNN's Don Lemon also responded to the president's criticism, writing on Twitter, "Who's the real dummy? A man who puts kids in classrooms or one who puts kids in cages? #BeBest," in a reference to the Trump administration's "zero tolerance" immigration policy, which resulted in thousands of young children being separated from their parents at the U.S.-Mexico border. The Trump administration has been working to undo the separations for weeks as the result of a court order.
Melania joined the chorus of supporters for James on Saturday in her statement offering to visit the I Promise School in Akron — her most recent departure from her husband's opinions, and probably not the last.