Melania Trump Has Finally Spoken Up On Her Husband's Alleged Affairs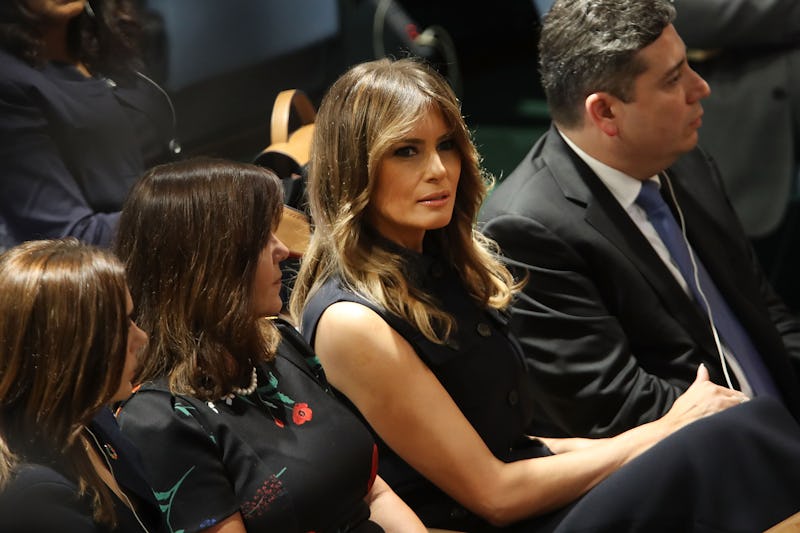 Spencer Platt/Getty Images News/Getty Images
President Donald Trump's tenure in office has been plagued by both political drama and scandals in his personal life. Stormy Daniels and Karen McDougal accused him of adultery (he denies both claims), and their allegations have rocked the nation and dominated news cycles. Most people seem to care about the turmoil — but guess who says she doesn't? His wife. In a portion of an ABC interview released Friday, Melania said Trump's alleged affairs aren't a "concern" for her.
"It is not concern and focus of mine," she told ABC interviewer Tom Llamas. "I'm a mother and a first lady, and I have much more important things to think about and to do. I know people like to speculate and media like to speculate about our marriage."
She admits, however, that she dislikes the intense scrutiny on her relationship with her husband ("We are fine," she says). "It's not always pleasant, of course," she told ABC, "but I know what is right and what is wrong and what is true and not true." She added, "It's what media speculate, and it's gossip. It's not always correct stuff." She also asserted, "I'm very strong, and I know what my priorities are."
The first lady taped the interview with ABC last week while she was on an multi-nation tour of Africa. After visiting Ghana, Malawi, Kenya, and Egypt, she returned to the United States on Sunday, according to The Washington Post.
Llamas also asked her about the immediate aftermath of the Stormy Daniels allegations, when attorney Rudy Giuliani, who represents Trump, said that she didn't believe the claims. "She believes in her husband. She knows it's not true. I don't even think there's a slight suspicion that it's true," Giuliani said at a conference in Israel. The first lady's spokesperson put out a statement a few days later that appeared to contradict his comment: "I don't believe Mrs. Trump has ever discussed her thoughts on anything with Mr. Giuliani."
When asked during the ABC interview whether the attorney's words were correct, Trump said, "I never talked to Mr. Giuliani." Notably, she did not answer whether or not his statement was true. Llamas also asked why Giuliani had spoken on her behalf. "I don't know," she said. "You need to ask him."
The president's rumored affairs began to make waves in January when The Wall Street Journal reported that Michael Cohen, his now-former lawyer, had facilitated a $130,000 payment to Daniels to keep her accusations quiet. Daniels eventually came forward, admitted to that transaction, and alleged that she'd slept with Donald Trump in 2006 while he was married to Melania. McDougal publicized her own claims in February, alleging that she had an affair with him around the same time. Donald Trump denies all of this.
According to Llamas, the first lady also answered a question about whether her husband has ever apologized to her during his time in office. That segment has not yet been released; her full interview with ABC will air on Friday at 10 p.m. ET.