Melania Showed Up At The State Of The Union Without Trump & It's Raising Eyebrows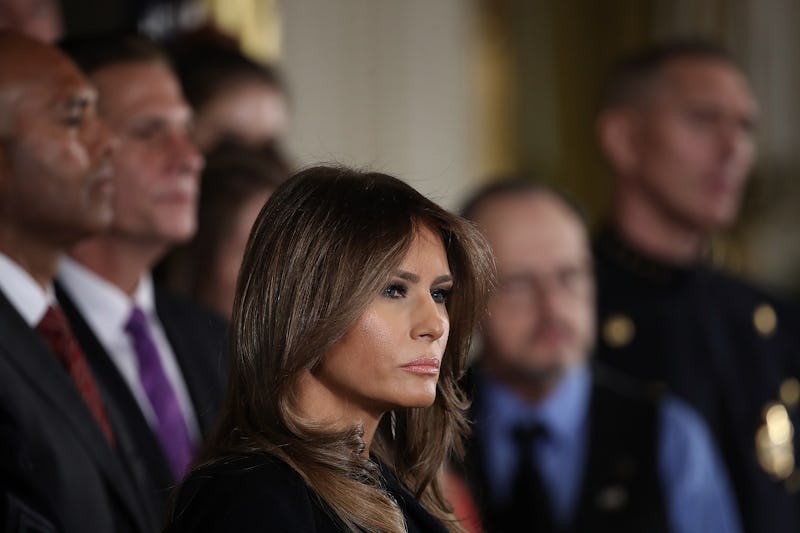 Win McNamee/Getty Images News/Getty Images
In what's being reported as a peculiar break with typical customs, first lady Melania Trump traveled to Capitol Hill without President Donald Trump on Tuesday night, separating herself from the president just prior to the first official State of the Union address of his career. According to CNN, Melania traveled to the Capitol building with the guests she's invited to the address, rather than with the president.
White House Press Secretary Sarah Huckabee Sanders reportedly told CNN's Jim Acosta that there was "no reason for the first lady to go to the Capitol separately, other than she can greet the guests and the president can go straight in."
Melania's communciations director, Stephanie Grisham, tells Bustle that the first lady opted to travel to the U.S. Capitol with her State of the Union guests in order to honor them as "heroes."
Mrs. Trump is honoring her guests for the true heroes they are. In addition to holding a White House reception and photo opportunity for them, along with their friends and family, she accompanied them to the Capitol. The First Lady and Mrs. Pence are now hosting a more intimate meet-and-greet to engage with them on a personal level before the speech.
Melania will reportedly have 15 guests in attendance at the speech, including ICE agent Celestino Martinez, and four parents of victims of violence committed by MS-13 gang members, and an eventual beneficiary of the Republican tax cut package.
According to CNN, prior to the address the first lady had not been seen in public since reports broke about an alleged 2006 affair between her husband and adult film star Stormy Daniels. She ultimately canceled her trip to Davos, Switzerland last week, although Grisham reportedly said the change was made due to "scheduling and logistical issues."
Trump Organization lawyer Michael Cohen, as well as Daniels herself, have denied the affair ever took place, although Daniels spoke about it at length in an interview with In Touch magazine back in 2011.
It remains to be seen whether Melania will make any public statement herself about her traveling party to Capitol Hill, although it seems a safe bet that whatever the content of her husband's speech ends up being will dominate the headlines. Reports leading up to the address have suggested that Donald's speech will include a bipartisan, unifying theme, although it's unclear if that means he'll reach across the aisle or merely insist that the Democrats cross lines to embrace his agenda.
The address is the first State of the Union of the Trump administration, as last year's speech ― and indeed, the first one of any new president's tenure ― was merely considered an address to a joint session of Congress. It comes following what might be the most tumultuous and controversial first year of an administration in modern American history, with Donald's approval ratings languishing at lower levels than have ever been seen in such a still-young presidency.
Melania's own approval ratings, in fact, dwarf those of her husband. She has an overall positive approval rating, measured at 54 percent back in Dec. 2017. By contrast, Donald's approval rating has been mired in the 30s for the majority of his presidency, trailing hers by double-digits. As such, it would behoove him to turn in a strong performance on Tuesday night, in the hopes of narrowing that gap somewhat.
Whether that happens, however, remains to be seen. The State of the Union address will begin at 9:10 p.m. ET, and it's a safe bet that millions of people all around the world will be tuning in to see what happens.