Ivana Trump Called Herself "First Lady" & Melania Bit Back: "Attention-Seeking & Self-Serving Noise"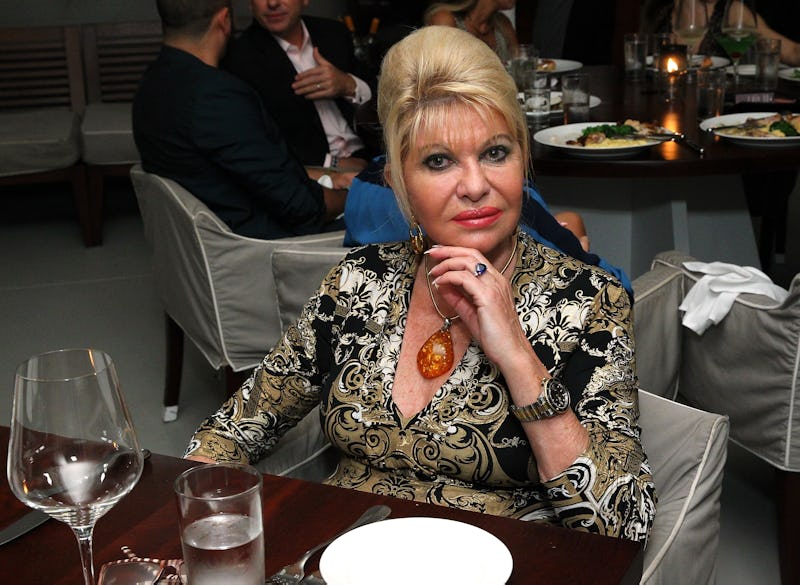 Astrid Stawiarz/Getty Images Entertainment/Getty Images
In an interview Monday, Ivana Trump referred to herself as "first lady," because she was the first woman to marry Donald Trump. Like clockwork, official First Lady Melania Trump responded to Ivana mere hours later, calling Donald's former wife "attention-seeking and self-serving" and accusing her of ginning up controversy to "sell books" (Raising Trump, Ivana's memoir about bringing up the Trump children, hits stores Tuesday).
"Mrs. Trump has made the White House a home for Barron and the President," a spokesperson for Melania said in a statement. "She loves living in Washington, DC and is honored by her role as First Lady of the United States. She plans to use her title and role to help children, not sell books. There is clearly no substance to this statement from an ex. Unfortunately only attention-seeking and self-serving noise."
Ivana said in the same interview that she has a direct line to the White House and speaks with the president once every two weeks or so, and this was the context in which she referred to herself as "first lady."
"I have the direct number to White House, but I don't really want to call him there because Melania is there, and I don't really want to cause any kind of jealousy or something like that, because I'm basically first Trump wife, OK?," Ivana told Good Morning America. "I'm first lady, OK?"
Ivana and Donald were married in 1977, but got divorced in 1992 after Donald allegedly had an affair with actress Marla Maples. Ivana told Good Morning America that "Donald during the divorce was brutal," because he took it as a business deal. However, she said that they eventually became friends about two years later, when the divorce was finalized.
Donald and Ivana had three children when they were together: Eric, Ivanka and Donald Jr.. In her soon-to-be-released book, Ivana writes that "the credit for raising such good kids belongs to me," a point she elaborated on in her Good Morning America interview.
"Full credit?," host Amy Robach asked Ivanka.
"Full credit," Ivana replied. "Donald was on the telephone making the deals. He was [a] loving father, don't get me wrong. And he was a good provider. But he was not a father who would take a stroll and go to Central Park, or go play baseball with them. It was only until they were about 18 years old that he could communicate with them, because he could start to talk business with them."
Incidentally, that phrasing is remarkably similar to a description Donald himself gave of his role as a father during an old Howard Stern interview, in which he said he's "never been that involved" with raising his children.
"I've been a good father, a really good father, but I've never been that involved," Donald told Stern in 2004. "Like, if they ever said, come on outside, Dad, let's have a catch in Central Park...I'd say, 'excuse me, what?'"
In a different interview with CBS News, Ivana said that Donald, with whom she says she's still friends, has sought her advice on his tweeting habits since becoming president.
"He ask me about, 'Should I tweet? Should I not tweet?,'" Ivana told Jim Axelrod. "I said, 'I think you should tweet. It's a new way, a new technology. And if you want to get your words across rightly — without telling The New York Times, which is going to twist every single word of yours — this is how you get your message out.'"
Donald and Maples married in 1993, then divorced six years later. Donald married Melania in 2005.