Melania Trump Is Back At The White House After Her Hospital Stay & She's "In High Spirits"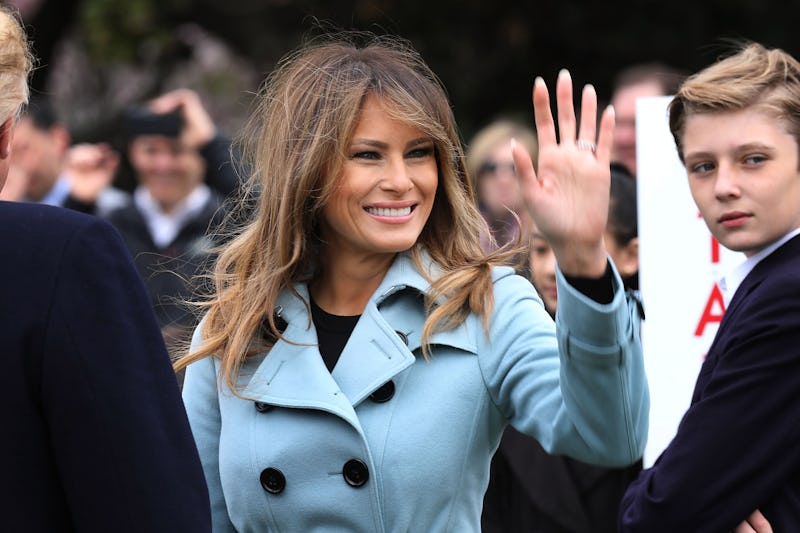 Chip Somodevilla/Getty Images News/Getty Images
After nearly a week in the hospital, Melania Trump returned to the White House early Saturday morning. The first lady had been admitted to Walter Reed National Military Medical Center on Monday to undergo an embolization procedure for what the White House said was a benign kidney condition. The White House has not specified what exactly the first lady's diagnosis was.
"The first lady returned home to the White House this morning," CNN reported Stephanie Grisham, the first lady's communications director, said in a statement Saturday. "She is resting comfortably and remains in high spirits."
According to CNN, Grisham also pushed back on speculation within the media over why the first lady had required a five-day hospital stay for a reportedly benign condition. "Every patient is different," the cable news outlet reported the first lady's communications director said. "The medical professionals who have been giving opinions to the media based on one statement are uninformed. Mrs. Trump has a medical team that is comfortable with her care, which is all that matters." Grisham went on to say that the first lady's office had "no further comment" beyond noting that Melania's "recovery and privacy are paramount."
"Anyone else who chooses to speak with the media will only be speculating," Grisham told CNN.
Grisham thanked those who'd offered condolences and sent get-well messages to the first lady. "Our office has received thousands of calls and emails wishing Mrs. Trump well, and we thank everyone who has taken the time to reach out," she said Saturday.
According to the Associated Press, President Donald Trump visited his wife on multiple occasions during her hospital stay. "Heading over to Walter Reed Medical Center to see our great First Lady, Melania," the president tweeted late Monday. Trump went on to say the first lady was "in good spirits" following a "successful procedure." "Thank you to all of the well-wishers!" he added.
On Tuesday, the president said his wife would be out of the hospital in two or three days. "Our great First Lady is doing really well," Trump tweeted. "Will be leaving hospital in 2 or 3 days. Thank you for so much love and support!" Neither the president nor the White House commented Thursday or Friday as to why the first lady was still in the hospital.
Melania also took to Twitter during her hospital stay to update supporters of her condition and thank those that were caring for her. "A sincere thank you to Walter Reed Medical Unit @WRBetheda & to all who have send good wishes & prayers!" the first lady wrote in a tweet published Wednesday. "I am feeling great & look forward to getting back home @WhiteHouse soon."
According to CNN, Melania is not the only first lady to have ever required major medical care while in residence at the White House. This is, however, the first serious medical procedure a first lady has undergone while living in the White House in three decades. The last first lady to require serious medical care while in the White House was reportedly Nancy Regan, who in 1987 underwent a mastectomy. In 1977, then-First Lady Rosalynn Carter had a benign lump surgically removed from her breast. A few years earlier, in 1974, then-First Lady Betty Ford had a mastectomy while her husband was in office.
Melania's unspecified kidney condition and required hospital stay came as a surprise when they were announced Monday. The first lady appeared to be in good health the week before her hospitalization when she announced her "Be Best" campaign during a ceremony held in the White House Rose Garden.