Melania Revealed The Real Message Behind Her "I Really Don't Care" Jacket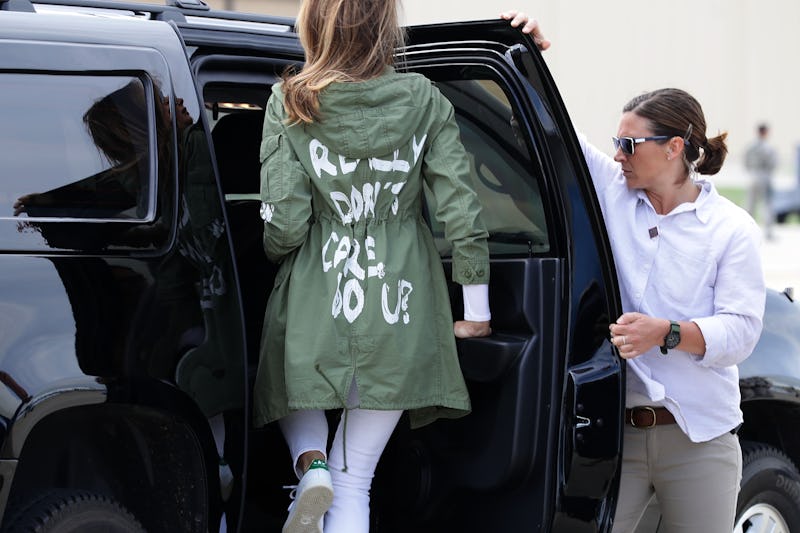 Chip Somodevilla/Getty Images News/Getty Images
When First Lady Melania Trump stepped out in an army green Zara jacket emblazoned with the words, "I REALLY DON'T CARE, DO U?" during her June visit to the U.S.-Mexico border, she kicked off a fire storm of controversy and criticism. Although the first lady didn't sport the jacket while touring a children's immigration detention center, many saw it as, at best, a careless fashion choice and, at worst, a callous statement given the context of her trip. But after months of criticism, the first lady has claimed that most folks misunderstood her intentions. In a new interview with ABC News that aired Friday, Melania said her jacket's message was about the press, not the children.
"You know I [am] often asking myself, if I were not to wear that jacket, if I would have so much media coverage," she told ABC News. "It's obvious I didn't wear the jacket for the children. I wore the jacket to go on the plane and off the plane. And it was for the people and for the left-wing media who are criticizing me."
The first lady was first spotted wearing the jacket back in June while boarding a plane at Andrews Air Force Base in Maryland before her border visit. But she told ABC News that she was motivated to don the jacket again when she de-boarded her plane because of how obsessed with it the media appeared to be.
"I want to show them that I don't care," Melania went on to tell ABC News. "You could criticize whatever you want to say, but it will not stop me to do what I feel is right."
But the explanation Melania gave ABC News about the jacket contradicts the message her office released back in June in response to criticism. "It's a jacket, there was no hidden message," Stephanie Grisham, Melania's director of communications, had said in a statement to Bustle at the time.
Perhaps unsurprisingly, Melania's recent defense lines up more with what President Donald Trump had said about her choice in outerwear shortly after her border visit. "'I REALLY DON'T CARE, DO U?' written on the back of Melania's jacket, refers to the Fake News Media," President Trump tweeted June 22. "Melania has learned how dishonest they are, and she truly no longer cares!"
In her interview with ABC News, the first lady went on to say that she'd prefer the media focus less on her clothes. "I would prefer that they focus on what I do and my initiatives than what I wear," Melania said of the press.
The first lady also told ABC News that she felt she was one of the most bullied people in the world and that it was her own torment that had inspired her White House initiative. "That's why my Be Best initiative is focusing on social media and online behavior," the first lady said, telling ABC News she feels she is habitually harassed online, even when she does charitable acts. "I could say I'm the most bullied person on the world," Melania said, before quickly adding, "one of them."