Melania Trump Just Publicly Called For A National Security Official To Be Ousted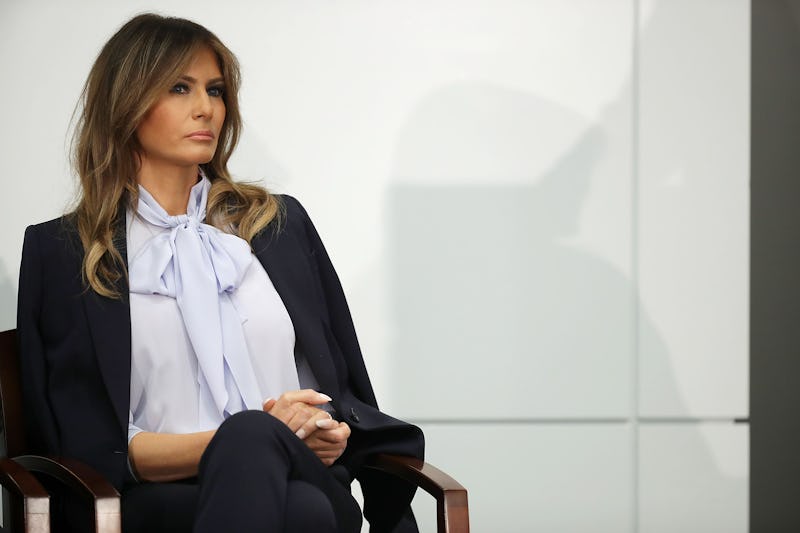 Chip Somodevilla/Getty Images News/Getty Images
It's extremely rare for the first lady to publicly denounce a member of her husband's administration, but on Tuesday, a spokesperson for Melania Trump said she wants Mira Ricardel out as deputy national security adviser. According to CNN, Melania soured on Ricardel due to her "penchant for bureaucratic infighting," which reportedly included bickering with the first lady's staff about seating arrangements during a recent flight to Africa.
"It is the position of the Office of the First Lady that she no longer deserves the honor of serving in this White House," Stephanie Grisham, the first lady's communications director, told ABC News on Tuesday.
It's unclear whether or not Ricardel has been fired; the Wall Street Journal reports that she has as of Tuesday afternoon, but the White House hasn't yet confirmed that. Bustle has reached out to Grisham and the White House for further comment.
Ricardel, a former vice president of Boeing, has been with President Trump since shortly after he was elected, serving first on his presidential transition team and, later, as an under secretary in the Department of Commerce. According to the Washington Post, Ricardel wanted to work in either the State Department or the Pentagon, but was blocked from doing so after feuding with the higher-ups at those departments. The Post reports that Ricardel irritated Defense Secretary James Mattis by flatly opposing the hiring of anybody who had worked in the Obama administration.
"[Ricardel is] a very tough woman, very smart, does not suffer fools well," the Heritage Foundation's Steven Bucci told the Post in April. "And if you happen to be the fool, she will let you know."
Ricardel's reported combative attitude, however, may be responsible for her ouster from the White House. According to the Times, Ricardel disparaged two members of the first lady's staff in October when she was visiting Africa. Sources tell NBC News that Ricardel also butted heads with White House Chief of Staff John Kelly, and that Kelly launched a quiet campaign to have her removed from her position.
Trump's criticism of Ricardel comes as the White House is reportedly considering a significant staff shake-up. The Post reports that the president will soon fire Department of Homeland Security Secretary Kirstjen Nielsen as well, and according to NBC News, Kelly may soon be on his way out, too.
According to the Journal, the president believes that Kelly may quite outright if Nielsen is fired. Donald has reportedly told his aides that if this happens, he'll probably replace Kelly with Nick Ayers, a longtime "rising star" in Republican politics who currently serves as Vice President Mike Pence's chief of staff. It's unclear who, if anyone, is in contention to succeed Nielsen, however.
Rumors of Kelly's firing or resignation have swirled since shortly after his appointment in mid-2017. In order to quell those rumors, White House officials told several news agencies in July that Kelly had committed to remaining in his current position until at least 2020. Kelly himself never confirmed this, however.