Melania Trump's Spokesperson Issued A Clarification About Her $95,000 Cairo Bill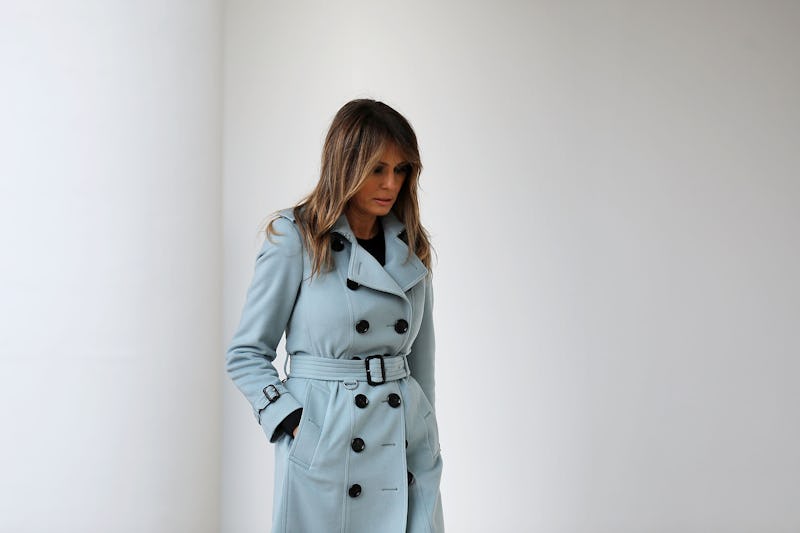 Chip Somodevilla/Getty Images News/Getty Images
When news outlets began reporting that federal records showed first lady Melania Trump's trip to Africa had included a massive hotel bill, her spokesperson took to Twitter to push back on the reports, calling them "irresponsible journalism." But Stephanie Grisham, Melania's director of communications, isn't disputing the bill's amount. Rather, she's refuting reports that the bill includes an overnight stay. According to Grisham, Melania racked up a $95,050 hotel bill in Cairo in just six hours.
Federal spending records show the State Department paid Semiramis Intercontinental Cairo a total of $95,050 for what it classified as "FLOTUS visit hotel rooms." According to the receipt, the payment was made on Sept. 30, roughly a week before the first lady visited on Oct. 6. Initial reports from Quartz and The Hill claimed Melania had spent the night at the hotel, a fact the first lady's spokesperson refuted on Friday in a series of Twitter posts.
"The First Lady did not stay the night in Cairo," Grisham tweeted at Quartz. "This is an example of irresponsible journalism & had someone ... fact checked things [with] me, this could have been avoided."
Quartz later reported that Grisham had told them Melania didn't spend the night at the hotel, and was in fact, only in Cairo for six hours.
In a separate tweet Grisham said she'd requested an immediate correction from The Hill, but added that "sadly, the damage from this false reporting is done." Bustle has reached out to Grisham for comment.
The State Department's receipt doesn't include any itemized charges, meaning it's impossible to know exactly how many rooms were purchased and for how long (the first lady travels with Secret Service and staff, some of whom may have had to arrive in advance) and or what other services may have been bought as part of the first lady's visit. But it's worth noting that the Semiramis Intercontinental Cairo is an upscale hotel where, according to its website, room prices start at around $100 and suites begin at around $240. The hotel's presidential suite is priced at anywhere from $488 to $699 depending on when you book.
However, Grisham doesn't appear to be directly disputing the $95,050 bill. She did, however, question the source of the information supplied by the federal spending records and said her team was now looking into where the $95,050 figure might have come from, in a statement to PEOPLE magazine.
The first lady's $95,000 hotel bill, which taxpayers ultimately pick up, is only the latest aspect of her Africa trip to have come under criticism. For her first major solo international trip, Melania visited four African countries: Ghana, Kenya, Malawi, and Egypt. But some criticized the first lady's activities — visits with both orphans and baby elephants — as evoking certain stereotypes about the continent. Melania's decision to done a white pith helmet while on safari in Nairobi also drew heavy criticism from those who saw it as a symbol of colonialism.
Nor is this the first time the Trumps' spending has come under criticism. In September, a TMZ report citing federal documents claimed President Donald Trump's golf cart rentals had cost taxpayers more than $300,000, drawing sharp rebuke on social media.
But if it cost $95,050 for the first lady to make a six-hour visit to Cairo, the real question is, what does the total bill from her Africa trip look like?