Trump Reportedly Lied About The Price Of Melania's Engagement Ring, For Some Reason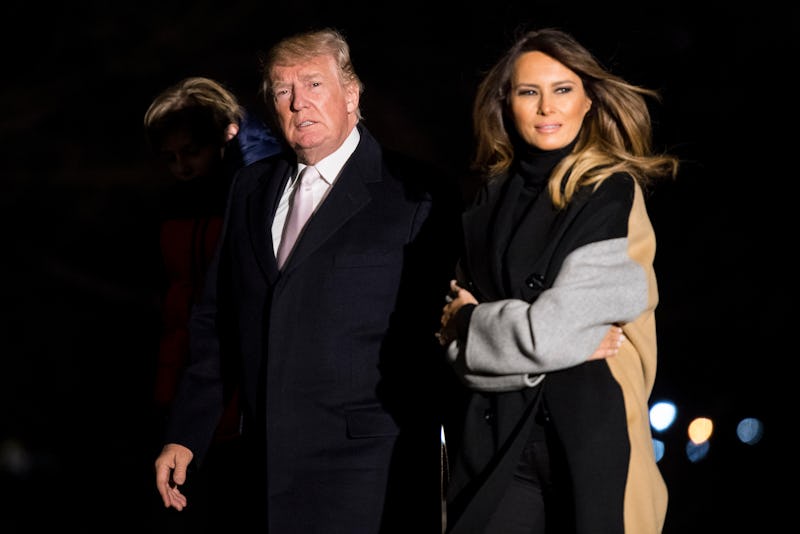 Pool/Getty Images News/Getty Images
Before President Trump married his wife Melania back in 2005, he presented her with a top-dollar engagement ring — and he claimed that he got a whopping $1 million discount on it to boot. But now, two executives with the Graff Diamonds are saying Trump lied about getting a discount on Melania's ring. Contrary to what was reported when the Trumps got engaged, the executives told Forbes that the company isn't in the business of giving discounts for publicity's sake.
According to Forbes, two top-ranking members of Graff Diamonds denied the president's claim that he got a $1 million discount on his wife's engagement ring. Laurence Graff, the billionaire chairman of the company, told Forbes in an email that while Trump was a "pleasure to do business with," he received "no favours" as to the price of the ring.
Similarly, Nicholas Paine, the company's chief financial officer, told Forbes that "we don't sell items for publicity value." Back in 2005, Trump claimed that he'd been given the seven-figure discount in the highly public run-up to his third marriage. Prior to his relationship with Melania, Trump had been married to his first wife Ivana, and his second wife Marla.
"Only a fool would say, 'No thank you, I want to pay a million dollars more for a diamond,'" Trump told The New York Times. The paper reported that the ring only cost Trump half of its $1.5 million price tag, which would actually work out to a $750,000 discount.
In an email, the first lady's communications director, Stephanie Grisham, tells Bustle she has no comment regarding the price of the ring.
"I have nothing for you on the cost of a ring that was purchased over a decade ago," Grisham says. "Please let me know if you ever want to talk about all of the work FLOTUS is doing on behalf of children across this country."
This is an interesting story, because in some cases, you could imagine someone like Trump wanting to overstate the price of an engagement ring, so to impress the public by revealing just how much money they were willing to spend to celebrate their engagement. But in this case, assuming the reports are accurate, it seems like Trump may have been more interested in portraying himself as a savvy deal-maker.
Regardless of how much the ring cost, the president was definitely able to afford it. His estimated net worth throughout the years, while occasionally disputed, has routinely been placed either in the billions. As such, even dropping a couple million on an engagement ring would be no great shakes.
According to Forbes, the engagement ring Melania received in 2005 includes an emerald-cut, flawless diamond weighing approximately 10 carats. The report also cited a third anonymous source who claimed Trump ponied up the money for the ring "in full" and "immediately." Needless to say, this is in sharp disagreement with what Trump told The New York Times more than a decade ago.
Trump reportedly returned to Graff Diamonds for a second ring he purchased in 2015, marking the couple's ten-year wedding anniversary. That ring is believed to be valued at more than $3 million, and if you're curious to get an eyeful, it doesn't take much work ― the first lady is wearing it in her official White House photo.
The president and first lady have now been married for more than 12 years, having tied the knot in 2005. They reportedly met and began dating in 1998. With Trump a longtime fixture in the New York City tabloid scene, their relationship was the subject of a lot of gossip reporting. And now, with them living in the White House, the first lady lives a more public-facing life than ever before.
It remains to be seen whether Trump will publicly address the recently reported allegations in Forbes, although given the myriad controversies and scandals currently surrounding the administration, this definitely seems like the kind of story that might go pretty easily unremarked upon.