Here's Why Everyone Is Talking About Melania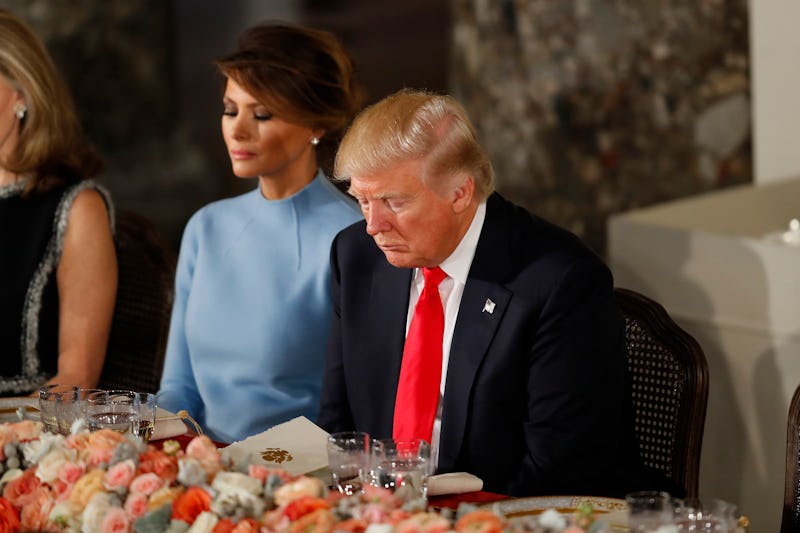 Aaron P. Bernstein/Getty Images News/Getty Images
While most people were watching the New England Patriots take on the Atlanta Falcons from the comfort of their living rooms while wearing jeans and T-shirts, a suit-and-tie-clad President Donald Trump hosted a Super Bowl watch party in a ballroom at Trump International Golf Club in West Palm Beach, Florida. Although the event was meant to be a party (the name is "watch party," after all), photos of the soiree sparked intense debate over how much fun First Lady Melania Trump was having while watching the Super Bowl.
Unless you're a mind reader, the truth of the matter is, it's impossible to know what another person is thinking. Especially, when you're trying to read that person's mind through a photograph. That being said, the first lady has appeared less than enthusiastic at a few different events since Trump's election victory. Images of Melania looking downright sad during her husband's inauguration weekend led to the hashtag #FreeMelania as some came to conclude the new first lady was being held hostage.
Although only a few photos of Trump's Super Bowl LI watch party circulated the web on Sunday, Twitter users were quick to pick up on — and point out — Melania's dour expression. In the photos, Melania's facial expression appeared to communicate more "Save me" than "Go Pats!" But is it that Melania is unhappy, or just uncomfortable with her new life in the public eye? Just what was the first lady thinking as she sat next to her husband at a table strewn with a few paper football decorations? Plenty of Twitter users took a guess.
Here's a sampling of Melania Super Bowl reaction memes poking fun at Trump's soiree:
Save Me
Is it just me or is Melania the only one looking directly into the camera?
Where's The Snacks?
I can't speak for the first lady, but food is certainly my only reason for attending Super Bowl watch parties.
Anywhere But Here
At what point will the first lady be able to just call it a night and leave?
Go Falcons, Go!
In an interview with Fox's Bill O'Reilly, Trump picked the Patriots to win Super Bowl LI, citing his friendships with team owner bob Kraft, coach Bill Bellichick, and Tom Brady. Is Melania quietly rooting for the opposing team?
It Was A Great Party. The Greatest Party.
Perhaps White House Press Secretary Sean Spicer will provide some insight into how many people attended Trump's watch party at Monday's press briefing?
That Chris Christie Look
If anyone knows about dying inside while standing beside (or behind) Trump, it's Chris Christie. Trump's one-time rival looked especially pained last year on Super Tuesday while introducing and endorsing the billionaire turned politician.
Funeral Or Super Bowl Party?
Melania's facial expression may say "funeral," but those football table decorations are screaming "2002."
Home Sweet Home
There truly is no place like home, especially when your husband is away on business.
A Bad Romance
A meme inspired by Lady Gaga's Super Bowl halftime performance.
#FreeMelania
Blink twice if you need help.
Melania vs. The Super Bowl Trophy
Hard to say who's more excited about Game Day: Melania or the Lombardi Trophy?
For The Love Of The Game
I'm in awe of how aware of the camera Melania always seems to be.
Tell Us, Melania
I hope they turn this story into a made-for-TV movie.