Melania's Jacket Might Have Had A Message After All — Just Not The One You Thought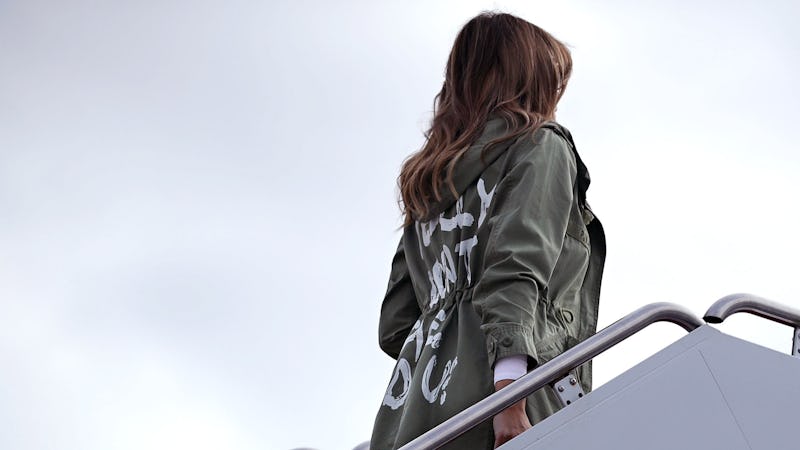 Chip Somodevilla/Getty Images News/Getty Images
Two months ago first lady Melania Trump sparked intense public outraged when she donned a Zara jacket bearing the phrase, "I REALLY DON'T CARE, DO U?" while en-route to visit an immigrant youth detention facility in South Texas. At the time, the first lady's office said Melania's clothing choice was just a jacket and there was no hidden message. But now, a new report from The New York Times claims Melania's infamous jacket may have had a message after all.
According to the Times, a source close to the first lady has said Trump really was looking to send a message with her jacket — just not the message anyone thought she was sending. "The jacket was actually directed at anyone — both outside and inside the White House — who wanted to criticize her decision to visit the children in light of the administration's aggressive immigration policies," the Times reported someone close to Trump said.
Reports the first lady was seeking to use fashion to preemptively push back on potential criticism of her visit contrast sharply with earlier claims from both her office and her husband. "It's a jacket, there was no hidden message," Stephanie Grisham, the first lady's director of communications, told Bustle in a statement issued back in June.
But while the first lady's office has repeatedly denied claims Trump was trying to say something with her choice of outerwear, her husband has argued otherwise. "'I REALLY DON'T CARE, DO U?' written on the back of Melania's jacket, refers to the Fake News Media," President Donald Trump tweeted shortly after the first lady's border visit. "Melania has learned how dishonest they are, and she truly no longer cares!"
More recently, former White House staffer Omarosa Manigault Newman alleged there was intention and meaning behind the first lady's decision to wear that specific jacket at that specific time. "I believe Melania uses style to punish her husband," Vox quoted Newman as having written in her book Unhinged: An Insider's Account of the Trump White House. Newman went on to say she believed Trump had been forced to do the border visit in June as part of the White House's efforts to clean up Donald's "mess."
"She wore that jacket to hurt [Donald] Trump, setting off a controversy that he would have to fix, prolonging the conversation about the administration's insensitivity, ruining the trip itself, and trying to make sure that no one asked her to do something like that again," Newman alleged. "She gladly, spitefully, wrecked her husband's directives to make him look foolish."
In her book, Newman goes on to clarify that she didn't think the jacket was evidence the first lady lacked compassion for immigrant youth. Rather, she saw it as evidence of her purported frustration with both her husband and her new role. "The messages behind her style choices aren't always clear, but they are never accidental," Newman wrote, according to W Magazine.
Although the White House has not responded individually to every allegation in Newman's book, White House Press Secretary Sarah Huckabee Sanders described the book as "riddled with lies and false accusations" last week.
Melania Trump was photographed in her "I REALLY DON'T CARE, DO U?" jacket in June while visiting a children's detention center in McAllen, Texas. Although the first lady didn't wear the jacket while actually touring the facility, she made sure it was clearly visible to photographers as she boarded and de-boarded a plane at nearby Andrews Air Force Base in Maryland. But Trump's jacket was more than just visible, it was controversial. In fact, her jacket proved to be so controversial that it largely overshadowed her border visit.