This 'Ellen' Producer's Twitter Feud With Melania's Spokeswoman Is So Unexpected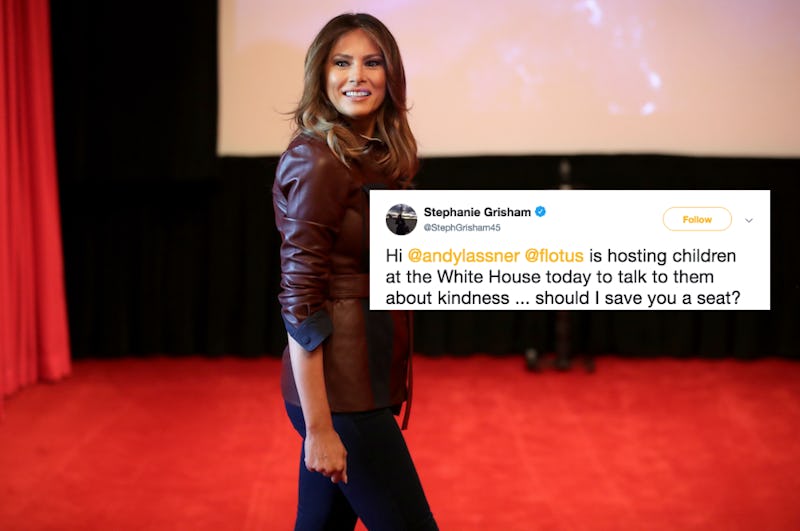 Chip Somodevilla/Getty Images News/Getty Images
In one of the more unpredictable feuds of the fall, Melania Trump's spokeswoman and an Ellen Degeneres Show producer got into a Twitter feud on Monday. It started when Andy Lassner, a producer for Ellen, turned to Twitter to say he was more scared of "another Melania" entering the United States than the caravan of over 7,000 migrants currently trying to enter the country from Mexico. Shortly after, Melania's spokesperson, Stephanie Grisham, clapped back at him.
With an attached link from Breitbart that covered Lassner's tweet, Grisham tweeted at Lassner, "Hi @andylassner@flotus is hosting children at the White House today to talk to them about kindness ... should I save you a seat?"
Usually Twitter feuds tend to die after a single clap back, but this one was just getting started. Lassner replied to Grisham, writing,
Yes!! Will she be talking about how she pushed her husband's theory that our first black president was born in Kenya? What about her "I don't care, do you jacket" worn while babies were being ripped away from parents at the border? What time should I arrive? Is it dressy?
Grisham commented back, "You may want to check your facts before you get here, I'm happy to brief you upon arrival."
Lassner wrote in response, "Says the woman who uses Breitbart as her main news source."
Lassner also replied to that same tweet by Grisham asking him to check his facts with a picture of Melania wearing her infamous "I Really Don't Care, Do U?" jacket, writing, "Oh. And here are some facts. I'll trust mine, but thanks. Also, is my name at the gate? Will you be greeting me? Are there vegetarian options?"
Grisham didn't respond to Lassner any further.
Later on, Lassner reflected upon the strange turn of events that his day had taken with Grisham, writing, "Getting trolled by @StephGrisham45 and @SebGorka with a Breitbart article about my tweets (please follow @andylassner for non-stop hilarity) is making me so happy that it's almost unfair."
This isn't the first time Grisham has been colorful in her defense of FLOTUS. In June, when Melania first wore the famous Zara jacket to visit children being detained by Donald Trump's family separation policy, Grisham said of her outfit choice to reporters, "It's a jacket. There was no hidden message. After today's important visit to Texas, I hope the media isn't going to choose to focus on her wardrobe."
Later on that same day, Grisham took to Twitter to double down on her argument, writing, "Today's visit w the children in Texas impacted @flotus greatly. If media would spend their time & energy on her actions & efforts to help kids - rather than speculate & focus on her wardrobe - we could get so much accomplished on behalf of children. #SheCares#ItsJustAJacket"
Three months later, Melania would confirm that the jacket was a message to the "left-wing media" who criticize her.
Grisham's most recent tweet is one highlighting the event that she invited Lassner to. She wrote, "#ChooseKind #BeBest."