The Hotel Bill For Melania Trump's One-Day Toronto Trip Reportedly Totaled $174,000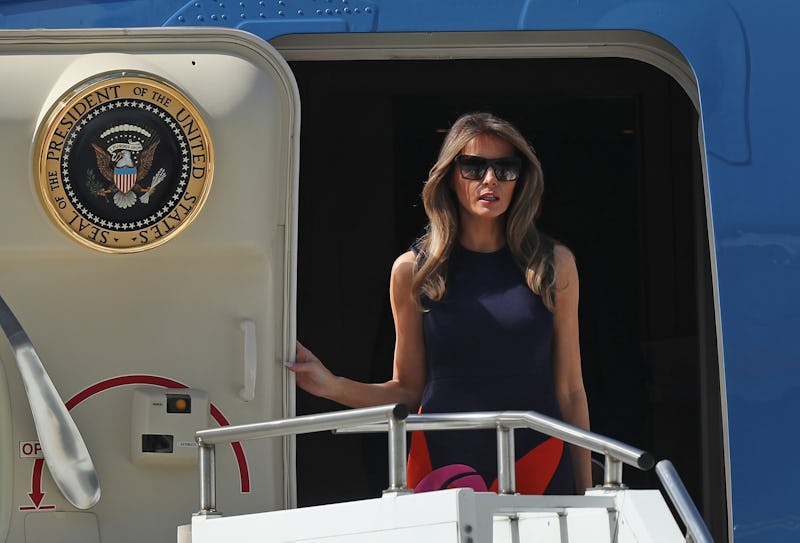 Sean Gallup/Getty Images News/Getty Images
Last month, First Lady Melania Trump's whirlwind trip to Cairo came under intense scrutiny after federal spending records revealed she's spent $95,050 at one hotel in just six hours. But it seems as if Cairo may not be the only city where the first lady has wracked up considerable travel costs. Federal spending records show Melania spent $174,000 during a one-day Toronto trip last year, Quartz was the first to report. Bustle has reached out to the first lady's office for comment.
There are six separate federal spending records marked as pertaining to "hotel rooms" acquired for the one-day trip to Toronto that Melania took in September 2017, according to Quartz. The highest bill comes in at $48,769, followed closely by another bill totaling $43,253. A third bill is recorded as totaling $34,971. The last three bills come to $19,103, $16,298, and $11,980, respectively. While the first lady is not reported to have spent the night in Toronto, she is reported to have made multiple stops at a downtown Sheraton and at least one stop at a Ritz Carlton, according to Quartz.
But it's unclear exactly what was spent, because none of the spending records identify the hotels by name. Rather, they're simply listed as contracts pertaining to "hotel rooms—FLOTUS" awarded to "miscellaneous foreign awardees."
In an emailed statement to Quartz, Stephanie Grisham, the first lady's communications director, appeared to suggest that some of the costs were due to staff, known as "the advance team," that travel ahead of the first lady.
"What I can tell you is that when the President or First Lady travels, there are people who travel ahead on the advance team to ensure safety measures, medical care, communications, motorcade needs and logistics are all in place," Grisham said. "Mrs. Trump travels with a much smaller contingent of staff than that of her predecessors, but the entities I mentioned above are legally required for all official travel."
But Quartz found two separate federal spending records described as pertaining to "advance—hotel rooms—FLOTUS," which together totaled $18,461. It's unclear if there were additional costs for the first lady's advance team that were lumped into the six bills labeled "hotel rooms—FLOTUS."
Additionally, transportation costs for Melania's Toronto trip were detailed in three separate federal spending records and reportedly totaled $21,150 altogether.
Melania traveled to Toronto on Sept. 23 to meet with Prince Harry before helping kick off the Invictus Games. As part of the trip, the first lady also met with Canadian Prime Minister Justin Trudeau and his family before flying back to the United States late that evening.
Last month, Grisham slammed reports that the first lady had spent $95,050 at a hotel while staying in Cairo for one night as "irresponsible journalism," saying Melania had, in fact, only spent six hours in the city. "The First Lady did not stay the night in Cairo," Grisham tweeted to Quartz last month in response to their story. "This is an example of irresponsible journalism & had someone ... fact checked things [with] me, this could have been avoided."