Melissa Joan Hart & Candace Cameon Bure's Selfie Together Will Make '90s Kids Weep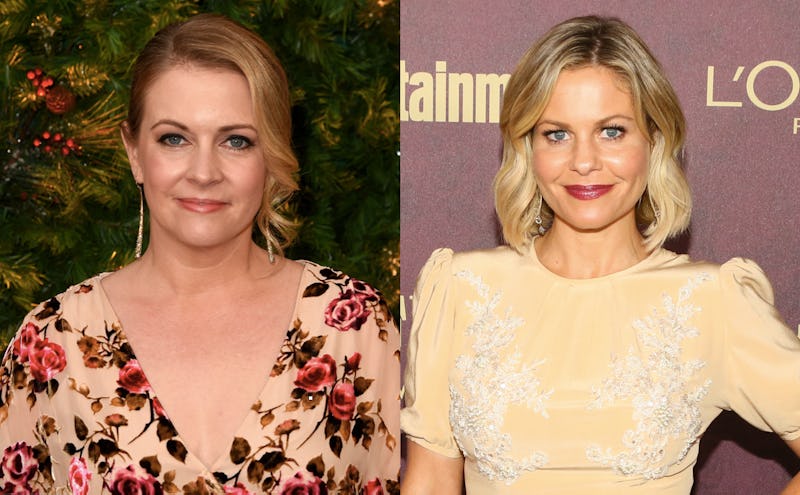 Kevin Winter/Getty Images Entertainment/Getty Images; Gabriel Olsen/Getty Images Entertainment/Getty Images
Been fantasizing about a Full House and Sabrina the Teenage Witch crossover since at least the mid-'90s? (Who hasn't?) Unfortunately, a televised mashup of that nature is merely the stuff of dreams at this point. But in a real-life reunion for the ages, Candace Cameron Bure and Melissa Joan Hart met up for dinner, as documented by two equally heartwarming Instagram posts shared to each of the women's respective accounts on Tuesday, Dec. 4. Suffice to say, it looks and sounds like this particular hangout sesh was totally epic. (For the '90s TV queens as well as fans at home.)
"Such a fun night catching up with this inspiring and gorgeous lady!," wrote Hart on Instagram late Tuesday night, captioning a sweet selfie of her and Bure, originally posted to the former Full House star's account a bit earlier on in the evening. Continuing, Hart (well-known for her titular role in Sabrina's first TV iteration) went on to confirm that the gals had an awesome evening together and added a little quip about what both actors are up to these days:
"Thanks for a great night out @candacebure!! I think we prove Hallmark and Lifetime actors can find common ground!"
Fans who've been following both women's acting pursuits in more recent years know they've taken on a new-ish genre as of late: Christmas movies. (Still, no matter what they're working on now, Hart and Bure will always be '90s pop culture queens to us. At least, in some way.) Like Hart's caption referenced, Bure — who finished up her iconic stint as D.J. Tanner on Full House in 1995, after eight seasons — has since starred in many a Hallmark Channel Christmas movie, while Hart has done the same on Lifetime's holiday programming ticket. Most recently, Bure played the lead in Hallmark's Switched for Christmas last year. Hart, on the other hand, stars in Lifetime's A Very Nutty Christmas, out Friday, Dec. 7.
So, what brought these legendary ladies together in the first place? Captioning the original IG post Tuesday night, Bure explained that she and Hart first met way back in 1997, while filming a Sabrina the Teenage Witch crossover episode of Boy Meets World called "The Witches of Pennbrook." (At the time, Bure had already finished her lengthy run on Full House and Hart's was well underway on Sabrina.)
It sounds like the women hit it off immediately. But, as Bure's caption went on to say, the two never saw each other again in person after their first meeting. Until, Tuesday night, that is. Captioning the original post, Bure wrote:
"After 20+ years meeting for the first time, being on Boy Meets World together, texting and talking on the phone over the years, @melissajoanhart and I finally got a chance to have dinner together. #GirlsNightOut XOXO"
And wow, any other '90s kids entirely over the moon right now knowing these two TV icons have been texting and catching up over the phone all these years? Whether television ever gifts us with a scripted reunion or not (please, please, please), this little IRL rendezvous between Hart and Bure was, much like the women themselves, totally legendary.