Melissa McCarthy Is Amazing In This 'SNL' Cameo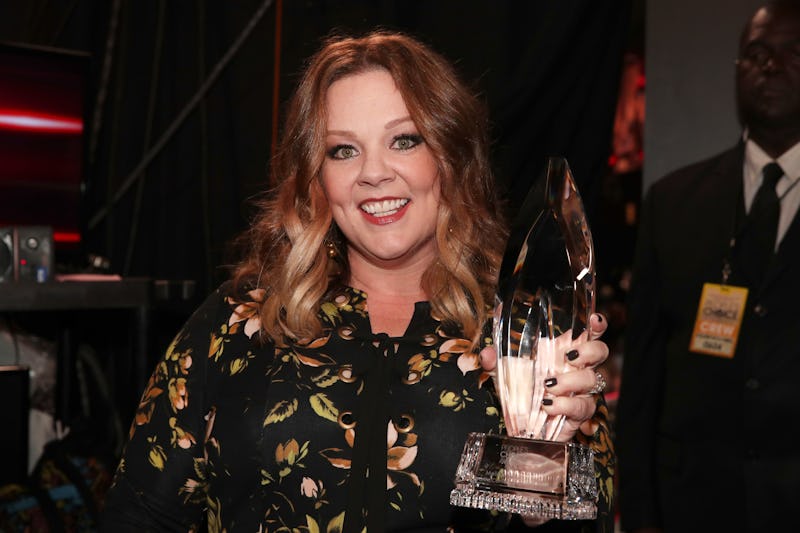 Christopher Polk/Getty Images Entertainment/Getty Images
Since President Donald Trump was inaugurated last month, White House Press Secretary Sean Spicer has taken center stage in the press room. And the spokesperson got the Saturday Night Live parody treatment in the most epic fashion: Melissa McCarthy played Sean Spicer on SNL on Feb. 4 and it was the most brilliant impression of the Trump administration on the show to date. The hilarious actor and comedian stepped into the shoes and suit of the White House spokesperson — and stepped behind the press room podium. McCarthy totally nailed what it's like to watch a White House press conference these days with her amazing — and very hilarious — impression.
It took me a few seconds to recognize McCarthy in her spot-on hair and makeup as Spicer, but her voice was a dead-giveaway — yet it also totally channeled the spokesperson. As Spicer, McCarthy brilliantly imitated how the spokesperson has been fielding questions throughout the first few weeks of Trump's presidency. McCarthy's Spicer described his job as follows: "I'm not here to be your buddy. I'm here to swallow gum. And I'm here to take names." And then her Spicer poured a whole can of gum in her mouth and chewed it. McCarthy also expertly parodied Spicer's tone when answering reporters' questions — which she screamed — and when having to define Trump's recent not-a-ban Muslim ban. "It's not a ban," McCarthy's Spicer says. "The travel ban is not a ban, which makes it not a ban. He's using your words."
At one point, her Spicer even reads off a bunch of random numbers and letters, which then her Spicer says, "Wait, that's my e-mail password." In the funniest moment of the sketch, McCarthy's Spicer brings out two blue boxes of props to illustrate the words in his speech, which included a copy of the U.S. Constitution, a key, a knot, a literal piece of feces, and two stuffed toys: a moose and a lamb, to represent the two syllables of the word Muslim.
SNL castmember Kate McKinnon makes a cameo as Secretary of Education nominee Betsy DeVos, but McCarthy really steals the show. Her Spicer closes the sketch by lunging at a reporter with the podium in tow and spraying soapy water on a reporter with a water guns.
Her Spicer says goodbye to the press by saying he's going to take a "big boy nap and will be woken up exactly one minute before tomorrow's press concert." (That's her words.)
McCarthy attempts to close her epic performance with "Live from New York, it's Saturday night," but a reporter tells Spicer it already happened — and so another podium lunge occurs.
Watch the hilarious sketch in the video below.