An Aaliyah Makeup Collection Is Finally Here & It's Such A Perfect Tribute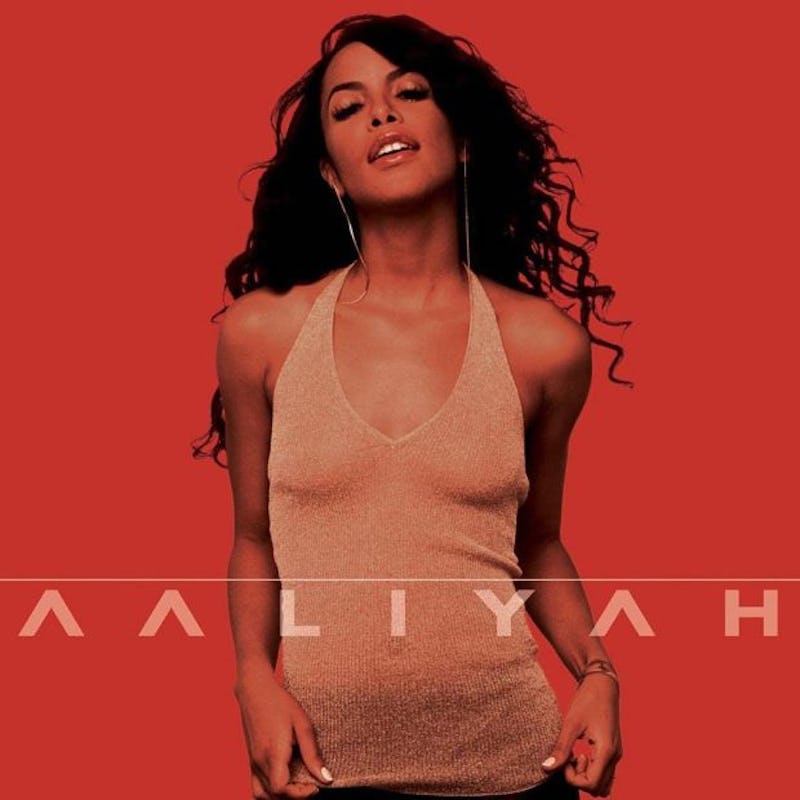 Background Records
When you think of the '90s, there are so many iconic women that come to mind that seem to perfectly embody the decade: Janet Jackson and her choreographed music videos, Mariah Carey promising us we'll always be her baby, Jennifer Lopez throwing solid gold bracelets into the ocean because love don't cost a thing — and the iconic Aaliyah, bringing us hits like "Rock the Boat" and "What If." If you feel a spiritual connection to Aaliyah and her late '90s aesthetic, you can now pay tribute to her with your makeup drawer. Melt Cosmetics just announced the "Baby Girl" collection, an Aaliyah inspired eyeshadow line.
"Baby Girl" was one of Aaliyah's nicknames, and the collection is a series of five eyeshadow singles that were inspired by the color scheme of the R&B artist's last album that was released in 2001. The cover was washed in different shades of reds, oranges, and burnt pinks, and that's exactly what the new Melt range looks like. Coming in an assortment of soft pinks, terracotta oranges, dark sienna reds, and shimmery red oranges, it's a warm, fiery kind of palette.
Melt announced the new eyeshadow stack on its Instagram, teasing the throwback shades and re-gramming influencers who tried out the hues on their own eyes. The brand shared that the shadows will be available on March 23 at 3 p.m. ET/12 p.m. PT for $58, which means if you're a '90s enthusiast, you don't have to wait too long to get your hands on the collection.
The shades are named after iconic Aaliyah songs as well, really bringing the theme together. "So Dope" is a hot coral that could be used as a transition shade, "Come Over" is a matte orange red, "Baby Girl" is a shimmery gold-like shade, "More Than a Lover" is a dark red shimmer, and "Dust Yourself Off" is a sienna red.
Melt Cosmetics is a cruelty-free brand that is Leaping Bunny certified, and most of their products are vegan. However, it appears that this particular throwback stack isn't completely vegan, since fans spotted that Carmine was used in some of the shadows, which is a dye made out of beetles.
Beauty lovers seem to be excited over the release though, filling the comment section under the brand's photos with heart eye emojis and prayer hands.
"So I'm adulting and I have a needs and wants list..." one person wrote. "I'm figuring out how to put this is in the NEED column. I can eat later."
However, some followers couldn't tell what they felt about the color range because it hasn't been swatched on dark skin yet, and they asked the brand to remember its supporters with deeper complexions.
Since this particular rust color scheme was so popular this past year, and so many different kinds of cosmetic companies released similar color ranges, a few followers began to track down what this stack could be comparable to.
A few people compared the new shades to a few palettes already out, one being the Urban Decay Naked Petite Heat that goes for $29. While both collections focus on rust colored, warm shades, the Urban Decay version doesn't carry any shimmers, and skews towards a lighter color palette with its soft pinks and dusty brown hues.
Naked Petite Heat, $29, Urban Decay
Another person felt like the Aaliyah eyeshadow stack looked like Colourpop's "Yes Please" 12 pan palette that retails for $16. Inspired by the "golden hour glow," it features both metallic and matte shadows, and the kit includes colors like burnt orange, matte brick red, and duochrome red with a gold shimmer that does mimic some of the "Baby Girl" shades. But not each Melt shade is a dupe for the hues in the Colourpop palette, so it still offers different tints.
Yes Please! Pressed Powder Shadow Palette, $16, ColourPop
Whether you want to get the stack because you're a massive '90s R&B fan, or don't own any burnt shades yet and this is the perfect starter kit, this throwback selection is definitely going to be a hit.