Twitter Thinks England's World Cup Loss To Belgium Was Dull AF But The Memes Are LOL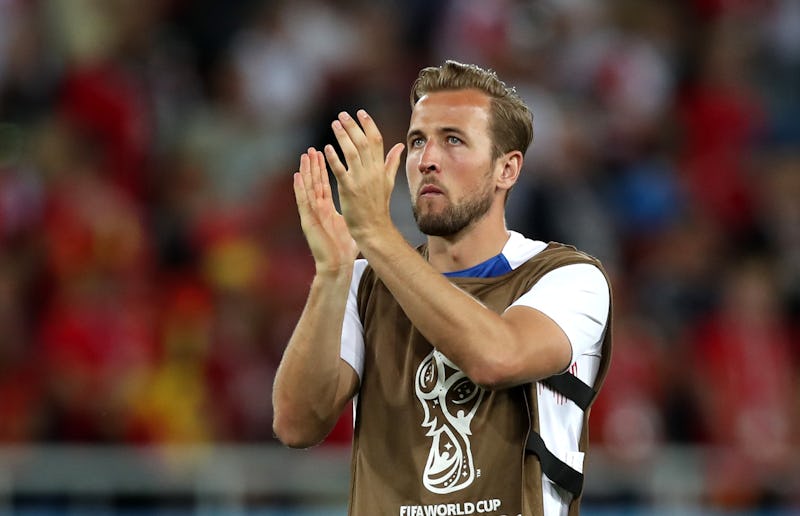 Alex Morton/Getty Images Sport/Getty Images
It's never an easy task being an England football supporter, and Thursday night's game against Belgium in the 2018 FIFA World Cup was as good as an example of that as any we've previously seen, although — this time — the stakes were relatively low. Despite suffering a 1-0 defeat to ultimate group winners Belgium, fans knew before the match that either way England would make it through to the round of 16 regardless of the result. So the memes about England's World Cup match against Belgium instead took aim at a very important question: did the the game have to be quite so boring?
As previously mentioned, English footie fans knew their team would make it into the round of 16 regardless of what happened during the Belgium game, meaning England's defeat wasn't as gut-wrenching as one would normally expect.
Having said that, England fans were kind of hoping for a more thrilling performance than they got. With a string of lacklustre set pieces and a thoroughly drawn out 90 minutes, the England versus Belgium game failed to excite the majority of England fans watching from back home. So, they took to Twitter to create memes and moan about how dull it was instead.
Here are those hilarious meme reactions:
Even Channel 4 got in on the action, throwing some serious shade with this tweet.
Before the game, the media and public speculated that England would happily settle for second place in the group in order to line up what's considered a less challenging road to the final. This is something manager Gareth Southgate actively rebuked, saying, "We have not won a knockout game at the World Cup since 2006, so why we would start plotting which would be a better venue for our semi-final would be beyond me." He also added: "We think that we need to keep winning football matches and we want to breed a mentality that everybody in our squad consistently wants to win."
But the BBC, in their post match analysis, suggested that "victory was not exactly the top priority" for either team. You see, England's loss on Thursday means the team finish second behind Belgium in Group G, which in turn means the squad will face off against Columbia in its last 16 game.
There are a number of reasons why this could be considered a positive result for England. For one, the England versus Columbia game won't happen until July 3, meaning the England team gets one extra day of rest before its next match, whereas group winners Belgium will face off against Japan a day earlier on July 2. Furthermore, England's defeat against Belgium also means the squad will actually face a shorter journey across Russia, as the next England match will take place in Moscow, meaning they'll have more time to psychologically prepare and get comfortable before the knock-out stages.
And finally, the biggest reason why the England squad may have been happy with finishing second is because of who the winner of that match could potentially be up against in the quarter and semi finals of the 2018 FIFA World Cup.
If England had beat Belgium and finished top of Group G, the team would have faced off against Japan and, if they won that game, either Brazil or Mexico in the quarter-finals. Following that, the team also could have possibly faced off against France, Argentina, or Portugal before even getting to the final. But, since the England team ended up coming second in its group, it will now take on Columbia in the round of 16 and then either Sweden or Switzerland in the quarter-finals, which pundits argue is a much easier road to the final.
Tactics aside, I just hope England put in a much more inspiring performance next Tuesday and finally bring that bad boy trophy home.
World Cup 2018: England versus Colombia airs on Tuesday, July 3 with a 7 p.m. kick off