11 Memes Of Trump's "Space Force All The Way" Tweet That Are Out Of This World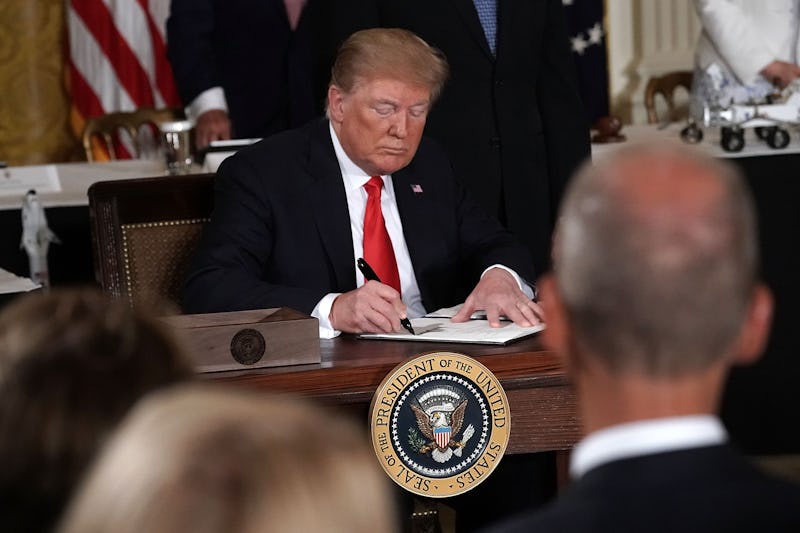 Alex Wong/Getty Images News/Getty Images
For months, Donald Trump has been calling for a sixth branch of the military that would be equipped to fight wars in space — and he's on his way to getting his wish. On Thursday, Trump celebrated the creation of a Space Force by tweeting about it, and Twitter users had a bounty of memes in response.
Mike Pence unveiled the Pentagon's Space Force plan on Thursday during a speech before Department of Defense officials. The Space Force would be built with the help of pre-existing elements, Pence said, pending Congressional approval. Pence also told Pentagon officials that the Trump administration was seeking to establish "the United States Department of the Space Force" by 2020, and planned to submit a legislative proposal to Congress in time for the Fiscal Year 2020 budget cycle.
Trump's response to the Space Force unveiling was a single five-word tweet: "Space Force all the way!" Twitter was quick to respond, with SpongeBob memes, tweets about Trump's disproportionate allocation of resources to initiatives like the Space Force, and references to everything from Star Wars to Star Trek.
But Trump's tweet was relatively sparse given just how much he has been advocating for the creation of a Space Force. When he first called on the Pentagon to create a sixth military branch back in June, he asserted that "we must have American dominance in space" in order to "defend America."
But Trump's surprisingly succinct tweet paved the way for a number of hilarious responses. One Twitter user even assembled a short animation of Trump in space, orchestrating landings on the moon and what appear to be several other planets:
Another Twitter user illustrated what Star Trek might be like with Trump as a character:
But of course, the sci-fi and pop culture references did not stop there:
For BuzzFeed's David Mack, simply imagining Trump yelling while donning an astronaut's helmet was enough cause for amusement:
Of course, not all the tweets responding to Trump's "Space Force all the way!" comment found humor in the situation. According to Pence's speech on Thursday, Trump will call on Congress to allocate $8 billion to establish the Space Force over the next five years. Also on Thursday, Bloomberg reported that the Defense Department had released its Space Force plan to Congress.
This plan, among other things, outlined offensive systems that would "degrade, deny, disrupt, destroy, and manipulate adversary capabilities" in space, led by a four-star general. The sheer amount of money Trump wants relegated to this sixth military branch has prompted swift backlash from some Twitter users:
But other Twitter users simply wanted to know how Trump came to the decision to tweet such a concise response to the Space Force unveiling:
Meanwhile, this Twitter user had the perfect response to Trump's tweet, comparing his Space Force comment to a McDonald's order:
And what if Trump really is a character from Star Wars now? He certainly seems to care a great deal about space combat:
Trump's tweet, coupled with the fact that his supporters have reportedly broken out in "space force" chants during recent rallies, have clearly been the perfect fodder for Twitter's meme creators, but it appears likely that neither the memes nor the backlash will be coming to an end any time soon.