These Memes & Tweets About Cardi B's New Album Capture ALL Of Your Hype
by Priscilla Totiyapungprasert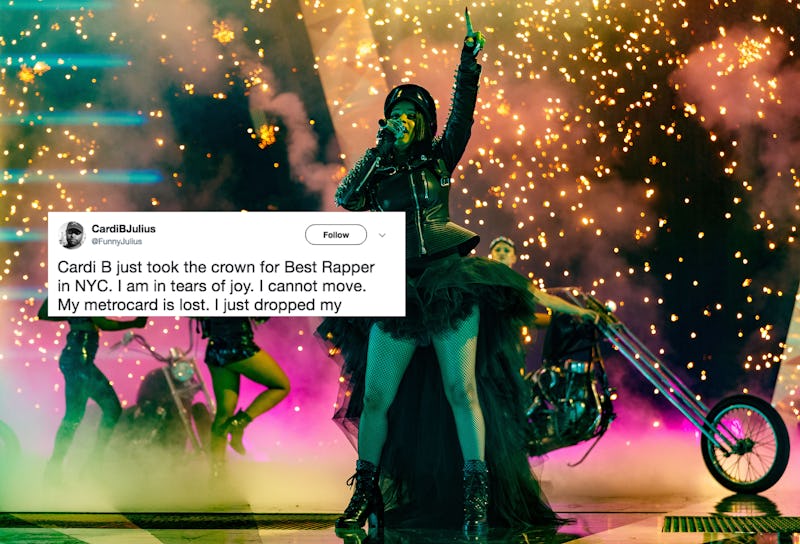 Christopher Polk/Getty Images Entertainment/Getty Images
Everyone's favorite up and coming rapper just dropped her debut album and fans are already exploding. Memes and tweets about Cardi B's new album Invasion of Privacy show it's already a hit among her fans. And, FYI, it's now available in all its glory for your streaming pleasure.
Cardi B fans have been hotly anticipating her debut album ever since she skyrocketed to fame with her smash single, "Bodak Yellow," aka the summer party jam of 2017. A duet with Bruno Mars on "Finesse" gave fans another taste of the Cardi's star power and her latest showing is no different. The Bronx-born rapper collaborated with several famous names on her 13-track album, which features SZA, Chance the Rapper, Migos, and 21 Savage.
With Invasion of Privacy, Cardi flexes her MC prowess while listeners are treated to her many influences, including her hometown and her Afro-Caribbean roots. In "I Like It," featuring Bad Bunny and J Balvin, hip-hop beats are interlaced with a Latin melody.
"Bickenhead" is your classic hustler's anthem while "She Bad" has some choice shoutouts to other women: "I need Chrissy Teigen / Know a bad b*tch when I see one / Tell RiRi I need a threesome." As for the haters who keep calling her "ratchet": Cardi shuts them up on the opening track "Get Up 10."
But Cardi gives listeners a look into her more vulnerable side too. She confronts infidelity in "Be Careful" and then later again in "Thru Your Phone," where she namedrops Beyoncé's Lemonade.
With her debut album, it looks like Cardi is no longer the rap underdog. In fact, Cardi's Invasion of Privacy went gold just minutes after it dropped. And judging by the Twitter reactions, fans can't get enough of the album.