Memes & Tweets About Mark Zuckerberg's Testimony Are BRUTAL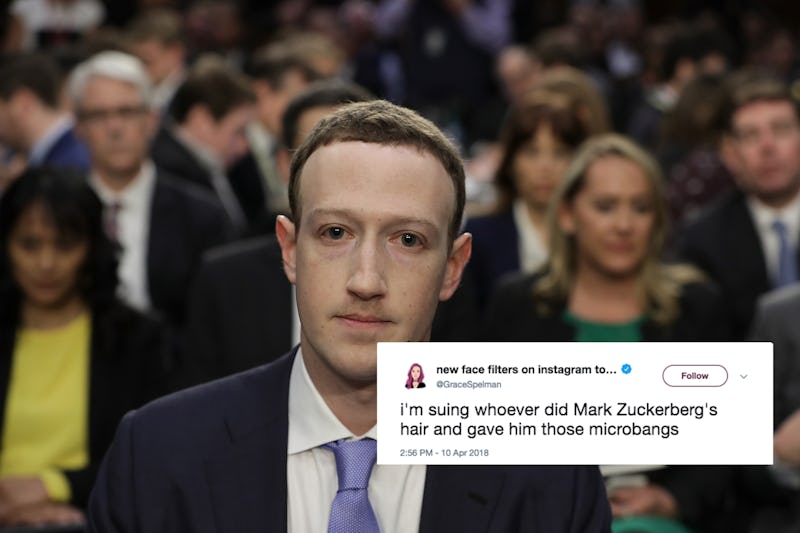 Chip Somodevilla/Getty Images News/Getty Images; Grace Spelman/Twitter
On Tuesday, Facebook founder and CEO Mark Zuckerberg faced down members of Congress in a hearing largely focused on the social media site's user privacy protections. Of course, because the internet is the internet, Twitter users couldn't help but find some humor in the situation. So they did what they do best: they shared memes and tweets about Zuckerberg's testimony that poked fun at everything from the notes the tech icon's personal style to the notes he apparently left open to photographers.
Of particular interest to Twitter users was Zuckerberg's hair style, which many said looked like it was cut at home instead of in a salon, which tickled the critics because Zuckerberg is well-known to be a billionaire.
Despite the levity of the tweets and memes that made the rounds Monday afternoon, Zuckerberg's presence on Capitol Hill was a very serious affair. He was questioned about how Facebook protects its users' data, whether or not he considered the social media website to be a monopoly, and probed about how the company responded to the still-unfolding Cambridge Analytica scandal. For a while, though, the Internet put all of those questions aside, and focused instead, on Zuckerberg as just a person in a sticky situation, not as a tech giant.