Twitter Roasts Mike Pence During The Olympics Opening Ceremony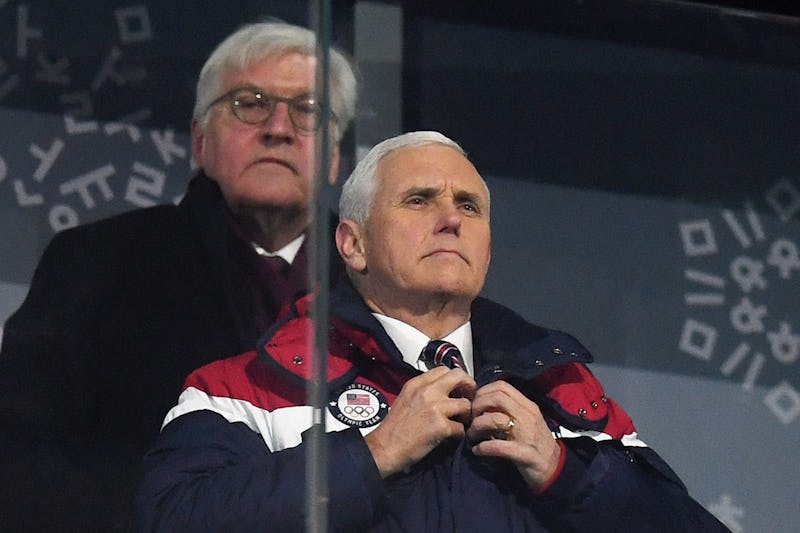 Matthias Hangst/Getty Images Sport/Getty Images
On Friday night, NBC aired the intricately choreographed opening ceremony of the 2018 Winter Olympics in PyeongChang, South Korea. In addition to all the pageantry, it also provided viewers with a reminder of precisely who's leading the American delegation this time around ― namely, Vice President Mike Pence. And just like you might expect, there were plenty of tweets and memes roasting Pence during the opening ceremony.
Pence was announced as the leader of the U.S. Olympic delegation back in January, confirming that he'd be travelling to the games to represent the country in an official capacity. Leading up to the opening ceremony, he'd already been the subject of scrutiny and controversy; a pair of openly gay U.S. Olympians, Gus Kenworthy and Adam Rippon, have openly expressed disdain at Pence's involvement.
He also generated controversy by reportedly refusing to engage in any communication with Kim Yong Nam, a representative of the North Korean state, or with Kim Jo Yang, the sister of the isolated nation's leader, Kim Jong-un.
In short, there are a lot of eyeballs on Pence's behavior at the games, and also a lot of criticisms being made about his history of divisive anti-LGBTQ statements and positions. All in all, it was a perfect recipe for the denizens of social media to take some shots, mocking the vice president during one of the biggest international events of the year.
1. Looks Like A Ceremonial Head
Pence sat right in front of a pair of representatives of the North Korean state, including Kim Jong-un's sister. He reportedly did not acknowledge them.
2. Mike Pence Is Shaking
Pence has been publicly challenged and criticized by Adam Rippon and Gus Kenworthy this week, a pair of openly gay U.S. Olympians.
3. To Fight World Peace
Pence's refusal to stand for the united Korean Olympic delegation in the Parade of Nations, featuring both South and North Korean athletes, did not go unnoticed.
4. Who Can't Respect The Flag
Pence, like President Donald Trump, was a strident opponent of the racial justice protests that spread throughout the NFL last year.
5. It's Almost As If
Pence even attended an Indianapolis Colts game entirely so he could theatrically walk out when some of the players protested during the national anthem.
6. Good Thing He Doesn't Care
If you weren't aware, Pence (at least on one occasion) has reportedly addressed his wife Karen as "mother."
7. What Team USA Should Be Doing
Given how sharply divided American opinions are on the Trump administration, it seems a safe bet that some of the U.S. athletes aren't huge fans.
8. Literally Any Other Country
Including the United States, there are a whopping 92 nations competing at the Winter Games.
9. Also Mike Pence
Pence also reportedly avoided contact with the North Koreans during a VIP event prior to the opening ceremony.
10. When Your Friends Love USA
Suffice to say not everyone back home is digging Pence's presence in PyeongChang.
11. All Of Us
Kim Yo Jong, the sister of North Korean dictator Kim Jong-un, did not look terribly enamored with her company.
12. Looking At Mike Pence
Kim Yo Jong was joined in the VIP box by another official North Korean representative, the 90-year-old Kim Yong Nam.
13. Deadly Side-Eye
The tension is no less apparent in gif form.
14. If I Met Mike Pence
Lots of people were really fascinated by Kim Yo Jong's evident disdain.
15. Mike Pence Barely Manages
The frosty meeting between the two countries' dignitaries was matched by the freezing temperatures.
In short, Twitter had plenty of fun mocking, jabbing, and criticizing the stone-faced vice president. It remains to be seen if the rest of the Winter Games bring any more awkward or newsworthy moments for Pence, but based on the first few days, it seems like things might not go that smoothly.