'Aquaman' Is Full Of Powerful Women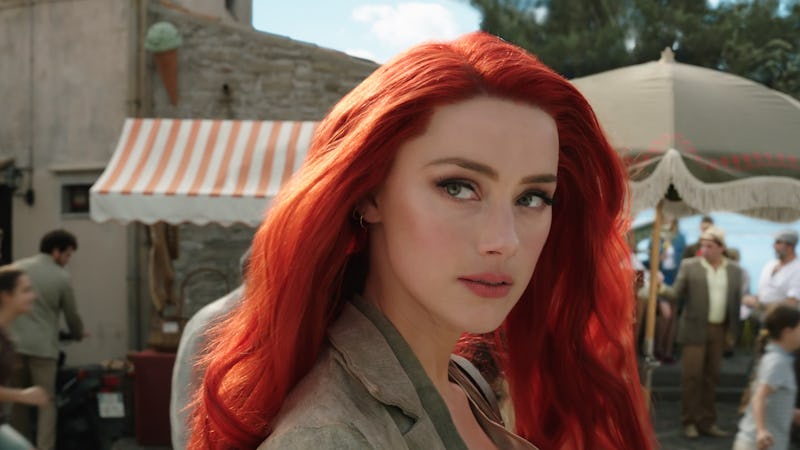 Don't let the title fool you. It might seem like Aquaman is all about a man — specifically Arthur Curry (Jason Momoa) a half-human, half-Atlantean babe (hey, we're allowed to ogle) — but the badass leading ladies really have us hooked on this story, too. Mera, Aquaman's partner in crime, and Queen Atlanna, Aquaman's rebel mother, are destined to become your two favorite new superheroes.
Just to give you some background, land-born Curry doesn't quite fit into either of his parents' worlds. His mother Queen Atlanna (Nicole Kidman) is regent of Atlantis, until she forsakes the throne for her true love Thomas Curry, Arthur's human father. (Talk about a rule-breaker). When Atlanna's boy comes of age, he takes on his destiny of reclaiming the Atlantean throne, but he needs a little help. Fellow outsider Mera (Amber Heard), princess of an undersea kingdom and daughter of King Nereus, is the perfect cohort for the mission. Together, she and Aquaman take on the task of uniting land and sea together, as only two underdogs can.
Read on to find out why Mera and Atlanna are the badass sea queens we all need right now. And mark your calendars for December 21, when Aquaman and these aqua-women hit theaters.
1. They Have Amazing Powers
You've heard of telekinesis, or moving objects with your mind. But have you heard of moving water? (We didn't think so.) Mera's power of hydrokinesis allows her to manipulate H20, as seen in the trailer when she pulls beads of sweat from Aquaman's forehead. So cool!
2. They're Undersea Freakin' Royalty
It may be 2018, but we're still allowed to be impressed by princesses if they're as cool as Mera and Atlanna, right? As daughter of King Nereus, Mera is the Princess of the undersea kingdom. And Atlanna, as her name suggests, was destined to be the Queen of Atlantis. Yas, queens! Like, actually though.
3. Mera Is Aquaman's Ally & Partner
Gone are the days when the woman in a superhero movie is just a shiny trophy for the man to win. In Aquaman, Momoa's character relies on Mera's skill and knowledge as they fight alongside each other. They're a team, through and through.
4. She's Also An Incredibly Fierce Warrior
There's nothing passive about this princess. She's absolutely fearless, and totally willing to fight for what she believes in. I mean, have you seen that clip of her sprinting across a series of roofs while dodging literal bullets? So cool!
5. Queen Atlanna Is The Master Of Her Own Destiny
No forced unions here — Atlanna gave up everything she knew to avoid a marriage she didn't want. On land, she fell in love with Thomas Curry, a human, and gave birth to a child. Three cheers for women making their own decisions about their lives!
6. Atlanna Made Huge Sacrifices For Her Child's Safety
When Arthur was born, Mom left him to be raised by his father on land to keep him safe from the wrath of the Atlanteans. Sadly, that meant not seeing him grow up into the person who'd become Aquaman. And as difficult as that was, if that hadn't happened, Arthur wouldn't have grown up with the sea/ land union mission in mind. Everything happens for a reason!
This article is sponsored by Aquaman, in theaters December 21.