Merriam-Webster Skewered Trump With This List Of Its Top Father's Day Searches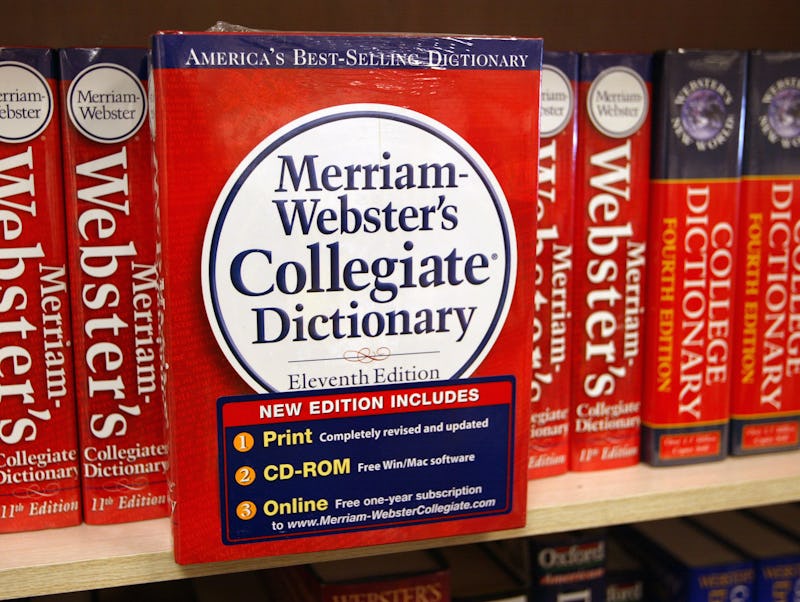 Tim Boyle/Getty Images News/Getty Images
Surely one of the least predicted outcomes of the Trump presidency was the advent of the Merriam-Webster dictionary's Twitter activism — or, at least, Twitter shade-throwing. They're at it again for Father's Day, and this time there's no snark necessary on the part of the dictionary's social media guru. All they had to was publish Merriam-Webster's top Father's Day searches — and the words listed there didn't need any embellishment.
You would probably more or less expect that the first four terms on the list would come to people's minds on Father's Day, if you ever gave a moment's thought to what words people might be searching for in an online dictionary on the holiday. The fourth, however, throws a serious curveball.
"Top lookups today: father, dad, daddy, honor, concentration camp," the Merriam-Webster Twitter account posted on Sunday morning, ostensibly in honor of Father's Day. The responses immediately began rolling in — and the grand majority of them assumed that those searching for "concentration camp" were looking for some information to add context to a new policy from the Trump administration. Specifically, the administration is putting migrant children caught at the border into detention centers, which, Town Hall noted, some MSNBC analysts had referred to as being like "concentration camps."
The Merriam-Webster definition of a concentration camp is fairly general, and it could indeed refer to the detention centers for migrant children. According to that particular dictionary, a concentration camp is "a camp where persons (such as prisoners of war, political prisoners, or refugees) are detained or confined." In a strictly literal sense, then, the MSNBC comments were true, as the camps are indeed places where "persons ... are detained."
The problem, of course, is in the connotation of the word, and the specific historical situation — Nazi Germany — that saying it immediately evokes. The Nazis held Jews, political opponents, Roma, and numerous other groups in dismal conditions in their system of concentration camps, according to the Holocaust Encyclopedia of the U.S. Holocaust Memorial Museum. They served numerous purposes — prisoner transit and detention, forced labor, and, most notoriously, as sites of the systematic murder of millions of people. Although there is no exact tally, many millions of people lost their lives in the Nazi concentration camps, either as murder victims or simply as a result of the dismal conditions. No matter how benign the Merriam-Webster definition of "concentration camp" is, it will remain a heavily loaded phrase.
A CNN in-depth description of the scene inside one of these migrant detention camps painted a picture far removed from Dachau or Buchenwald. "In recreation rooms, some boys watched a soccer match on TV; some took part in a tai chi class; others played pool or foosball ... still others sat in classrooms," CNN wrote. Other details, though, have brought concentration camps to mind more forcefully.
"A public defender in McAllen says some migrants are told their kids are going to be taken away briefly to bathe, and then it dawns on them hours later they aren't coming back," wrote Boston Globe reporter Liz Goodwin on Twitter, describing how children and their parents have been separated at the border. This, as MSNBC's Joe Scarborough remarked, is reminiscent of how Jews arriving at concentration camps would be told that they were going into a group shower — when in reality, the room in question was a gas chamber.
According to the available reporting, 1940s Germany and Poland has not arrived at the U.S.' southern border. According to Merriam-Webster's astute observation, though, the Trump administration's policy has people wondering if it has.