The Meryl Streep Shouting Meme Will Give You Life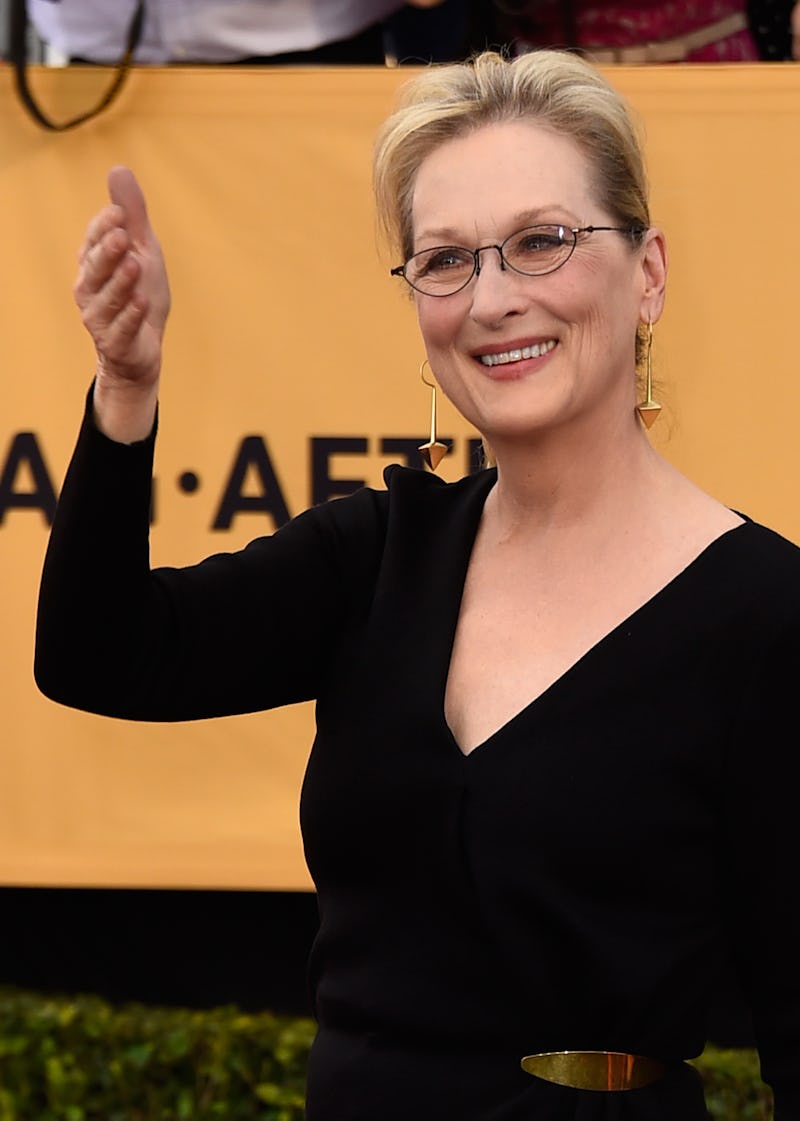 Frazer Harrison/Getty Images Entertainment/Getty Images
Back in 2015, the one and only Meryl Streep was photographed shouting during the Screen Actors Guild Awards and those pics of Streep have now become part of a hilarious meme on Twitter. Streep had been cheering for the late Debbie Reynolds while she accepted the Lifetime Achievement Award, and as you can see from the screen shots, Steep is showing her enthusiasm in a way that's insanely relatable to all of us non-celebs. From the way the Oscar winning actor cupped her hands in order to project her voice to the way she's tilting her head back, the moment totally screams "it me." The photo of Streep is near perfection on it's own, so it should be no surprise that the internet has found a way for it to live on forever in meme form.
What exactly is the topic of this Streep meme? Iconic song lyrics, of course! Users on Twitter have been pairing the photo with captions that include lyrics from beloved songs, and some of the hilarious tweets have been liked by over a hundred thousand people. No song is safe from this meme, as tweets have included lyrics from popular songs like "...Baby, One More Time" by Britney Spears, "Empire State of Mind" by Jay Z and Alicia Keys, and even the theme song from The Nanny.
Here are a few of the funnest memes, as selected by me.
Concrete Jungle… Wet Dream Tomato?
Don't You Know I Still Believe?
Like, Who Doesn't Yell Out The Lyrics To This Song?
I Wonder If Mr. Sheffield Would Be Amused By This?
My, My... Here We Go Again
Gotta Give Some Love To Lil Jon
Obviously The Memes Had To Include A Classic Disney Song
Queen Bey Got Involved
And Finally, Does Anyone Even Know What The Correct Lyric Is?
I don't know about you, but I've personally never gotten so much enjoyment out of a screenshot before. Now excuse me while I put on my Missy Elliott playlist.