Meryl's Emmys Speech Is So Perfect Right Now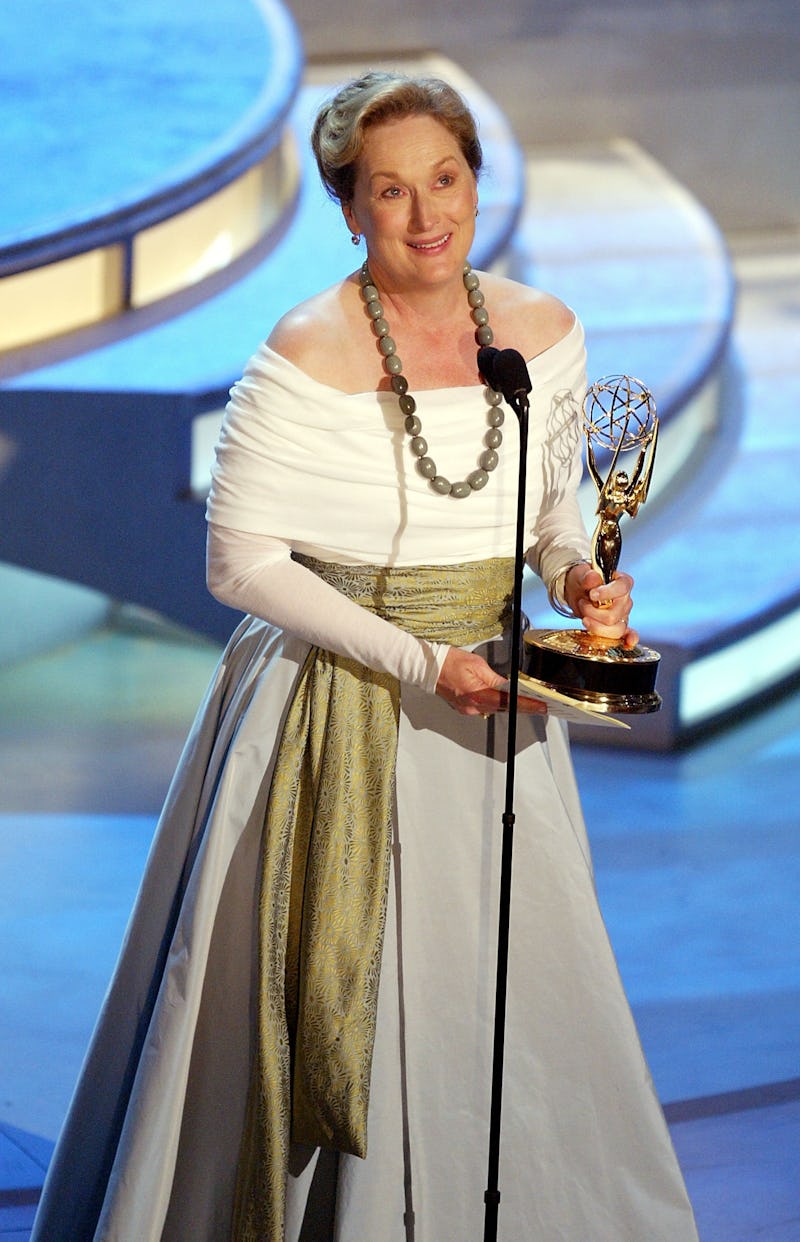 Vince Bucci/Getty Images Entertainment/Getty Images
Ever since Meryl Streep took the stage at the 2017 Golden Globes Sunday to accept the Cecil B. DeMille award, there have been many reactions. Of course, seeing as she took jabs at Donald Trump, the president-elect couldn't help but comment on her speech. Believe it or not, but Meryl Streep's 2004 Emmys speech is the best "reaction" to Trump's response. That's right, a speech she gave 13 years ago trumps every other reaction.
If you've yet to Globes hear her speech, be sure to check it out. She doesn't only criticize the future leader of the United States, but also makes some great points that everyone should take note of. As for Trump, in typical fashion, he took to Twitter to express exactly what he thought of Streep's speech, especially when she brought up that claims that he made fun of a disabled reporter. (He has denied these allegations.)
Trump tweeted,
Meryl Streep, one of the most over-rated actresses in Hollywood, doesn't know me but attacked last night at the Golden Globes. She is a Hillary flunky who lost big. For the 100th time, I never "mocked" a disabled reporter (would never do that) but simply showed him "groveling" when he totally changed a 16 year old story that he had written in order to make me look bad. Just more very dishonest media!
Allow 2004 Streep to respond to Trump. After being announced as the winner of the award for Outstanding Lead Actress in a Miniseries or a Movie for Angels in America, the 67-year-old actor took the stage and began her speech with,
"You know, there are some days when I, myself, think I'm overrated... but not today."
Boom. Mic drop. Can you think of a more perfect "reaction" to Trump calling Streep "overrated"? Even she realizes sometimes she is seen as just that, but during that 2004 Emmy win, yeah, not so much. The same can be said now in 2017. (Side note: How can anyone really think she is "overrated"?)
Now that Trump has unsurprisingly spoken, I'd like to believe Streep feels exactly as she did at the 2004 Emmys and may even be getting ready to channel her speech once again.
Let's face it, the only person who can use that word to describe Streep is Streep herself.