Meryl Streep's Perfect Reaction To Her Oscar Nom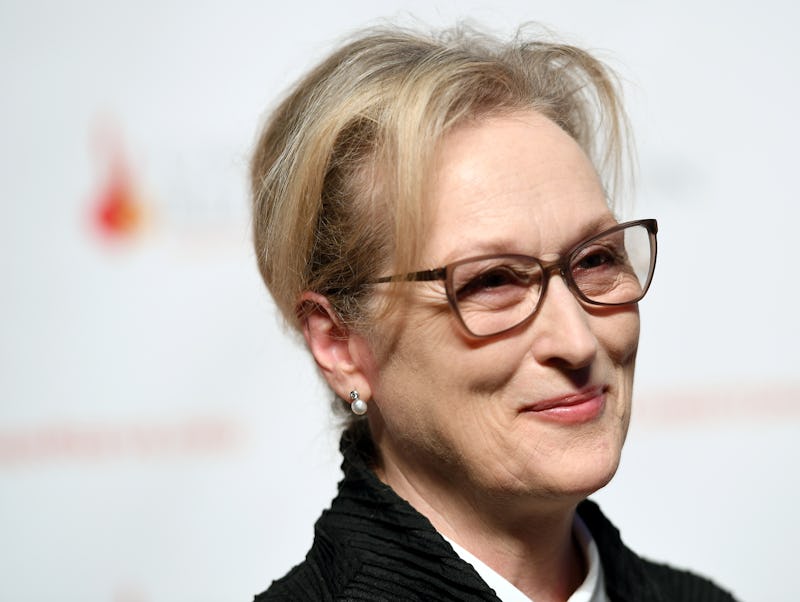 ANGELA WEISS/AFP/Getty Images
If you're as obsessed with award shows as I am, chances are that Tuesday morning was a pretty important one for you. The 2017 Oscar nominations were announced, and of course, Meryl Streep scored yet another one. It's just the way of the world: The grass is green, the sky is blue, and Meryl Streep gets nominated for stuff. But this isn't just any old nomination for her — it's her twentieth. And oh my god, Streep's reaction to her Oscar nomination was basically the cutest thing I've ever seen. How does anyone not adore this woman?!
In case you were wondering, her twentieth nomination is for the category of Best Actress In A Leading Role for Florence Foster Jenkins, and the actor is incredibly excited about it, as anyone would be. How do I know? According to the Los Angeles Times, Streep made a short but very to the point statement about her nomination in a way that suits her and her legendary career perfectly.
According to the LA Times, in a message to the press, a publicist from Paramount Pictures issued a statement that said, "Please find the following GIF as a statement on behalf of Meryl Streep."
Here is the GIF:
So perfectly Streep, right? If you didn't already love her, this GIF ought to be enough to convince you that you should. And if you haven't seen Florence Foster Jenkins yet, you better make plans before Oscars night on Feb. 26, because you have to know why the world is rooting for this lady — other than the fact that she's pretty much one of the most amazing humans ever.
It's an amazing honor for Streep to hold not only both the honor of 20 nominations but also the record she continues to hold for most nominations any single actor has had, so it's good to see that she's properly enjoying it. After all of her hard work, she deserves it!