40 Iconic Met Gala Looks Through The Years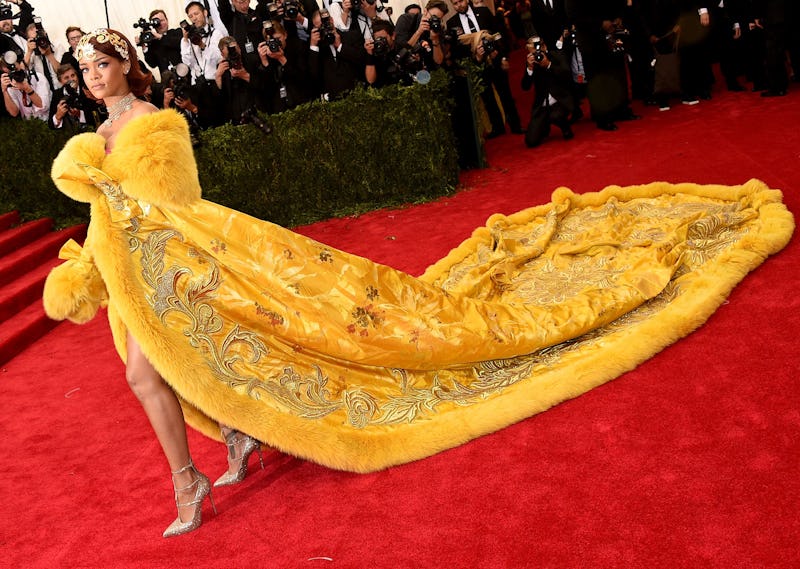 Larry Busacca/Getty Images Entertainment/Getty Images
It's officially the day of the Met Gala, the first Monday in May. The annual Costume Institute's Metropolitan Museum Gala was scheduled to take place today — before COVID-19 swiftly removed any possibility of that from reality. The gorgeous Central Park-based museum in New York City is currently closed, though you can walk through the virtual galleries on their website. But one of the biggest events in fashion will have to wait for another time.
The 2020 exhibit, titled About Time, was curated by Andrew Bolton, and designed to portray "how fashion has changed in the last 150 years, how it's stayed the same—and where it's headed next," according to Vogue. Though it will now not open until October, the publication has given the world a behind-the-scenes look at what could have been this coming week…. and what visitors will be able to see in person when the museum can re-open its doors.
The event that you won't be getting, however, is the Met Ball, the parade of jaw-dropping red carpet looks that are promised by all in attendance, year after year. Celebrities and socialites alike pull out all the stops when it comes to creating looks that are totally on-theme with the exhibit, working closely with their favorite designers to bring their outfits to life. The result? Gowns, suits, and even jeans that will live on in history. And while 2020's Met Gala isn't happening today, let's take a walk down memory lane and celebrate the looks that once were.