MGM Resorts Filed Lawsuits Against The Las Vegas Shooting Victims — Here's What That Means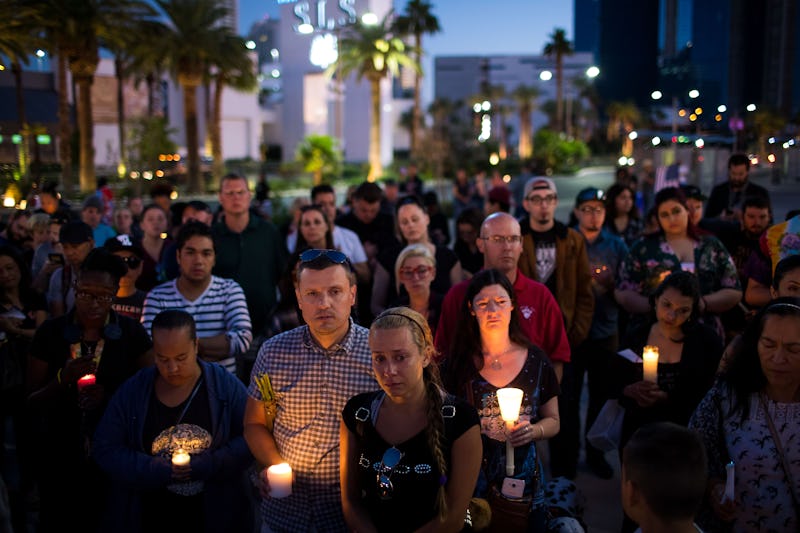 Drew Angerer/Getty Images News/Getty Images
The tragic 2017 shooting at a country music festival in Las Vegas, which killed 58 people and injured another 851, left the nation reeling and left traumatic scars for the survivors to work through for likely the rest of their lives. Now they have something else to face, as MGM Resorts is filing lawsuits against the Vegas shooting survivors in a federal court.
According to the Las Vegas Review Journal, the lawsuits aren't claiming that the survivors owe them any damages. Instead, it's a preventative measure meant to protect MGM Resorts International, the company that runs the Mandalay Bay hotel, where the shooter had a room full of guns.
So far, more than 450 victims of the Las Vegas shooting have filed lawsuits against MGM Resorts, arguing that the company had a "duty of reasonable care" and should have monitored the actions of the shooting better, according to the Las Vegas Review Journal.
The new lawsuit that MGM has filed, then, argues that "plaintiffs have no liability of any kind to defendants" and that the existing lawsuits against them "must be dismissed." Essentially, as the Review Journal explained, the company is trying to jump out in front of any potential damages that the survivors are claiming that they might be liable — and there's a reason why they're doing it specifically in a federal court.
An MGM spokesperson explained why they're bringing this suit against more than 1,000 victims in a federal court rather than a state court, where the shooting victims filed their suit against MGM.
"The Federal Court is an appropriate venue for these cases and provides those affected with the opportunity for a timely resolution," the MGM spokesperson said, according to 1057News.com. "Years of drawn out litigation and hearings are not in the best interest of victims, the community and those still healing."
However, lawyers for the shooting victims believe that MGM has chosen to file the case in a federal court because they're looking for a judge who would be favorable to them, and they believe they're more like to find that at the federal level than in a state court.
Las Vegas lawyer Robert Eglet explained that as MGM is a Nevada company, the case belongs in a state court. Acting otherwise, he said, was a "blatant display of judge shopping" which "quite frankly verges on unethical," according to the Las Vegas Review Journal.
"I've never seen a more outrageous thing, where they sue the victims in an effort to find a judge they like," said Eglet. "It's just really sad that they would stoop to this level."
According to the Las Vegas Review Journal, MGM's suit is based on act passed in 2002 soon after Sept. 11, which stated that companies employing "anti-terrorism" services or technology would not be liable for damages. They are arguing that because they and Route 91, the music festival, had been using the services of a company certified by the Department of Homeland Security for "protecting against and responding to acts of mass injury and destruction," they cannot be sued.
One potential problem for MGM, though, is that the FBI hasn't classified the attack as terrorism, according to the Daily Mail. The 2002 act refers specifically to acts of terrorism, but according to the Las Vegas Review Journal, it has a broader definition of terrorism than the FBI does. While the FBI claims that terrorism has to have some sort of an ideological motive — which they have not been able to discern in this shooting — the 2002 act defines it simply as "mass destruction, injury or other loss."
According to the Las Vegas Review Journal, Eglet called this an "obscure" grounds for a lawsuit. However, the shooting victims are going to have to fight it anyway.