Miami Will Put Its Homeless In A Psych Ward If They Won't Find Shelter From The Hurricane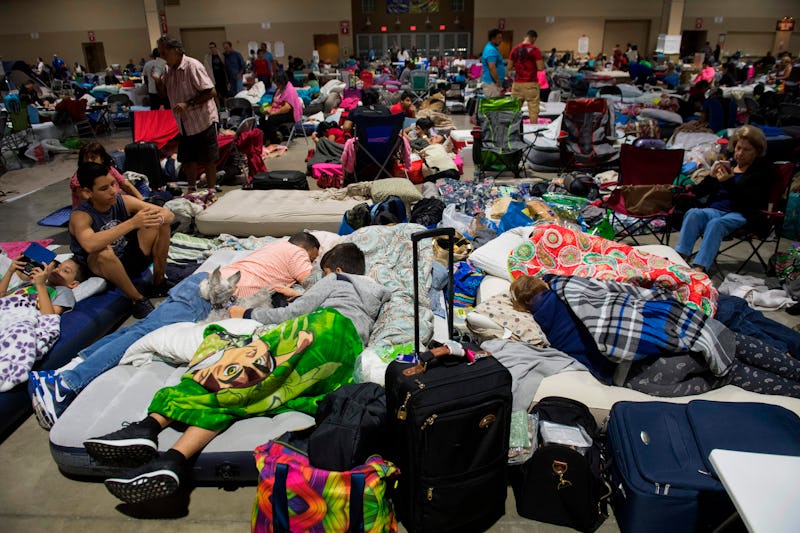 SAUL LOEB/AFP/Getty Images
In an unprecedented move, because of the catastrophic threat to the area from Hurricane Irma, Miami's homeless staying for Irma will be committed to a psychiatric ward under the Baker Act, according to the Miami Herald. The Baker Act allows an adult to held for up to 72 hours for an involuntary psychiatric examination, the Citizens Commission On Human Rights Florida explained on its website. Lobbyist and chairman of the Miami-Dade County Homeless Trust Ron Book told the Herald that outreach teams are working with police to use the Baker Act on homeless individuals who are refusing to seek shelter from the dangerous category 4 hurricane.
"It's my experience that those individuals who have been unwilling to come off the streets, they all have mental health issues," Book told the Herald. "They are a danger to themselves. … We will go in and have all of them Baker Acted."
The Baker Act is controversial, and CCHR Florida explained that one of the reasons is many people who are detained under the Baker Act are not actually a danger to themselves or others. And, the infringement upon their rights can have devastating effects.
"Whether in error or not, under the Baker Act or other involuntary commitment laws, you can be detained for 72 hours for observation. A lot can happen in those 72 hours," Thomas Szasz, professor of psychiatry emeritus, told CCHR Florida. "[Involuntary commitment] entails far greater deprivation of rights than does incarceration in prison."
This is the first time the Baker Act has been used ahead of a hurricane, and Book told the Associated Press that keeping a vulnerable population out of the path of the storm was the main goal. The Baker Act will only be used on homeless people who refuse to go to approved shelters.
"I am not going to sign suicide notes for people who are homeless in my community. I am just not going to do it," Book said to the Associated Press. "That's why you have a Baker Act. It's there to protect those who can't otherwise protect themselves."
According to the Associated Press, social workers and police offers combed the streets alongside a psychiatrist looking for homeless people who had refused rides to shelters. And while the Associated Press noted that minor encounters, like refusing shelter, are not enough to commit someone under the Baker Act, the testimony of police officers and social workers familiar with the individuals can establish a previous pattern of mental illness.
Additionally, those rounded up under the Baker Act can't be held longer with 72 hours without a hearing. By the time hearings commence Monday the danger of Hurricane Irma will likely have moved past Miami.
The move to get everyone adequate shelter is rooted in Hurricane Irma being touted as one of the strongest hurricanes to ever form in the Atlantic. It's being billed as stronger than Hurricane Andrew, which decimated the same area 25 years ago. In fact, Hurricane Irma is so powerful that it is registering on meters meant to detect earthquakes, according to USA Today.
This means that anyone in the direct path of Irma who does not seek shelter seriously risks losing their life. The Guardian reported that Irma's death toll rose to 23 after she battered the Caribbean islands over the past two days. While using a mental health law like the Baker Act to force people to take shelter is turning some heads, Ron Honberg, a senior policy adviser for the National Alliance on Mental Illness, told the Associated Press that while there are concerns, the benefit outweighs the risks in this situation.
"I think sometimes situations arise that are so dire that safety consideration supersedes everything else," he said. "But you don't want this to be used on people who don't have a mental illness."