Stormy Daniels Was Arrested At A Strip Club & Her Lawyer Thinks It Was A "Setup"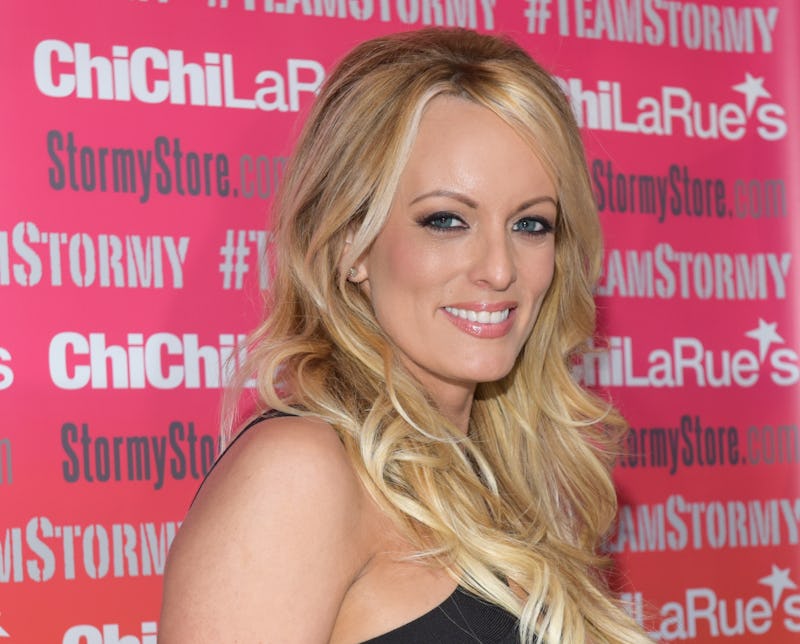 Tara Ziemba/Getty Images Entertainment/Getty Images
Late Thursday night via Twitter, Michael Avenatti claimed that Stormy Daniels was arrested in a strip club in what he described as a "setup". According to Daniels' attorney, the reason for Daniels' alleged arrest was surprisingly tame: she supposedly allowed a customer to touch her in a non-sexual manner while she was on stage. Bustle has reached out to the Columbus Police Department for comment on the alleged arrest.
UPDATE: Columbus, Ohio police confirmed Thursday that Stephanie Clifford (Stormy Daniels is a stage name) was arrested on three counts of illegal sexually oriented activity in a sexually oriented business.
EARLIER:
On Twitter, Avenatti explained what he believed to be the situation in detail. He wrote,
Just rcvd word that my client @StormyDaniels was arrested in Columbus Ohio whole performing the same act she has performed across the nation at nearly a hundred strip clubs. This was a setup & politically motivated. It reeks of desperation. We will fight all bogus charges.
In a follow-up tweet, Avenatti added,
She was arrested for allegedly allowing a customer to touch her while on stage in a non sexual manner! Are you kidding me? They are devoting law enforcement resources to sting operations for this? There has to be higher priorities!!! #SetUp #Basta
It's unknown what strip club Daniels was performing at, or what charges, exactly, she was allegedly arrested upon. It's also unclear whether the Columbus Police have decided to set bail for her if she was, in fact, arrested. Avenatti tweeted, "We expect her to be released on bail shortly. We also expect that she will be charged with a misdemeanor for allowing "touching."" Again, the police department has not confirmed the alleged arrest.
However, given Daniels' increasingly political profile, it's not unsurprising that Avenatti would consider political motivations for his client. After all, she went on air with 60 Minutes to talk at length about her supposed sexual affair with Donald Trump. The president has strongly denied the affair.
Daniels' strip show is called "All Things Revealed," and has a runtime of approximately 15 minutes. She's been performing all over the country in recent months. In fact, she was performing a few miles from Trump in Washington, D.C. right at the same time as he was announcing his supreme court pick of Brett Kavanaugh for the Supreme Court, according to SF Gate.
During that performance (which is presumably like all of the others), Daniels skipped the traditional pole dance routine and instead alternated between the stage and walking around the crowd, slowly undressing.
Daniels, whose real name is Stephanie Clifford, claims to have had sex with Trump while he was married to Melania Trump. She also currently has a defamation lawsuit filed against the president.
Trump denied any claims of the affair. However, once The Wall Street Journal revealed that Trump's lawyer, Michael Cohen, had arranged for Daniels to receive $130,000 as alleged hush money, Cohen finally addressed the alleged affair, describing it as an "outlandish allegation" without actually addressing the claims about the payment. Now, Daniels is looking to seek reclamation for the alleged damages she suffered from Trump's supposed defamation, to the number of $75,000.
According to CNN, Daniels claims that Trump "attempted to tarnish her reputation and credibility by dismissing her account — and subsequent description — of a man who threatened her in 2011, at a time when she was ready to go public about her alleged affair with Trump."
In response to the allegations that a man was sent to threaten her, Trump vehemently denied the claims, taking to Twitter to dispute the composite sketch of the man. "A sketch years later about a nonexistent man," Trump tweeted. "A total con job, playing the Fake News Media for fools (but they know it)!"
Recently, Daniels has been her usual social media self, dealing with insults in a good-humored fashion and retweeting info about the clubs that she would be performing at. When one Twitter user accused her of being a failure, Daniels tweeted back, "Funny. My bank account and trophy case say differently."