Michael Avenatti Just Tweeted A Statement About His 2020 Plans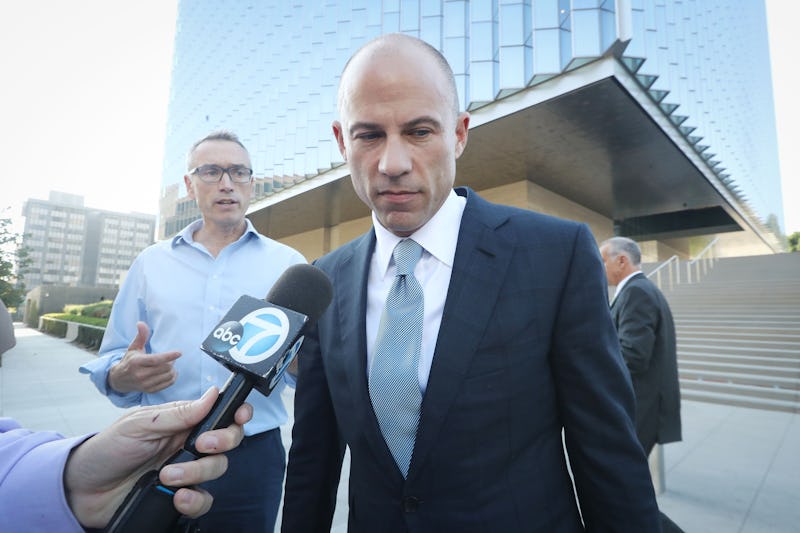 Mario Tama/Getty Images News/Getty Images
Politicians considering a run for the presidency tend to keep their intentions close to their chests — but Michael Avenatti isn't a politician. He made headlines as adult film tycoon Stormy Daniels' lawyer, and he declared back on the summer of 2018 that a run for president could be in his future. However, now Avenatti has announced that he won't run in 2020 — but his Twitter statement on the subject suggests that he's going to remain an active voice in politics.
In his Twitter announcement, Avenatti made it clear that the choice not to run didn't come from him.
"After consultation with my family and at their request, I have decided not to seek the Presidency of the United States in 2020," Avenatti posted on Tuesday. "I do not make this decision lightly — I make it out of respect for my family. But for their concerns, I would run."
Back in July, as CNBC wrote, Avenatti said that he would run in 2020 "only if I think that there is no candidate in the race that has a real chance of beating him." As the New York Times noted, Avenatti's philosophy is that a winning candidate will have to fight President Donald Trump on Trump's own level.
"We must be a party that fights fire with fire," Avenatti said at a fundraiser for the Democratic Party, according to the Times. "When they go low, I say hit back harder."
In his statement, Avenatti made it clear that he still holds that opinion.
"I remain concerned that the Democratic Party will move toward nominating an individual who might make an exceptional president but has no chance of actually beating Donald Trump," Avenatti wrote. "The party must immediately recognize that many of the likely candidates are not battle-tested and have no real chance at winning. We will not prevail in 2020 without a fighter."
As a politician, Avenatti himself is hardly battle tested, although he has gotten plenty of practice criticizing Trump, as the Times wrote. After months of dogging Trump on Twitter and in the media, though, Avenatti's hypothetical campaign hit two significant obstacles, apparently of his own making.
In November, Avenatti was arrested on the suspicion that he had committed domestic abuse, according to The Washington Post. Avenatti quickly called the allegation "completely bogus," and both his first wife and his current wife defended him against the claim. Avenatti also argued publicly with Daniels, who claimed that he had filed the defamation lawsuit against Trump on her behalf without her permission, according to The Daily Beast. Daniels even considered getting a new lawyer, as The Daily Beast wrote. Now, though, the two have "sorted sh*t out," as Daniels posted on Twitter.
In his Twitter statement announcing that he wouldn't run for president, Avenatti said that he would "not rest until Trump is removed from office, and our republic and its values are restored."
"I will also continue with my nearly twenty years of speaking truth to power," Avenatti continued, "and representing those who need an advocate against the powerful."