Michael Avenatti's First Official Political Video Wants You To "Join The Fight Club"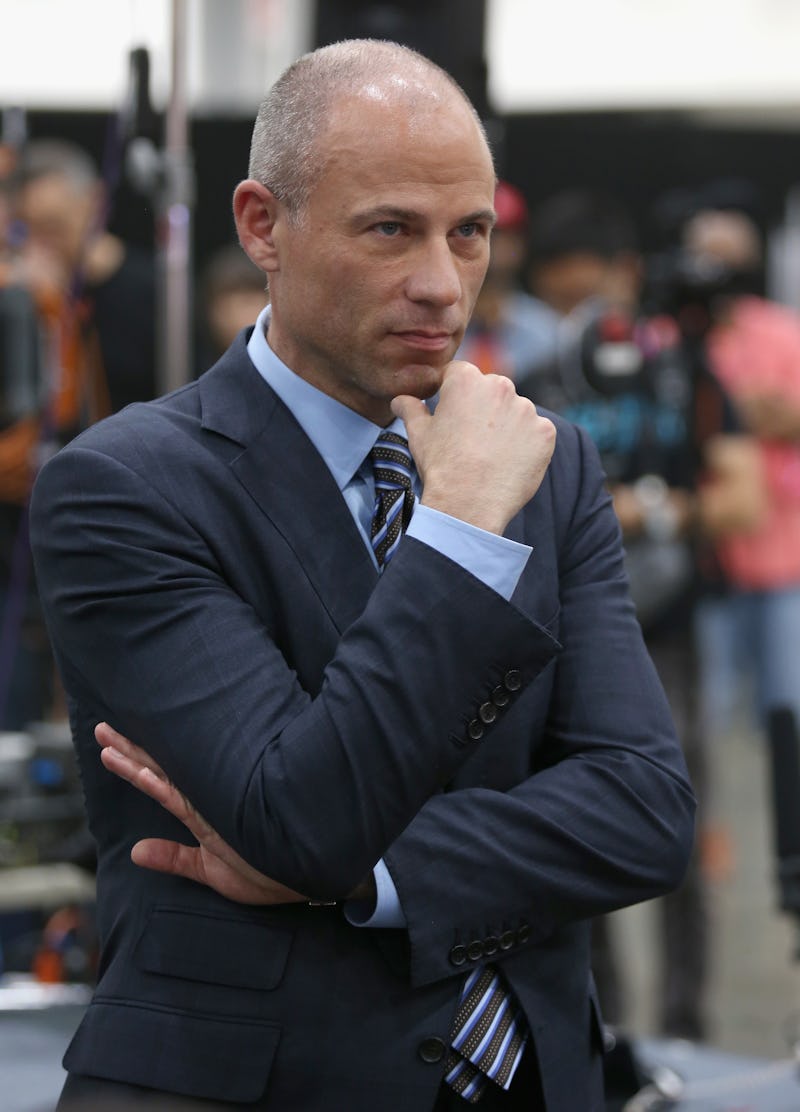 Phillip Faraone/Getty Images Entertainment/Getty Images
One of Donald Trump's biggest critics released a political advertisement on Thursday that perfectly encapsulated his style of politics. Michael Avenatti's first political video ad called for selfless leadership as opposed to opportunistic politicians this midterm election season, and asked viewers to "join the Fight Club."
Throughout the video — which was paid for by Avenatti's political action committee, "The Fight" — various people of different ethnicities and ages are shown demanding a more just America. "We the people are mad as hell," one person said, "and we're not going to take it anymore." Another person said, "Enough with the lies" followed by another who said, "Enough with the cover-ups." Others called out "bigotry" and "misogyny."
Further into the video, a person said, "We deserve better than this." Another added, "Stop with the empty promises," while yet another demanded, "No more thoughts and prayers" and that "if you've put big money first and us second, your time is done."
The video largely stayed true to Avenatti's brash political style. "We are the majority and we will not be ignored. We demand accountability. We demand an America that we can be proud of," the people said. "We want a country that stands for inclusion and fights for fairness. We want leaders who put 'we' before 'me.' Leaders who make the brave choice, not toe the party line."
At the end of the video, Avenatti appeared, saying, "Our Constitution says 'We The People,' not 'me, the president.' Stand up, join the Fight Club. Use your vote as your voice on Nov. 6." The particular bit of "fight club" seems to be an ongoing theme for Avenatti, who has referred to it as something of a fight for democracy.
Now, you might be wondering: Is Avenatti hinting at running for public office? In August, Avenatti said that Democrats had a "huge appetite within the party for a fighter" and that he could be that person. The attorney garnered national attention for representing Stormy Daniels, a porn star who claimed that Trump had an extramarital affair with her in 2006. The president has denied those allegations.
The significance of New Hampshire in American electoral politics isn't lost on Avenatti. In August, the attorney visited the Granite State, where he modified Michelle Obama's famous slogan to something that was more his style: "When they go low, we hit harder." He told CNN, "Obviously, New Hampshire is the second state that ultimately picks a Democratic nominee. In the event I were to run, it's important to be there."
Still, the Democratic Party leadership has expressed frustration with Avenatti. For instance, according to the Guardian, there has been some indirect back-and-forth between Maryland Democratic Rep. John Delaney and Avenatti. The former indirectly referred to Avenatti as the "latest cable news circus act," while the latter said the "new rule" for the Democratic Party should be to "eliminate" candidates who "whine."
But even apart from that, the Hill reported that the Democratic strategists have expressed concern toward Avenatti's "sledgehammer" modus operandi. While Avenatti has said that Democrats need to practice "smash-mouth politics" against Trump, people like Patti Solis Doyle, a campaign manager for Hillary Clinton's presidential 2008 bid, said that Avenatti doesn't seem to differentiate between "being tough" and "getting in the gutter."
But if one thing is clear, it's that Avenatti isn't the type to shy away from confrontation.