Michael Brown's Mom Received Her High School Diploma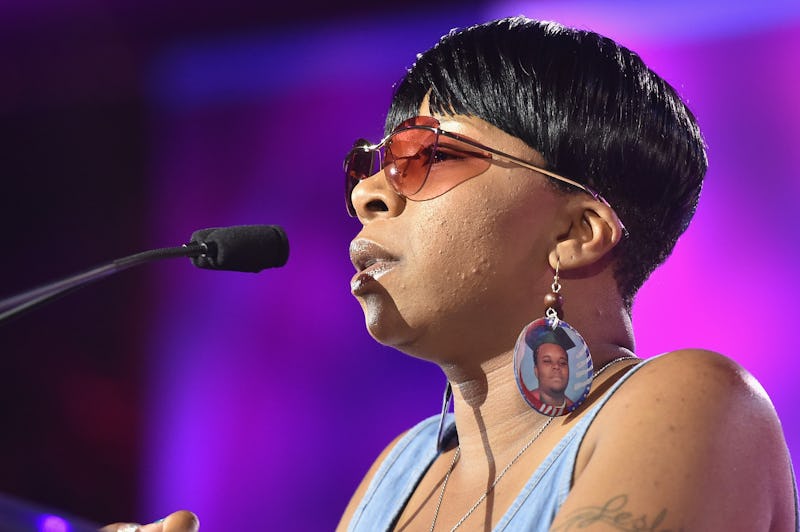 Paras Griffin/Getty Images Entertainment/Getty Images
In uplifting news, Lezley McSpadden, mother of Michael Brown, received her high school diploma last week on Friday. Brown's mom graduated from Jennings High School during the school's 100th commencement. Due to personal tribulations, McSpadden had not been to school in over two decades.
According to CNN, McSpadden had always wanted to complete her journey in education but never had the time to pursue school as a young mother. The difficulties of being a teen mom temporarily put a lid on her dream of completing her formal education. Her primary focus was to provide for and nurture her newborn. After her son was shot dead by a white police officer in Ferguson, Missouri, her commitment to complete high school became even more personal.
McSpadden told CNN that she felt her son's presence even in his heartbreaking absence.
"I know that he's been my angel through this all and I know that he's proud of me," she said.
Prior to completing high school, McSpadden penned a moving account of her son's life and death in the book Tell The Truth And Shame The Devil: The Life, Legacy, And Love Of My Son Michael Brown, which is meant to show readers the everyday and relatable side of her son.
McSpadden's plan to return to school became stronger in August last year. In a meeting with Art McCoy, the superintendent for the Jennings School District, McSpadden was advised to enroll in the high school's school program meant for adults. McCoy told McSpadden that completing her high school degree was the best way to "honor her son." According to The St. Louis American weekly newspaper, McCoy encouraged McSpadden, saying, "This would be a perfect tribute to him, going back to finish your high school education."
McSpadden's teacher Jana Loftis guided her throughout her high school trajectory and had only the best praise for her. According to Loftis, McSpadden was the kind of assertive student who accepted a "really challenging situation and became determined to make the best of it."
There's something even better and heartwarming about her completion of high school. McSpadden wasn't alone on her graduation day. Among the 160 students marking the end of their high school education was McSpadden's daughter and Brown's younger sister, Deja Brown, who had also completed her own journey through high school. The resilient mother-daughter duo proved that no matter how brutal circumstances are, patience and dedication to a noble purpose — in this case, empowerment through education — is worthwhile.