Cohen Claims Trump Green-Lighted That Russia Meeting About "Dirt" On Clinton — REPORT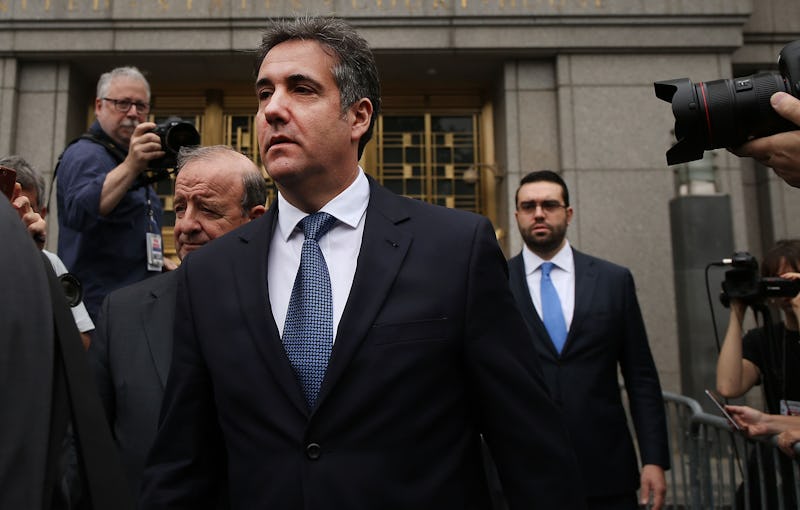 Spencer Platt/Getty Images News/Getty Images
The president's former personal attorney, Michael Cohen, said Trump approved the Russia meeting that was supposed to offer up "dirt" on Hillary Clinton. According to CNN, Cohen claims Trump knew about the June 2016 meeting in advance, which directly contradicts previous statements in which Trump said he knew nothing about the meeting. Not only is Cohen reportedly telling sources Trump knew about the meeting — but he's also supposedly willing to talk to Special Counsel Robert Mueller about it, too, per CNN.
Bustle has reached out to both the White House and Cohen's lawyer, Lanny Davis, for comment on the report. After CNN published it, Trump's lawyer, Rudy Giuliani, claimed Cohen was lying.
When it was first revealed that Donald Trump Jr. had met with a Russian lawyer in June, Trump denied any knowledge of the meeting, and simultaneously defended his son's decision to have the meeting at all. In an interview with Reuters, Trump said, "No, that I didn't know until a couple of days ago when I heard about this. It was a 20-minute meeting, I guess, from what I'm hearing."
Trump then defended his son, saying, "Many people, and many political pros, said everybody would do that."
Now, Cohen is reportedly blowing up Trump's denial, even confirming that he himself was present at the meeting where Trump was informed of the offer by the Russians to meet, in the first place. But there's one catch: according to CNN, Cohen reportedly doesn't have any proof of any of this, beyond his willingness to go on the record.
The extent to which Trump did or didn't know about this specific meeting might not immediately seem important, but it actually could be huge: the emails proving the June 2016 meeting occurred have been described by Reuters' Steve Holland as "the most concrete evidence that Trump campaign officials might have been willing to accept Russian help to win the Nov. 8 election." So if it were proven that Trump knew about this meeting and even consented to it, it could certainly impact Mueller's Russia investigation in a a big way.
This wouldn't be the first time Cohen has testified about Russian interference. Last year he privately testified to two sets of congressional committees, though a source told CNN that he didn't say that Trump had had prior knowledge of the June 2016 meeting in either of those instances.
Trump has not yet acknowledged the reports that Cohen is ready to go on the record to confirm his knowledge of the meeting. However, Giuliani, Trump's lead lawyer dealing with Mueller's investigation, said to Chris Cuomo on CNN's Cuomo Prime Time, "He's been lying all week, he's been lying for years."
"I don't see how he's got any credibility," Giuliani added. Giuliani also called Cohen "the kind of witness that can really destroy your whole case," as well as a "pathological liar."
This isn't Cohen's only involvement with a federal case, currently. He's also being investigated by federal prosecutors in New York for potential bank and tax fraud, as well as potential campaign law violations. In recent months, Cohen has "signaled his willingness" to work with authorities, per The New York Times.
Cohen was reportedly the one who paid porn star Stormy Daniels $130,000 to keep quiet about her alleged affair with Trump. Giuliani has since claimed that Trump repaid Cohen for this payment without knowing what it was for. Trump has denied the alleged affair with Daniels, as well.