Michael Moore's "Trumpileaks" Website Will Aid White House Whistleblowers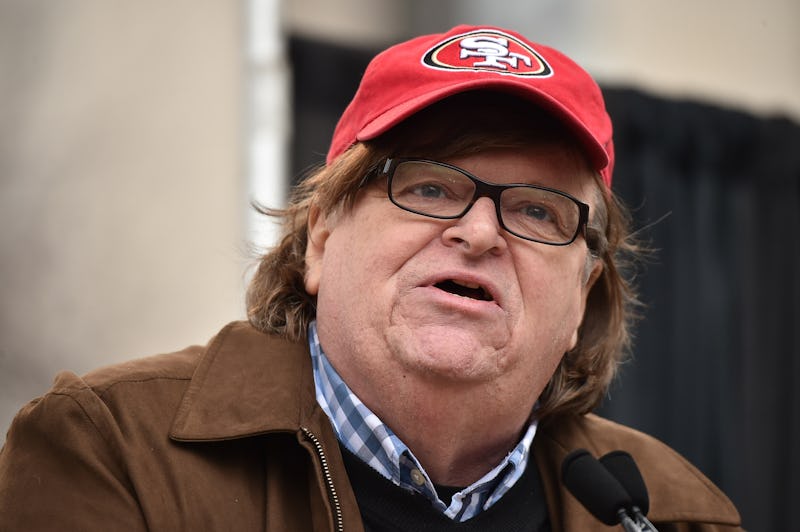 Theo Wargo/Getty Images Entertainment/Getty Images
In his latest act of defiance against the president, filmmaker Michael Moore launched "Trumpileaks," a website that helps whistleblowers anonymously leak inside knowledge about the administration. In a letter published on HuffPost, Moore outlined that the platform provides tools to help protect the anonymity of those who "needed to blow the whistle in the name of protecting the United States of America from tyranny."
"Patriotic Americans in government, law enforcement or the private sector with knowledge of crimes, breaches of public trust and misconduct committed by Donald J. Trump and his associates are needed to blow the whistle in the name of protecting the United States of America from tyranny," Moore stated in the letter.
"While no form of digital communication is 100% secure, the tools we're using provide the most secure technology possible to protect your anonymity," reads the website page. The tools listed include the encrypted messaging apps Signal, Peerio, and Whatsapp, the email encryption plugins Mailvelope and Enigmail, and the postal address to Moore's team. Alongside every suggested platform is Moore's contact information.
Moore credited none other than Vice President Mike Pence for inspiring him to create the website. The filmmaker said he came across a video of Pence as a young congressman passionately testifying in defense of the First Amendment, the protection of whistleblowers, and the importance of a free press.
Particularly poignant was the second of two segments from Pence's speech that Moore highlighted:
Compelling reporters to testify, and in particular, compelling reporters to reveal the identity of confidential sources, intrudes on the news-gathering process and hurts the public. Without the assurance of confidentiality, many whistleblowers will simply refuse to come forward, and reporters will be unable to provide the American public with the information they need to make decisions as an informed electorate. But with all this focus on newsgathering, it is important that we state clearly: Protecting a journalist's right to keep a news source confidential is not about protecting reporters; it is about protecting the public's right to know.
In February, several news outlets reported that the White House was allegedly cracking down on press leaks. Press Secretary Sean Spicer at one point reportedly called an "emergency meeting," asking his aides to hand over their phones to prove they had "nothing to hide," and warning that the use of encrypted texting apps such as the ones listed on Trumpileaks was a violation of the Presidential Records Act.
Pence has insisted that both he and the president believe in freedom of the press, so his response to Moore's new project — if he bothers to give one — should be interesting.