13 Michelle Obama Quotes About Barack That Will Make You All Warm & Fuzzy Inside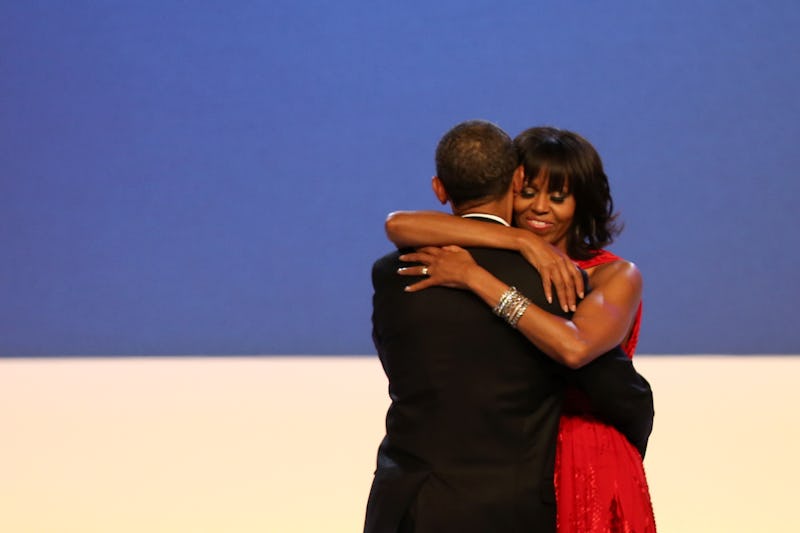 Mario Tama/Getty Images News/Getty Images
For some, the relationship between Barack and Michelle Obama is pure #relationshipgoals. From a law firm in Chicago, Illinois, to two children, a Senate seat, and later, the White House, the Obama's marriage has weathered a number of rewarding challenges and hard roads. So it's no surprise that the Obamas have said a lot of really inspiring and noteworthy things about their bond. Don't believe me? These quotes from Michelle about Barack show why everyone loves the Obama's love story.
Michelle told ABC News she met Barack when she was 25 and working as a lawyer at a corporate law firm in Chicago. At the time, she was asked to serve as an adviser to Barack, then 28 and a summer associate at the firm. Although Michelle said she initially rebuffed Barack's requests for a date, she gave in eventually and the pair spent their first date taking in a museum, a movie, and ice cream.
After two years of dating, Barack proposed and the couple was wed in 1992. Of their wedding, Michelle later recalled that her soon-to-be husband didn't exactly make the most traditional vows. "Barack didn't pledge riches, only a life that would be interesting," she noted. "On that promise he delivered."
Here are 13 more things Michelle has said about Barack that show just why so many people are head over heels about their relationship: