Yara Shahidi Got The Best College Rec Letter Ever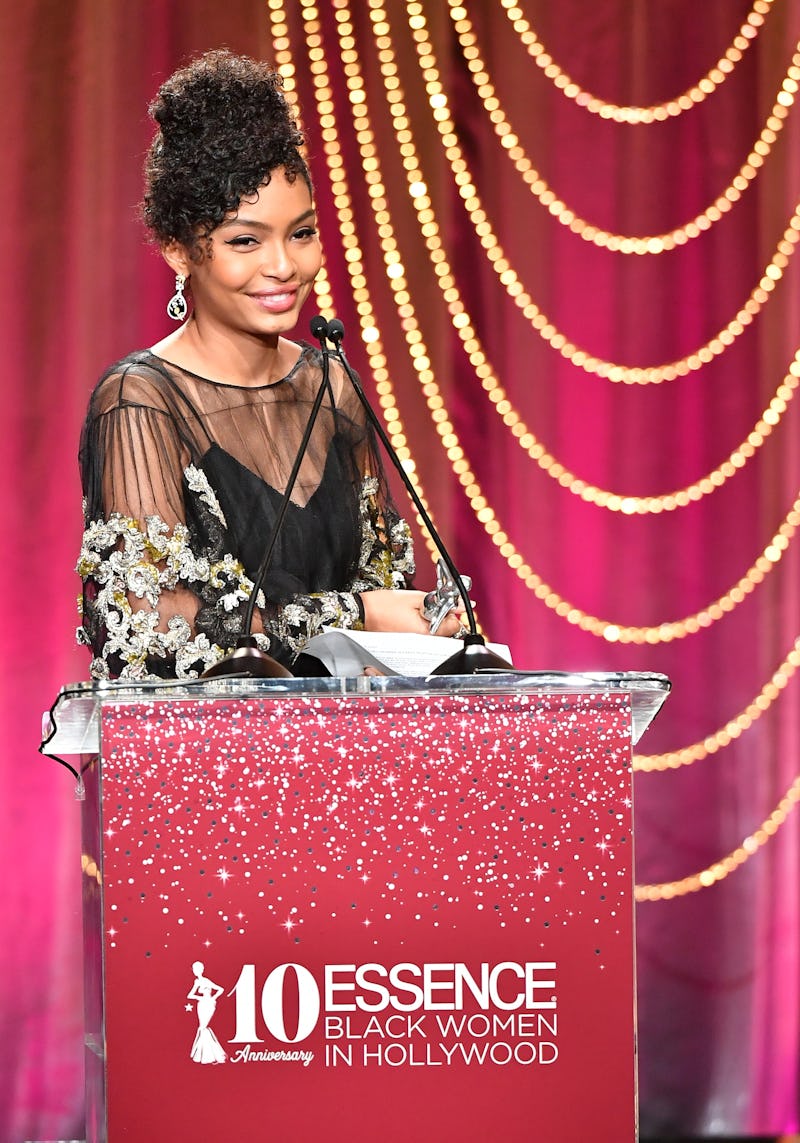 Earl Gibson III/Getty Images Entertainment/Getty Images
At just 17, black-ish star Yara Shahidi has accomplished incredible things. She's a successful actor, starring on ABC's award-winning series as the teen Zoey Johnson, and in 2016, she began modeling, a platform she uses to promote greater representation for women of color in the industry. Shahidi is also a science whiz, and uses her interest in biochemistry as part of a campaign to get more young women involved in STEM research. So it's not surprising that Shahidi's charity efforts and creative work have caught the attention of another very successful woman: former First Lady Michelle Obama. Last year, two women both participated in a panel on the importance of education for women across the world, and clearly, the young star and student and the former First Lady connected, as Shahidi revealed recently that Michelle Obama wrote her college recommendation letters.
Somehow, in between all her acting and activism, Shahidi found the time to start the college application process, and got none other than the former First Lady to give her a recommendation. The star told W Magazine over the weekend that she has her sights set on several four-year colleges, and dreams of Harvard, where Michelle Obama is a Law School alum. Her own daughter Malia will matriculate at the college next year after taking a gap year. Like Malia, Shahidi also plans to take a year off before attending to work and prepare for the intensity of the college experience.
"I know when Malia Obama announced [she was deferring], she got a lot of slack, but I feel like what's interesting is I know so many people that are deferring. It's more than to just roam around or just sit down and stare at a wall, but it will also give me an opportunity to work," Shahidi told People about the decision last year. Of course, nobody doubts that Shahidi will make great use of her time away from education. There will likely be more on-screen roles, modeling campaigns, and philanthropic efforts in the star's schedule during this time before she heads to school.
While an endorsement from Obama is certainly a dream come true for any college hopeful, Shahidi's will carry her particularly far. Obama and Shahidi first appeared together last year at an event put on by Glamour, where they discussed the importance of education for women and girls around the world. Obama launched the Let Girls Learn campaign in 2015 with activist Malala Yousafzai, and it's a charity that compliments Shahidi's own work to promote education for young women. The actor has continued to be an outspoken advocate for human rights issues that impact women, participating in charity events and advocating for representation in the media.
While Shahidi is confident in her decision to take a gap year, she is also eager to get to college and pursue a double-major of African American studies and sociology. "I definitely want to go further my education and I think the reason is because I want to study something specific. I want to study sociology. I don't know what in sociology yet, but I want to study sociology and I feel like college would be the perfect opportunity to really dive into all of these random subjects that I'm curious about and really learn more things," Shahidi told People.
As an actor and public figure, Shahidi is providing a positive role model for young people everywhere. This hasn't gone unnoticed; in February, Essence honored her at the 10th anniversary of the Black Women In Hollywood awards. Shahidi inspires young people to be better and to stand up for women's rights and representation, and even the former First Lady has been so impressed by her efforts. ""She is very amazing and such a supporter, which is something very surreal to say," Shahidi told W of Obama.
With such an impressive resume and the endorsement of Obama, Shahihi is likely to get into many of her dream colleges. These next few years will bring a new chapter and new opportunities for both the actor and the former First Lady, and I can't wait to see what these inspiring women do next.