Michelle Obama's Birthday Tweet To Barack Will Melt Your Heart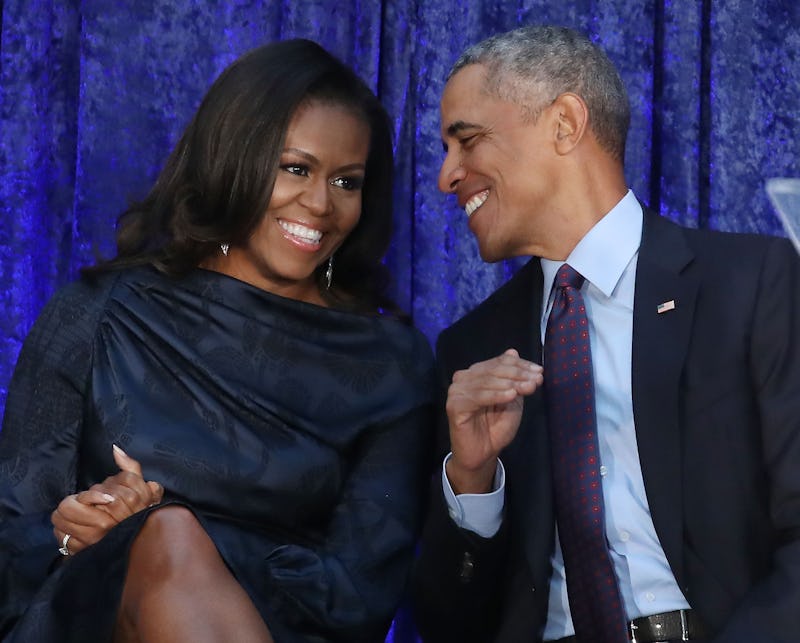 Mark Wilson/Getty Images News/Getty Images
For Barack Obama's 57th birthday on Saturday, former first lady Michelle Obama sent a short and sweet birthday message to him on Twitter. "Happy birthday @BarackObama! The view is always better with you," Michelle's post read.
The tweet was accompanied by a photo of Obama looking pensive while overlooking a dry bluff or desert. The photo is undated. (Obama is wearing a hat in the photo, so you can't even guess Obama's age based on his gray hair.)
The former White House residents have been married for 25 years. On Obama's 56th birthday, Michelle shared a throwback photo of Obama and their daughters, Sasha and Malia, blowing out candles on his 43rd birthday, according to Time. "Another year older, but the same phenomenal guy I married nearly 25 years ago. Happy birthday, @BarackObama -- we love you so much!" Michelle tweeted.
Michelle, of course, isn't the only person to celebrate the former commander in chief's birthday. Former Vice President Joe Biden sent his own Obama birthday tweet on Saturday. "Our lunches together were a highlight of every week at the White House. Last week's trip to @DogTagBakery was no different. Happy birthday to my brother, my friend, @BarackObama," Biden's tweet read.
Obama's birthday is not only being celebrated online. Illinois has designated an entire day to the former president. In 2017, the Illinois legislature passed a law to designate August 4th as an honorary holiday celebrating Obama, one of four presidents with roots in Illinois.
This is the first year the law has been in effect. The bill is to celebrate Obama's dedication to the state and "building bridges" across America. "August 4th of each year is designated as Barack Obama Day, to be observed throughout the State as a day set apart to honor the 44th President of the United States of America who began his career serving the People of Illinois in both the Illinois State Senate and the United States Senate, and dedicated his life to protecting the rights of Americans and building bridges across communities," the law's text reads.
Democratic lawmakers in state attempted to make August 4th a "full legal holiday," which would give some workers a paid day off, according to USA Today. Republicans in the state became concerned at the cost of a full holiday, so the commemorative holiday was the compromise, the newspaper reported.
Wishing a happy birthday to Barack Obama seemed to be a requirement for Saturday morning social media. There were well-wishes from local and national television networks, various Democratic committees, Democratic lawmakers like House Minority Leader Nancy Pelosi, and civil rights leaders like Rev. Al Sharpton.
The birthday wishes came from a wide swath of people. The expected birthday greetings included former Obama chief of staff and current Chicago Mayor Rahm Emanuel, as well as the LBJ Presidential Library. On the more unexpected side included Comedy Central's Key & Peele, which shared an old Obama Anger Translator skit.
Even the former White House photographer Pete Souza — known for his shady Instagram posts against President Donald Trump — got in on the birthday wish action. Souza shared a photo of Obama playing NBA Champion LeBron James at Obama's 49th birthday.