Michelle Obama's Book Tour Schedule Is About To Look A Little Different — Here's Why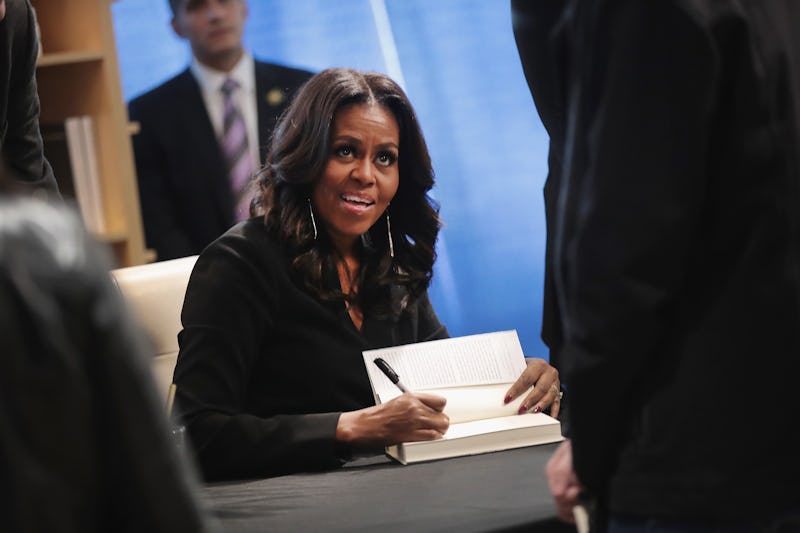 Scott Olson/Getty Images News/Getty Images
On Nov. 13, a former first lady kicked off the tour for her bestselling book, Becoming. However, as she continues to promote her memoir, Michelle Obama's book tour schedule is going to look a little different. In light of the passing of former president George H.W. Bush, Obama has opted to take some time out of her tour to pay her respects to the Bush family.
As Politico reported, Obama had planned to stop in several cities in Europe this week to promote her book. However, upon hearing news of the 41st president's death, she opted to cancel her visits to Paris and Berlin. The former first lady shared her decision on Twitter, emphasizing that it is imperative for her to support the Bush family as they grieve for the former president. As Obama wrote:
It's important to me to join the Bush family in celebrating President George H.W. Bush's exemplary life. This will unfortunately preclude my visits to Paris and Berlin. I've been deeply touched by the enthusiasm for my memoir, and I'm working to reschedule my trip for next year.
I hope readers and ticket holders will understand my decision regarding my desire to attend President Bush's funeral, and join me in paying tribute to him and his tremendous contributions to our world.
Indeed, the admiration that both Obama and her husband, Barack, have for 41st president is evident in statements they shared on social media on Dec. 1. Former President Obama tweeted a lengthy statement from him and his wife in which they praised the 41st president's commitment to public service. "What a testament to the qualities that make this country great. Service to others. Commitment to leaving behind something better. Sacrifice in the name of lifting this country closer to its founding ideals," the statement read in part. "Our thoughts are with the entire Bush family tonight."
On her Twitter account, Obama also left a touching tribute to Bush. She shared a picture of herself and the former president at the White House and wrote:
As a public servant, father, and grandfather, President George H.W. Bush was an extraordinary example for us all. His spirit of service and decency will be missed by many, including our family ... I hope his memory will be a guiding light for our country and those around the world.
As Politico reported, Bush's state funeral will take place on Dec. 5 at the Washington National Cathedral. Bush will also have a memorial service in Texas on Dec. 6 and will be buried at the George H.W. Bush Presidential Library and Museum in College Station.
Obama's book tour looks slated to continue next week, as she has an event scheduled for Dec. 11 in Detroit, Michigan — and several other events taking place through Dec. 19. Ahead of these events, though, she is offering her unwavering support to the Bush family, something which is certainly a significant priority for the former first lady.