Michelle Obama Dished Some Really Practical Advice For A Successful Marriage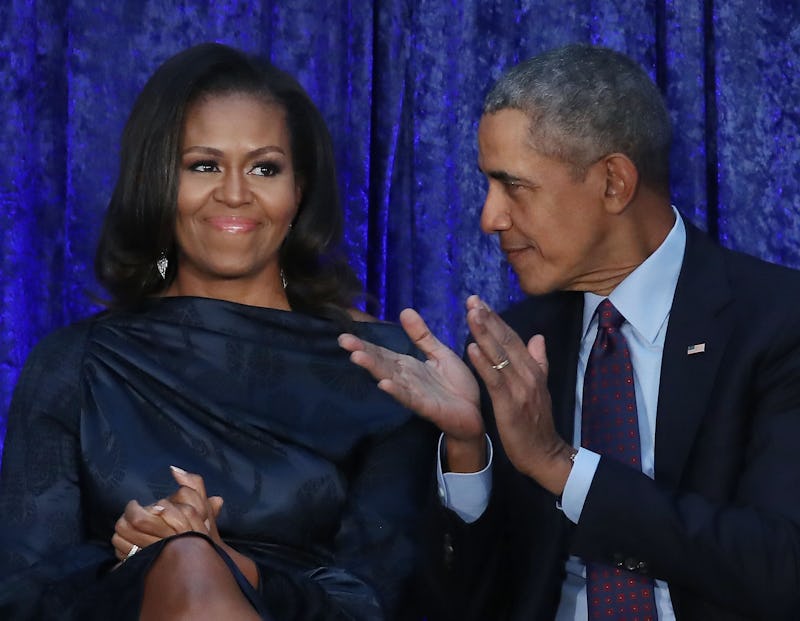 Mark Wilson/Getty Images News/Getty Images
The former president and first lady of the United States were known for, among other things, candid conversations about their relationship. Speaking of that very topic once more on The TODAY show on Thursday, former first lady Michelle Obama had some marriage advice that essentially came down to this: get your own bathroom.
"One of the keys to a successful marriage is separate bathrooms," Obama said. "When [Barack Obama] enters my bathrooms, sometimes I'm like, 'Why are you in here?' And he's like, 'I live here. Can I enjoy my bathroom too?'"
Life after the White House seems good for Obama, who said that it's mostly enjoying the "small things." For instance, she said, "It's going to my girl's game and just really being a mom. So there's nothing new that's going on; it's just that we're out in the real world."
The former first lady was present on the show to promote an education-focused program called Global Girls Alliance. Obama said that the initiative will help bolster the operations of some 1,500 grassroots programs on providing girls access to better education.
Speaking of the importance of such a program, Obama said, "The stats show that when you educate a girl, you educate a family, a community, a country. It makes no sense ... that girls and women are not getting educated, that they're not in school."
Speaking further about the educational program, Obama linked it to broader subjects. "So it absolutely makes sense for us," she said, "if we care about climate change, if we care about poverty, if we care about maternal and child health, then we have to care about education."
The former first lady also spoke about former President George W. Bush and her admiration for him. "President Bush and I are forever seat mates because of protocol; that's how we sit at all the official functions," Obama said. "So he is my partner in crime at every major thing where all the formers gather."
Separate spaces in the same household may sound a little counterintuitive but some couples cite separate beds and even bathrooms as a way to keep a marriage happy and thriving.
According to a Today report on the subject, a respect for personal space can help a couple regain control of their relationship. One of the interviewees, Erica Scoville of Richland, Washington, explained her decision to sleep in a separate bed in the same house. "It's important for people to remember that sleeping together doesn't always save a marriage any more than sleeping apart ruins a marriage," she said.
"It's sleep," Scoville added, "and sleep is really important to everyone. But even more important than that is loving each other enough to try something that makes life a bit easier for your partner."
The same could be argued for couples using separate bathrooms. Considering that many people have their own morning and nightly routines and rituals, a separate bathroom for a couple could help them follow their schedules without straining a marriage. This is all to say: Obama might just have a point.