Michelle Obama's New Book Confronts How Trump Gave Fuel To This Conspiracy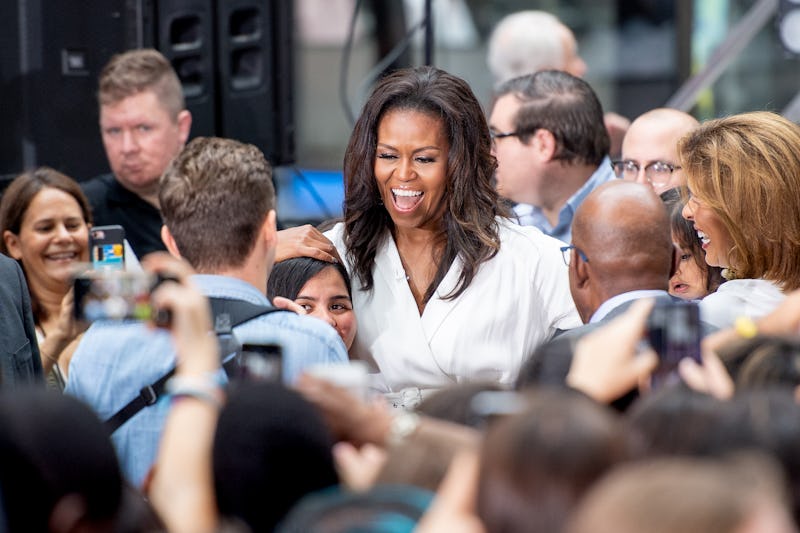 Roy Rochlin/Getty Images Entertainment/Getty Images
According to the Associated Press, who bought a copy of her book before its official release, Michelle Obama's new book criticizes Trump in a number of instances. One such instance she talks about is Trump's repeated involvement in the birther conspiracy theory against her husband. In addition to describing her own life as both a child and first lady, Michelle wrote at length about her feelings toward Trump's political style and behavior.
In the book, which is scheduled to come out Tuesday, Obama said that she tried to "block it all out" when she heard that Trump was definitely going to replace her husband in the Oval Office. She also talked about Trump's role in perpetuating unsubstantiated theories that her husband had been born in another country. Per The Associated Press, Obama called those efforts bigoted, dangerous, and "deliberately meant to stir up the wingnuts and kooks."
The Associated Press further reveals that at the beginning of his presidential run, Obama thought Trump was "grandstanding." She further described her disbelief that so many women in particular would support a "misogynist" instead of "an exceptionally qualified female candidate" within Hillary Clinton. She also talked about how her body was "buzzing with fury" when she saw Trump's notorious Access Hollywood tape, in which he said his now-infamous line about being famous: "Grab them by the p*ssy."
In addition to her commentary on Trump, Obama talked about a totally different topic that will likely captivate her readers even more: her experience falling in love with her husband, as well as her marital struggles later on.
Obama details how she was skeptical of his reputation at first, then was captivated by his "rich, even sexy baritone." Obama further described her husband as a "strange mix-of-everything man," who filled her with a "toppling blast of lust, gratitude, fulfillment, wonder" when they first kissed.
But Obama isn't only talking about the good stuff in her book. The Associated Press reports that she also brought up the hard parts of her marriage, including the counseling that she and Obama went through a "handful of times" when Barack had started to travel a lot. Obama explained that her catharsis with that challenge happened when she realized that she was "in charge" of her happiness.
Obama's book tour is going to start out with a bang, at Chicago's United Center in front of an audience of tens of thousands of people. She will be interviewed by none other than Oprah. The Associated Press reports that myriad celebrities will continue to interview her along the way, from Reese Witherspoon to Sarah Jessica Parker, and that she will continue to base her tour out of large arenas.
Obama's book deal comes out of a joint deal she and her husband signed for their respective memoirs, which amounted to a purported $65 million. As a part of the book deal, Random House agreed to donate 1 million books in the Obamas' name to First Books, a nonprofit organization dedicated to providing new books and other materials to children in North America.
You can pre-order Obama's book on Amazon, or buy it at your local bookstore next Tuesday.