Michelle Obama's #VotingSquad Challenge Has Celebs Stepping Up For The Midterms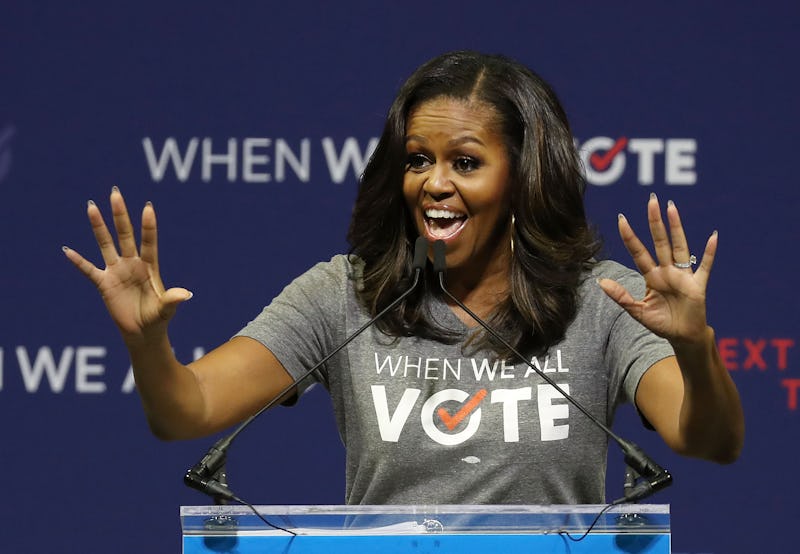 Joe Raedle/Getty Images News/Getty Images
In an effort to combat the anemic turnout levels that midterm elections usually produce, Michelle Obama has issued a "voting squad" challenge to Americans, tasking everyone to assemble a team of friends and ensure that all of them are able and ready to vote on election day. The former first lady tweeted about the challenge on Friday morning, and several more celebrities have joined in the effort since then, including Tom Hanks and Janelle Monáe.
"I'm challenging everyone across the country to start a #VotingSquad to get your friends and family ready to vote," Obama tweeted Friday. "Build your squad & then tag 5 others to do the same!" In the tweet, Obama tagged Hanks, Monáe, Faith Hill, Tim McGraw, Chris Paul and Lin-Manuel Miranda — several of whom subsequently issued their own voting squad challenges over Twitter.
Obama is promoting the effort under the banner of When We All Vote, a non-profit she co-chairs. In addition to her tweet — which has been liked 14,000 times as of this writing — she also released a video explaining the effort in more detail.
"I want you to reach out to five people in your life — in your family, at your school, your congregation, wherever," Obama says in the clip. "Just pick at least five people for your voting squad. Then, do whatever it takes to get them to vote. Tag each other on Instagram and Facebook. Post group photos. Put everybody on a text chain. And then get to the polls, on or before, November 6th. Because when we all vote, we all do better."
In her tweet, Obama linked to the Voting Squad Challenge page on the When We All Vote website, which contains more detailed instructions. In addition to assembling a squad of friends and making sure they get to the polls, the campaign also encourages Americans to challenge 3-5 additional friends to form their own voting squads, thus ensuring that the effort has legs.
There's a good reason Obama is putting her energy toward getting out the vote, considering how few Americans bother filling out ballots on election day. According to the United States Election Project, voter turnout in midterm elections hasn't cracked 50 percent since 1942, and hasn't even reached 45 percent since 1974.
This may change in 2018, however. According to the Pew Research Center, the number of eligible voters who say they're more enthusiastic about voting this cycle than in previous cycles is at a 12-year high. Democrats, in particular, seem far more motivated than usual. In past midterm elections, no more than 42 percent of Democrats have told Pew that they're more excited about voting than normal. In 2018, 67 percent of Democrats did.
"For over a decade, I've been traveling the country trying to get more people to vote," Obama says in the video released by When We All Vote. "And during that time, I learned a little secret: You are the best messengers to get out the vote. You know who's too busy, or too forgetful, or who might flake out on election day."
One thing Obama won't be doing this election cycle is campaigning for Democratic candidates. She's letting her husband handle that.