Michelle Williams' Male Costar Was Paid Over 1,500 Times More Than Her To Reshoot A Film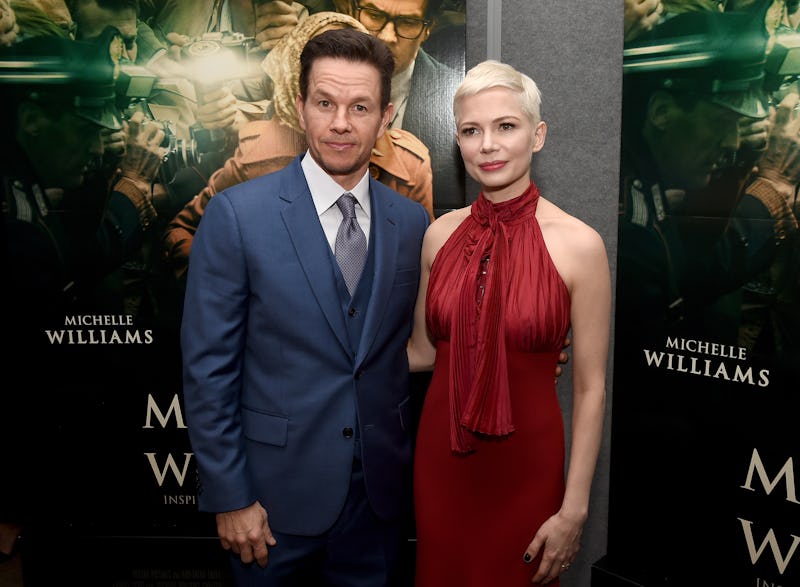 Kevin Winter/Getty Images Entertainment/Getty Images
On Tuesday, USA Today reported that for reshooting All The Money In The World, actress Michelle Williams was supposedly paid less than one percent of what her costar Mark Wahlberg was paid. The reshoots were required after the film's director, Ridley Scott, removed Kevin Spacey from the film following allegations of sexual misconduct (Spacey noted that he does not remember what has been alleged against him, but apologized if he caused harm).
Williams' reportedly minuscule payout is especially ironic considering Scott initiated the reshoot during the #MeToo movement, which advocates for transparency and accountability in regards to gender equality, particularly regarding the treatment of women. Scott reshot scenes from the crime thriller over Thanksgiving of 2017, quickly reassembling the cast over a period of 10 days to reshoot scenes as he replaced Spacey with actor Christopher Plummer. Scott had told USA Today on Dec. 19 that the entire cast, save Plummer, did the reshoot for free, saying, "Everyone did it for nothing. They all came in for free."
However, the paper later reported that three people familiar with cast payments but not authorized to speak publicly about them told USA Today that the film's male star, Wahlberg, was actually paid $1.5 million, while Williams, who is the top-billed star on the film, was only paid $1,000 — or $80 per day.
USA Today reported back in December that Williams had seemed willing to give up her salary, saying of the reshoot, "I said I'd be wherever they needed me, whenever they needed me. And they could have my salary, they could have my holiday, whatever they wanted. Because I appreciated so much that they were making this massive effort."
However, notably, Williams was reportedly not told that Wahlberg was being paid a substantial amount for his time during the reshoot. Moreover, Wahlberg and Williams are both represented by the same agency, William Morris Endeavor agency, according to USA Today.
Tuesday's USA Today report is not the first time that the issue of pay disparity between Williams and Wahlberg during the reshoot has been discussed in the media, though it is the first time a specific number differential has been reported. Indeed, the Washington Post reported back in November that Williams was making "a fraction" of Wahlberg's hefty salary for the reshoot. It also warned of the dangers of "negative optics." In other words, a film reshoot that arose from a sexual harassment issue ultimately resulted in a male star receiving a much higher salary than a female star.
Other celebrities have also weighed in on the reported pay differential between Williams and Wahlberg. On Tuesday, actress Jessica Chastain responded to a tweet from Melissa Silverstein, the founder of Women and Hollywood, in which Silverstein suggested that Wahlberg had earned significantly more than Williams for the reshoot. In her reply, Chastain noted,
I heard for the reshoot she [Williams] got $80 a day compared to his MILLIONS. Would anyone like to clarify? I really hope that with everything coming to light, she was paid fairly. She's a brilliant actress and is wonderful in the film.
Williams was nominated for a Golden Globe for her role in the film.
Actor Judd Apatow also commented on an article about the reported pay disparity on Twitter, noting "This is so messed up that it is almost hard to believe. Almost. This is how this business works. I wonder if the studio or Wahlberg will do something to make the situation less insane."
Thus far, Sony Pictures, Wahlberg, and Williams have not yet commented on USA Today's most recent piece reporting the pay differential. Many will likely be closely watching to to see if and how the film's executives remedy the situation.