Michelle Wolf Thinks You'd Take Her WHCD Jokes Differently If She Was A Man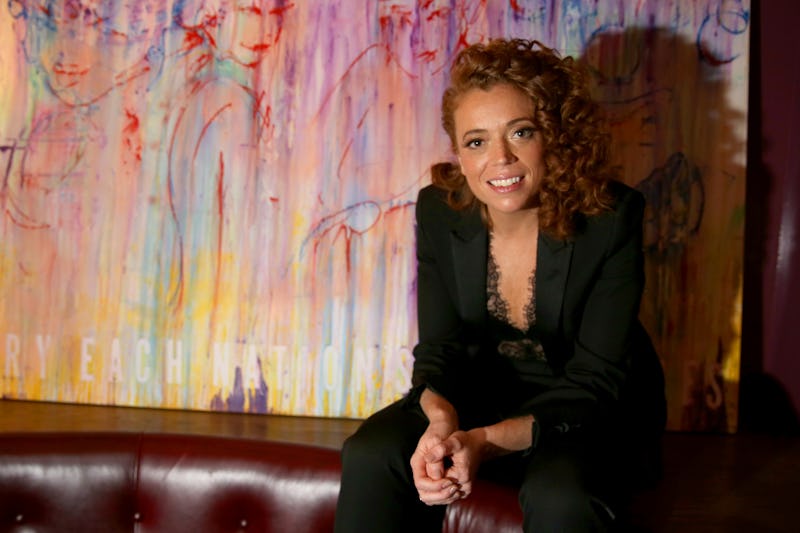 Tasos Katopodis/Getty Images Entertainment/Getty Images
Discourse, at the moment, is saturated with opinions about whether or not the comedian who performed at the White House Correspondents' Dinner (WHCD) on Saturday was needlessly cruel during the monologue she performed. On Tuesday, however, Michelle Wolf responded to criticism about her WHCD jokes, and she suggested to NPR that the response has been tinged with sexism.
"I think sometimes they look at a woman and they think 'Oh, she'll be nice,' and if you've seen any of my comedy you know that I don't — I'm not," Wolf told NPR's Terry Gross. "I don't pull punches. I'm not afraid to talk about things. And I don't think they expected that from me. I think they still have preconceived notions of how women will present themselves and I don't fit in that box."
At Saturday evening's dinner, Wolf delivered a series of jokes that roasted virtually everyone in the room, directly or indirectly. Since the event, many critics have argued that Wolf's set was mean-spirited. And one portion that became a particular sticking point — and continues to be incredibly divisive on Twitter — was a series of cracks directed at White House Press Secretary Sarah Huckabee Sanders. Specifically, some viewers and attendees interpreted Wolf's jokes to be making fun of Sanders' appearance.
Wolf, however, told NPR that she made a "conscious effort not to write any jokes about any woman's looks." Two of the jokes Wolf directed at Sanders were particularly contentious, but Wolf (and others who support her) argue that the critics are projecting.
One of the jokes in question included a bit that Sanders "burns facts, and then she uses the ash to create a perfect smoky eye." The other compared her to Aunt Lydia from The Handmaid's Tale.
Wolf told Gross that much of the negative reception had to do with the fact that the person she was roasting was a woman. If it were a man she had been talking about, she said, people would have understood the joke in a different light:
I was talking about her personality and I think it says a lot about our society that you would immediately think I was talking about her looks rather than her personality. Because I think if it was a man you wouldn't have jumped to those conclusions. If I was talking about a man you would've been like, "She's talking about his abilities," but because I was talking about a woman you're like, "She's talking about her looks."
As Wolf points out in her interview, even if she had intentionally made a barb at Sanders' appearance, there were two other clear examples of when she actually did joke about how someone looked. She explicitly made fun of Sen. Mitch McConnell — remarking that he wasn't present because he was "getting his neck circumcised" — and she also suggested that Chris Christie was the size of a barrel. Those two jokes haven't caught the ire that the jokes about Sanders did, however.
Still, following the backlash, the White House Correspondents' Association, which organizes the annual dinner, opted not to defend Wolf. Instead, they distanced themselves from her.
"Last night's program was meant to offer a unifying message about our common commitment to a vigorous and free press while honoring civility, great reporting and scholarship winners, not to divide people," the WHCA said in a statement on Sunday. "Unfortunately, the entertainer's monologue was not in the spirit of that mission."
The WHCA has also said it intends to reevaluate how it organizes its dinners in the future. Some ideas they are considering, according to CNN, are dueling comedians from opposite political persuasions, or else foregoing a comedian at all and hiring a singer.