Michelle Wolf's Response To The Sarah Huckabee Sanders Backlash Is A MUST Read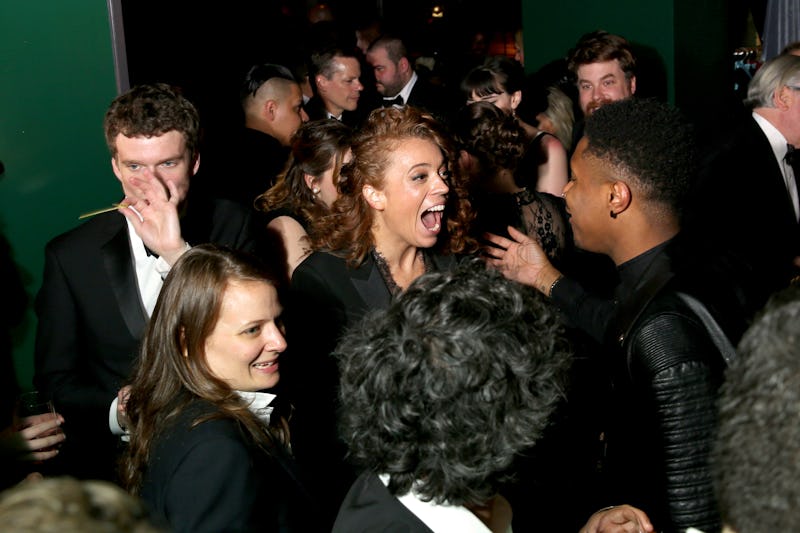 Tasos Katopodis/Getty Images Entertainment/Getty Images
The comedian responsible for roasting the president, the administration, and members of the media at the White House Correspondents' Dinner was roasted herself on Sunday for a set that was described as "deplorable" and "a disgrace" by conservatives and some Washington media personalities. But Michelle Wolf's response to the White House Correspondents' Dinner backlash is worth reading over.
Much of the WHCD drama focused in on the part of Wolf's jokes about Sarah Huckabee Sanders, the Trump press secretary. Many — including MSNBC's Mika Brzezinski and The New York Times' Maggie Haberman — suggested that the comedian teased Sanders for her looks. Wolf, a regular contributor to The Daily Show with Trevor Noah who is about to launch her own Netflix late-night show, strongly denied that.
"Why are you guys making this about Sarah's looks?" Wolf posted to Twitter. "I said she burns facts and uses the ash to create a *perfect* smoky eye. I complimented her eye makeup and her ingenuity of materials."
The joke that most have latched onto mentions Sanders' eye makeup. ""I actually really like Sarah," Wolf said Saturday night. "I think she's very resourceful. She burns facts and then she uses that ash to create a perfect smoky eye. Like maybe she's born with it, maybe it's lies. It's probably lies."
A smoky eye is a look consisting of a shaded eye lid combined with dark eyelashes that Cosmopolitan calls "timelessly sexy." You use dark eyeshadow and dark eyeliner, and the internet is full of tutorials to help achieve the look.
Following the blowback, the president of the White House Correspondents' Association Margaret Talev wrote a letter criticizing Wolf and posted it on Twitter:
Last night's program was meant to offer a unifying message about our common commitment to a vigorous and free press while honoring civility, great reporting and scholarship winners, not to divide people. Unfortunately the entertainer's monologue was not in the spirit of that mission.
Wolf also responded to that critique, this time on Instagram. She posted one of the photos released before the dinner and wrote as the caption, "Not in the spirit of the mission."
During the Saturday evening event, jokes were zinging all over the place. Wolf said Trump, being president, is the one p*ssy "you're not allowed to grab." She added that Mike Pence is "what happens when Anderson Cooper isn't gay." And the media got it too, except for print "because it's illegal to attack an endangered species."
But it's the quips about Sanders that have been the focus of the furor. Wolf's main Twitter response was a quote tweet responding to Brzezinski. The MSNBC host wrote, "Watching a wife and mother be humiliated on national television for her looks is deplorable. I have experienced insults about my appearance from the president. All women have a duty to unite when these attacks happen and the WHCA owes Sarah an apology."
Haberman posted on Twitter, "That @PressSec sat and absorbed intense criticism of her physical appearance, her job performance, and so forth, instead of walking out, on national television, was impressive."
Wolf then responded, "Hey mags! All these jokes were about her despicable behavior. Sounds like you have some thoughts about her looks though?"
The White House Correspondents' Association didn't stand up for Wolf, but there were plenty others on Twitter who were willing to. Fellow comedian Laurie Kilmartin wrote, "If reporters would just call SHS a liar to her face, comedians wouldn't have to."
And Emily Nussbaum, a TV critic for The New Yorker posted:
The more I think about it, the more impressed I am that Michelle Wolf did such a harsh act WITHOUT insulting any woman's looks. She aimed straight at the white female enforcers & never once suggested that anyone was a bimbo or a dog — like the man they work for surely would have.
Wolf's set may have been controversial, but condemnation is far from universal. Either way, she's standing up for herself.