Trump's New Criticism Of Michelle Wolf Has These Women Comedians Rallying Behind Her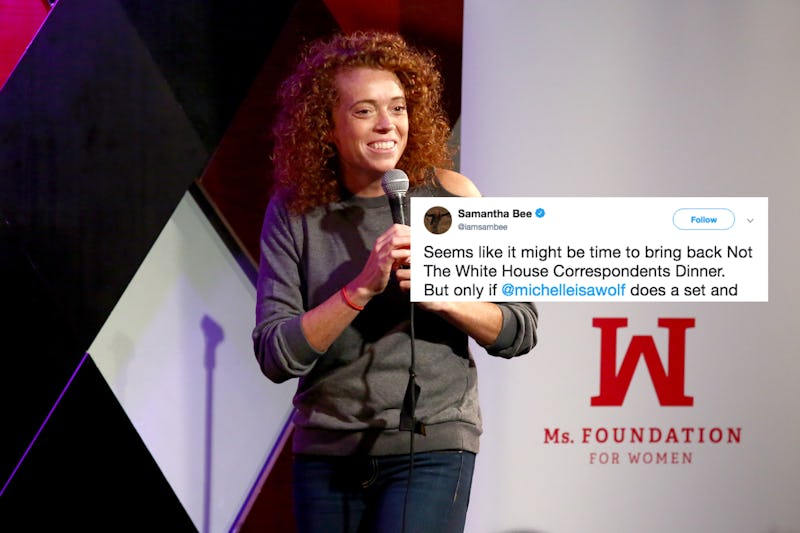 Astrid Stawiarz/Getty Images Entertainment/Getty Images
In the last few days, comedian Michelle Wolf's Twitter feud with Trump has reached new levels of sharp. First, POTUS slammed Wolf's 2018 White House Correspondents' Dinner performance. Then Wolf clapped back in the most intense way possible, suggesting that Trump might defend her if she had killed a journalist. The tweet was a reference to the way he has defended Saudi Arabia following Jamal Khashoggi's death. Soon after, several female comedians rallied behind Wolf in solidarity against POTUS.
It started on Nov. 20 when Trump tweeted, "So-called comedian Michelle Wolf bombed so badly last year at the White House Correspondents' Dinner that this year, for the first time in decades, they will have an author instead of a comedian. Good first step in comeback of a dying evening and tradition! Maybe I will go?"
Wolf lashed out at Trump a day later, writing, "I bet you'd be on my side if I had killed a journalist. #BeBest"
Comedian Kathy Griffin was next to chime in, replying to Trump's original tweet and writing, "@michelleisawolf's set was so good that you, your staff, and your supporters whined like little b*tches for days. The @whca are a bunch of spineless punks!"
Then, comedian Samantha Bee tweeted, "Seems like it might be time to bring back Not The White House Correspondents Dinner. But only if @michelleisawolf does a set and teaches me to do my eye makeup extra smokey. Attention @pressfreedom#NWHCD2019"
Next, Comedian Mike Birbiglia tweeted out a list of his thoughts on Wolf's tweet at POTUS, writing, "This is: 1. The darkest joke 2. The truest joke 3. The sickest burn 4. Written by my friend Michelle 5. Classic #bebest"
Comedian Rob Delaney reiterated Birbiglia's support and argued that there was "no way to recover from this" for Trump. He added, "Wolf will now loom larger in Trump's rat-infested warehouse of a psyche than his own father. The tweet itself is a double-tap to the chest & the use of his *wife's* rotten hashtag is the headshot. Michelle Wolf is my boss & I respect her."
Late-night producer Mike Shoemaker also threw in his own two cents, suggesting that "only one can survive," moving forward. He wrote, "My money is, as it always has been, on @michelleisawolf."
A number of other notable comedians and actors commended Wolf's behavior, including Moshe Kasher, Amir Talai, and Ken Marino. Neither Wolf nor Trump have commented on the spat since their original jabs.
Wolf made headlines last April when she hosted the White House Correspondents' Dinner and held nothing back, roasting a number of people in the Trump administration. She likened Sarah Sanders to Aunt Lydia from The Handmaid's Tale, likened Ivanka Trump's usefulness to women to that of an "empty box of tampons," and commented on several notable journalists, as well.
In addition to clapping back at POTUS, Wolf had called out the WHCA earlier in the week, in the wake of the announcement that the headliner for the 2019 WHCD would be biographer Ron Chernow, breaking decades of tradition by having a non-comedian host. Wolf tweeted, "The @whca are cowards. The media is complicit. And I couldn't be prouder."