The Michigan Senate's Latest Abortion Move Could Seriously Hurt Women In Rural Areas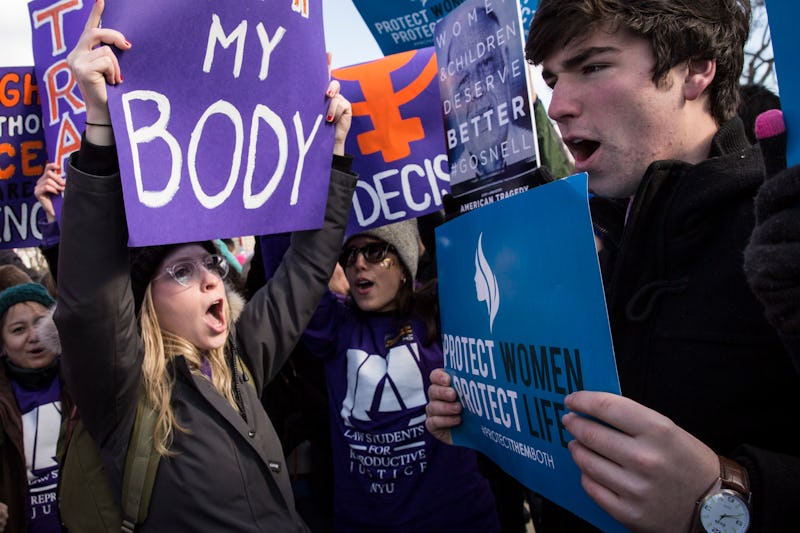 Drew Angerer/Getty Images News/Getty Images
Michigan's Republican-controlled Senate has moved to permanently prohibit doctors from prescribing abortion medication via telecommunication, in a move that could have serious consequences for women living in rural areas. With the expiration date of a 2012 ban fast approaching, the Michigan Senate voted to extend a telemedicine abortion ban indefinitely on Thursday.
A measure to permanently extend a bill that had been signed into law in 2012 by Gov. Rick Snyder passed easily 25-12 along party lines in Michigan's Republican-controlled Senate on Thursday. In fact, only one Republican — state Sen. Tory Rocca — voted with Democrats against the measure. The new measure seeks to lift the initial law's Dec. 31 expiration date, thereby extending the ban permanently, according to The Detroit Free Press. The bill aimed at extending the law will now head to Michigan's House of Representatives for a vote by the lower chamber.
Under the state's initial law, women are barred from obtaining abortion medication from a doctor via telecommunication technology such as a web-based "visit" or appointment. Instead, they must physically meet in-person with a doctor to obtain abortion-inducing medication. According to The Detroit News, proponents of the state's initial telemedicine abortion ban argue that it's a means of ensuring women's safety as such medicine can have side effects.
"It's not a matter of women not being able to access a medical abortion," Michigan Radio reported Legislative Director for Right to Life of Michigan Genevieve Marnon said during a committee meeting earlier this week while speaking in support of the bill. "It's really a matter of safety."
But senators who opposed the measure argued that there was no valid scientific or medical reasoning behind it. "There is no medical, scientific or legal argument for banning telemedicine use in these circumstances," the Associated Press reported Democratic state Sen. Rebekah Warren said. Warren further condemned the measure as "denying swift care for women," something she characterized as "unconscionable," according to The Detroit Free Press.
She claimed Michigan's Republican senators were attempting to push the bill through before the state's new governor-elect, Gretchen Whitmer, was sworn in as Whitmer is a known pro-choice advocate.
Indeed, studies have shown that "adverse events are rare with medical abortion" and that prescribing abortion medicine via telecommunication is equivalent to in-person prescription with regard to clinically significant adverse events. What's more, studies have also shown that telemedicine abortion can provide patients, especially those in rural areas, with a more patient-centered approach to care by offering more convenience, faster service, and greater choice.
In fact, pro-choice advocates claim the ban limits access to safe and legal abortions and can be especially harmful to those who live in more rural areas. "This is an attack on women who are in rural Michigan — and there are a lot of them," President and CEO of Planned Parenthood Michigan Lori Carpentier told NPR News affiliate Michigan Radio. "We have a real shortage of OBGYNs in the state and this would further limit [rural women's] access to safe and legal abortions."