Midwives & Doulas Were Critical Healthcare Providers After Hurricane Maria — And Are Still Filling A Gap Today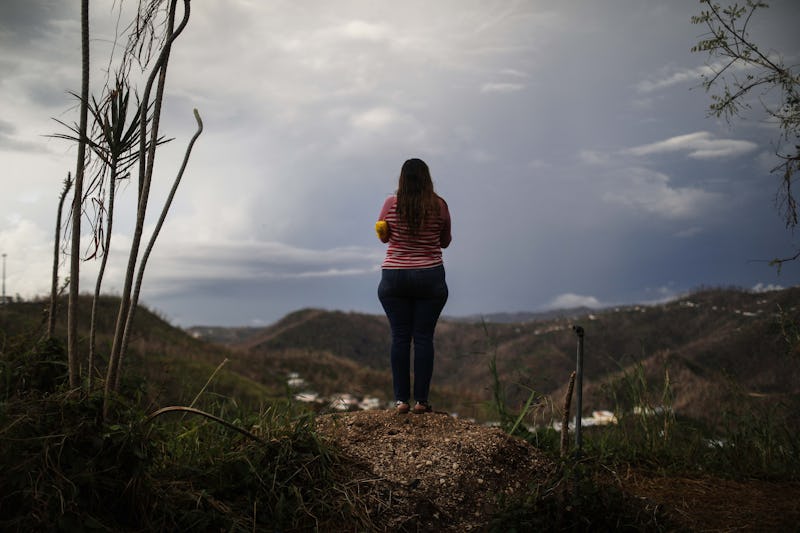 Mario Tama/Getty Images News/Getty Images
One week after Hurricane Maria struck Puerto Rico, only 33 hospitals were functioning on the entire island. Cases of pink eye and other infections spiked due to a lack of hygiene, according to the Washington Post. Sweltering hospitals were beyond their capacity running on diesel-fueled generators. The combination of a lack of power, overcapacity, and other accidents indirectly caused the deaths of many Puerto Ricans. After 11 months of maintaining that 64 people had been killed as a result of the storm, the government raised the death toll to 2,975, following an analysis from George Washington University's Milken Institute School of Public Health.
While hospitals were trying to stay afloat, other health practitioners stepped in to help pregnant women, recent moms, and babies in the aftermath of Hurricane Maria. Among those are the women of Centro Mujeres Ayudando a Madres (MAM) — an organization of doulas and midwives.
"It was total chaos," Vanessa Caldari, a midwife and director of Centro MAM, tells Bustle. MAM's offices re-opened its doors to provide services on Oct. 2, almost two weeks after the storm. Caldari says that it began offering medical services for free after hearing about the conditions at hospitals. "[Women] could come to us as an option," Caldari says. Due to the lack of medical professionals available, the group of midwives offered prenatal health services to pregnant women. They checked for injuries, listened for fetal heartbeats, and provided other basic medical care where it was otherwise not available.
Michelle Perez-Chiques, a midwife at Centro MAM, took MAM's services beyond its offices in Carolina, Puerto Rico. Through a collaboration with Circle of Health International (COHI), an international humanitarian organization based out of Texas, MAM provided health services to new moms in the most rural areas of the island. COHI provided MAM with 60,000 pounds of medical supplies through a partnership with MedShare. Through the collaboration with COHI, Caldari says they were able to share these materials with other medical professionals. According to Forbes, the collaboration between COHI, Medshare, and MAM helped care for at least 12,000 people, many of them women and children.
"Many women who came in needed help re-learning how to lactate," Perez-Chiques says. She says she saw many women who had developed severe postpartum depression as a result of the circumstances. "We were also a source of support, which was necessary because everybody was very traumatized" following the storm, she tells Bustle.
Before Hurricane Maria, however, Centro MAM was actually on the brink of closing down, Rita Aparicio, a midwife and the director of operations at Centro MAM, tells Bustle. After Hurricane Irma hit, and before Hurricane Maria fell, Caldari had left Puerto Rico to accept a position at Pacifica Family Maternity Center in Berkeley, Calif., a position she had secured before the storm. When the storm hit, Aparicio helped assemble the women on the ground, and Caldari, who had internet in California, helped assemble midwives through social media, apply for grants, set up a Go Fund Me, and helped coordinate aid for MAM.
The center's work following Hurricane Maria gained media attention, and it received a grant from the Hispanic Federation, among others. The influx of funds allowed it to keep its doors open, continue to offer free services, and update its facilities. Through a grant from the Griffith Foundation, Caldari says, MAM has updated its building to be solar powered, and has created traveling clinics so it can offer free reproductive education services and doula training in various towns in Puerto Rico.
A few miles away from Centro MAM's offices, another women's health facility was also giving critical care where hospitals couldn't. Blanca Cuevas, the executive director of IELLA, a clinic offering gynecological and abortion services under the umbrella Profamilias, says that of the seven abortion clinics on the island, only two were open after the storm. "Even though we had a generator, we were missing a piece and we were closed for almost a month," she tells Bustle.
Cuevas says that for that first month the clinic couldn't offer abortions, only information. "When we opened the clinic back up, we could take phone calls and refer them to other clinics [...] because we know this is a service that can't wait. But it was a very difficult time," she says. These two functioning clinics were open on a part-time schedule because they were also running on diesel generators and had to conserve energy.
Currently, Puerto Rico has no laws that protect or recognize midwives. Although midwives are technically trained medical professionals, because they are not recognized as such, their services aren't covered by insurance. Women must pay out of pocket for midwife or doula services, unless they receive them pro-bono. This lack of acknowledgment is also an issue because trained medical professionals were already leaving the island before Hurricane Maria, NBC reports. "What happens is that there is going to be a lot of people for few gynecologists, and not everybody can give birth with a midwife. There is a real problem institutionally that midwives are not accepted on a governmental level," Caldari says.
Similarly, a social stigma against abortion further erodes the ability of these women to provide comprehensive healthcare. While abortion is currently legal in the territory, many women mistakenly believe that it is not, thanks to stigma. Karla Ferrer Arevalo, a social worker in sex education, trained doula, and member of Colectiva Pro-decision, a group of volunteer abortion doulas, cites Puerto Rico's history of silence around abortion as a reason behind the social stigma. "We talk about the need for doulas of prenatal and postpartum care because it is a reproductive situation that is a lot more present," Ferrer Arevalo tells Bustle. "But since we don't talk about abortion we think it isn't there."
Ferrer Arevalo says that not all women on the island think about abortion unless they are faced with the decision themselves. The doulas from Colectiva Pro Decision work with women in order to help lower that stigma. They also educate any person who wants to become an abortion doula. The group helps women fund the procedure, and obtain a ride if they need transportation to the clinic. The doulas' priority is to give the women going through this process the emotional and financial support they need.
This conversation around lowering the stigma of abortion is even more important following the hurricane. "Doulas from the collective and other doulas from the community have seen an increase in women who need abortions," Ferrer says. "They don't have a job, their houses are falling apart, they are alone, their families have moved to the United States. They are making a conscious decision on whether they should have a child or not." Ferrer also says she's seen a rise in violence against women after Hurricane Maria.
"Abortion is a human right and it is about women's choice."
And there are further challenges to women's healthcare on the horizon. In May 2018, Puerto Rican Senator Nayda Venegas Brown proposed a bill in the Puerto Rican Senate that would make abortions illegal after 20 weeks' gestation and punish doctors with 15 years of prison time if they perform an abortion after 20 weeks. The bill has been rejected by Puerto Rico's health department and health professionals on the island. If the bill were to pass, which Governor Ricardo Roselló has said he would oppose, abortion access would still be protected because of Roe v. Wade — a legal precedent that activists believe would be under threat if Brett Kavanaugh, President Donald Trump's Supreme Court nominee, is confirmed.
But these women continue to fight tirelessly against that possibility. "Abortion is a human right and it is about women's choice," Cuevas says. "It has always existed and always will exist."
A mixed bag of conservatism, colonialism, and a lack of resources has made reproductive health a clustering maze to navigate for women in Puerto Rico, and this has only become more labyrinthine following the hurricane. But thankfully, there are dedicated advocates who are metiendo mano — a colloquial expression meaning "getting it done" — and standing with and for women on the island.