Migrant Kids Are Being Forced To Go To Court Alone To Defend Themselves From Deportation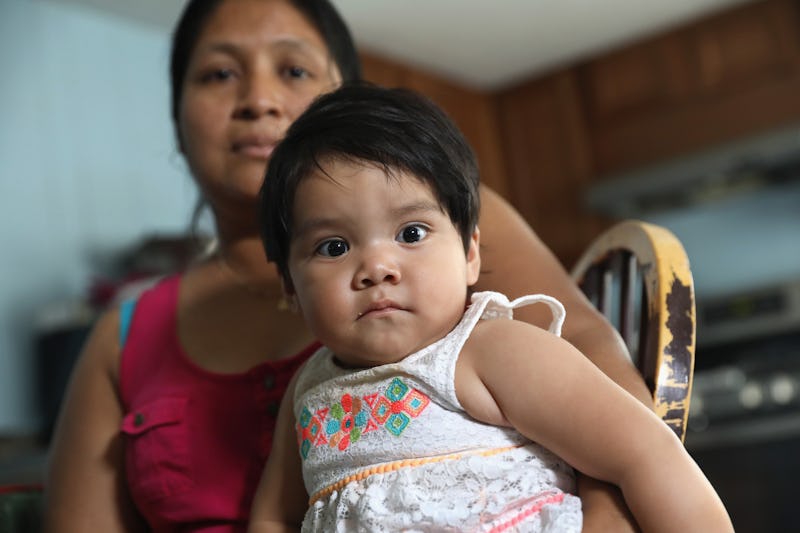 John Moore/Getty Images News/Getty Images
It sounds dystopian, but it's happening right now in the United States of America. Migrant children are being summoned to courts to defend themselves from being deported. Now legal experts are explaining how the Trump administration's "zero-tolerance" policy on immigration makes little sense — in addition to being downright cruel.
On Wednesday, The Texas Tribune reported that migrant children and toddlers are appearing in courts all by themselves. The courts where these children have had to make an appearance are located in California, Arizona, Washington, D.C., as well as Texas.
In one case, a 3-year-old child began climbing a table in court, according to Immigrant Defenders Law Center's executive director Lindsay Toczylowski. "We were representing a 3-year-old in court recently who had been separated from the parents. And the child — in the middle of the hearing — started climbing up on the table," she told The Texas Tribune. "It really highlighted the absurdity of what we're doing with these kids."
Legal experts say that expecting a child to verbalize a defense for wanting to stay in the United States is beyond surreal. "In some cases, children as young as 5 will be in front of an immigration judge, expected to explain why they should not be deported and manage the legal process that is required to prove that," immigration attorney Kate Lincoln-Goldfinch told The Huffington Post.
From the very get-go, it's an uneven playing field. In the United States, undocumented children do not have the right to legal representation, unless, according to the American Civil Liberties Union (ACLU), they can pay for it.
There's a psychological toll in addition to the legal difficulties. Children who have been separated from their mothers and fathers under Trump's immigration policy are more likely to suffer mental and physical health problems. UCLA child psychology professor Steve Lee told The Texas Tribune the notion that a child would be able to defend him or herself in court is an "incredibly misaligned expectation." He added, "That couldn't be any less developmentally appropriate."
Lee's views have been corroborated by other mental health experts, such as San Francisco's University of California's Early Trauma Treatment Network, Alicia Lieberman. In comments to TIME magazine, Lieberman said, "Children are biologically programmed to grow best in the care of a parent figure. When that bond is broken through long and unexpected separations with no set timeline for reunion, children respond at the deepest physiological and emotional levels."
Leaving children to fend for themselves in the absence of their parents has an acute effect on their mental and physical health, according to Lieberman. "Their fear triggers a flood of stress hormones that disrupt neural circuits in the brain, create high levels of anxiety, make them more susceptible to physical and emotional illness, and damage their capacity to manage their emotions, trust people, and focus their attention on age-appropriate activities," she said.
For toddlers and young children, the most immediate thought they probably have is related to where their mother or father is. Legal experts also say that to that child, the presence of their parents is most crucial. To expect such a young person to verbalize a defense, let alone offer an explanation of why they had fled their homeland, is a shocking idea.
Toczylowski told The Texas Tribune, "The parent might be the only one who knows why they fled from the home country, and the child is in a disadvantageous position to defend themselves."
Time and again, studies like this one from the American Bar Association from 2011 concluded that undocumented people were five times more likely to win a case to stay in the United States if they were given proper legal representation in court.
It's something that organizations like the ACLU have been fighting for for a while. In a scathing report on the same subject in 2016, ACLU's Ahilan Arulanantham wrote, "A child without a lawyer has almost no chance of presenting and winning a complex asylum case."